Parabol Aids Businesses With Hybrid Work Environments
Monday, April 19, 2021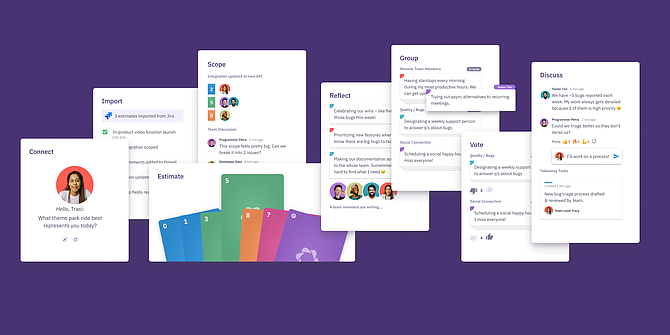 Over the last year, the need for software tools to aid teams of remote employees has become obvious for most businesses. But Jordan Husney, co-founder and chief executive of Parabol Inc., said that wasn't always the case.

Husney's Alhambra-based company is the developer of a software platform that structures meetings taking place remotely or in a hybrid format, integrating with other communication software tools like the messaging app developed by Slack Technologies Inc.

The company was founded in 2015, and Husney, a former corporate adviser, said the process of building a customer base was slow-going at first.

"For years, I felt like a crazy person," he said. "I would go and pitch investors, and they would consistently tell me, 'This is a terrible idea; remote work will always be fringe.'"

Husney said things started to change in the years leading up to the pandemic, as remote collaboration between employees became more common.

"Then Covid hit, and it was just pure insanity," he said.
 
After years of refining its product, Parabol began to see "hockey stick" growth, Husney said.

Last month, the company announced it had raised $8 million in a Series A funding round led by M12, the venture capital arm of Microsoft Corp. By that time, Parabol's software platform had amassed more than 100,000 users across 3,000 companies. The company had also landed the Air Force as a customer in a deal worth $1.7 million.

Husney said the
 pandemic expanded the base of customers Parabol works with, bringing in companies that previously had little experience coordinating remote work. Still, he said, most of the companies using Parabol's platform are those that support teams of agile software developers.

Agile refers to a set of practices used to coordinate teams of developers and to adjust goals to meet changing demands from users of the software being developed.
 
Husney said teams consciously using the agile framework quickly recognize the applications of Parabol's software. One of the primary challenges facing the company now, he said, is demonstrating the effectiveness of the platform in a wide array of workplace contexts.

Husney said Parabol plans to use its new funding to roughly triple its workforce by the end of 2021 in an attempt to broaden its base of customers to businesses managing hybrid remote and in-person workplaces.
 
"There's a spectrum to the way that knowledge work is done now," Husney said. "We can be 100% co-located, we can be 100% remote, and we can set our preferences about where we want to be in between. Our company plays really well in that in-between space."
For reprint and licensing requests for this article, CLICK HERE.