Local Aerospace Companies Play Major Roles in NASA's Moon Missions
Monday, April 19, 2021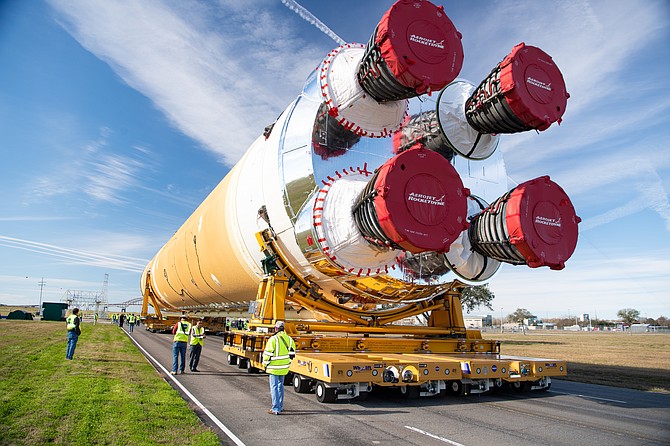 Later this year, Long Beach-based rocket manufacturer Rocket Lab USA Inc. will attempt its first mission to the moon.

The company has been selected by NASA to deploy a small satellite (roughly the size of a microwave) called CAPSTONE into a precise lunar orbit.
 
CAPSTONE stands for Cislunar Autonomous Positioning System Technology
 Operations and Navigation Experiment, and it's an early test for the agency's Lunar Gateway program, which is aimed at establishing a new space station that will hover above the Moon in that same orbital path.

It's also a big test for Rocket Lab, which began launching commercial missions just three years ago.

Chief Executive Peter Beck said the mission is indicative of the agency's willingness to incorporate a wide range of companies into its ambitious plans to return humans to the moon and beyond.

"I think NASA has really got the mix right here by funding very big missions of national significance and also, frankly, funding missions like our CAPSTONE mission where they're prepared to give us a shot and prove we can build a spacecraft to deliver this (satellite)," Beck said.

NASA's Lunar Gateway project is a key part of its Artemis program, aimed at landing the first woman on the moon by 2024 and developing the technology needed to send humans to even deeper reaches of space.
 
It's one of the most ambitious initiatives the agency has launched since the development of the Space Shuttle program more than four decades ago, and Los Angeles companies are playing a major role.

The towering Space Launch System NASA has developed to facilitate its lunar missions is powered by rocket engines designed by El Segundo-based Aerojet Rocketdyne Holdings Inc., and Hawthorne-based Space Exploration Technologies Corp. is working to develop a lunar lander.

Meanwhile, dozens of local companies big and small are working behind the scenes as contractors for a range of projects related to the program. This includes researchers at Jet Propulsion Laboratory and consultants working to develop electric thrusters for the Lunar Gateway space station and to engineer systems for the Orion spacecraft set to bring astronauts into lunar orbit.

'Great to be in LA'

"It's great to be in L.A.," said Joseph Cassady, executive director of Aerojet Rocketdyne's space division. "We have to have pressure transducers and temperature sensors and all that kind of stuff. With L.A. being the hub that it is for the aerospace industry, we don't have a shortage of people (who can make those things) close by."

Aerojet Rocketdyne's predecessor firms, Aerojet and Rocketdyne, have long histories working with NASA, and both contributed to the agency's Apollo program that landed the first astronauts on the moon in 1969.

Today, the company is actively involved in multiple aspects of the Artemis program, providing propulsion systems for multiple stages of the Space Launch System and Orion spacecraft.
 
"It's such an exciting time again," Cassady said. "We'll start doing something that we haven't done for 50 years, which is going further out into space with people. It's almost indescribable to say how it feels to be a part of that."

Cassady said Aerojet Rocketdyne is also working with teams led by Blue Origin and Dynetics Inc. that are engineering lunar landing systems capable of transporting astronauts between the Lunar Gateway space station and the surface of the moon.

SpaceX is competing with those two teams to develop a landing system using the Starship spacecraft that the company has been testing for the past year at its launch site in Boca Chica, Texas.

The company's Falcon Heavy rocket booster will also be used to launch components of the Lunar Gateway space station, as well as a landing system set to deploy a water-seeking rover on the surface of the moon in 2023.

SpaceX was founded in 2002 as NASA was about to start winding down its space shuttle program, and the company's brash plans to bring down launch prices and establish human settlements on Mars for a time stood in sharp relief to NASA's focus on long-running research programs that had a reputation for going over-budget.

Public enthusiasm

Now, the space agency has adopted some of those same goals while embracing newer businesses like SpaceX, which last year became the first private company certified for crew rotation missions to and from the International Space Station.

Randy Villahermosa, general manager of innovation at El Segundo-based nonprofit Aerospace Corp., said successful crewed missions carried out by SpaceX and the recent landing of the Perseverance Rover on Mars are fueling public enthusiasm about space exploration.

"There's a growing interest in space among the populace," he said. "I grew up during the days of the space shuttle, and I think (after that) there was a bit of a lull. There's been a resurgence now that space is becoming democratized; it's becoming digital, and folks are finding new ways of thinking about it."

Aerospace itself has turned its attention to space in recent decades. The federally funded organization was established in 1960 as a research and development center assisting the Air Force. Aerospace has worked with NASA for decades, but Principal Director John Brekke said the nonprofit has been steadily expanding its support for NASA programs since 2000.

It is now consulting on multiple projects related to the Artemis program and working directly with many of the companies selected to lead those projects, including the three providers selected to develop a lunar landing system.

"We are leaning on our engineering group to support schedule a
nalysis for the contractor teams to make sure what they've put forth makes sense and passes sanity checks," Brekke said.

With so many companies working on the program, often in competition with one another, Brekke said, it's important to have consultants able to check budgets and make sure scheduled work is completed on time.

"We have no dog in the hunt," he said. "We're there to do what's in the best interest for NASA."

Coordinated efforts

With government spending surging to counteract the economic impact of the Covid-19 pandemic, it's especially crucial that the projects coordinated by the space agency stay on budget. Meanwhile, the clock is ticking on the agency's 2024 goal for its next crewed moon landing.

NASA plans to launch a test of its SLS spacecraft later this year, and the Rocket Lab mission is set to take place in coming months.

Beck said missions like these are important because they give companies opportunities to develop and demonstrate complex technologies outside of what is needed for typical commercial launches.

"Going to the moon is no joke," he said.

Following the CAPSTONE mission, Rocket Lab plans to use its Photon spacecraft in a future mission to Venus, using similar techniques.
 
Beck said he's hopeful that developing this technology will bring down the expense of future interplanetary missions and open up new possibilities for researchers investigating the possibility for life in other parts of our solar system.

"We can go back again and again," he said. "If it took 10 missions to go to Venus and prove whether there's life there or not, in our current iteration cycle, that's 100 years. I'd like to see whether there's life or not in my lifetime, not my children's children's lifetime."
For reprint and licensing requests for this article, CLICK HERE.