Cover Technologies Banks on Rising Demand for Prefab ADU Structures
Monday, April 19, 2021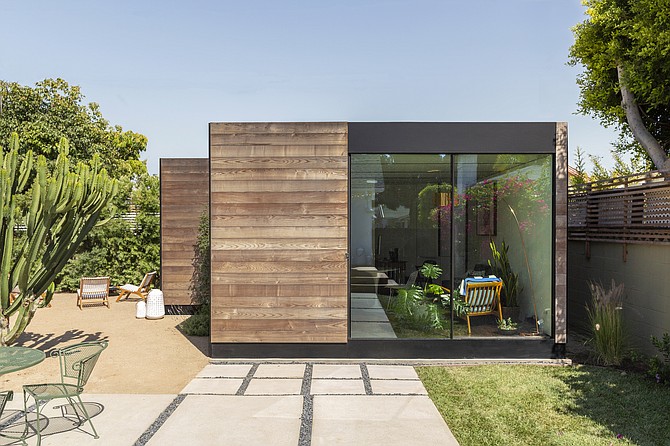 Cover Technologies Inc., a prefab homebuilder running operations out of its warehouse in Gardena, is on a mission to bring more prefab homes to L.A.

For now, the company is focused on accessory dwelling units, or ADUs. Sometimes referred to as granny flats, these structures are built in a backyard separate from a main house and are often used as an office or a place for guests.

Cover's long-range goal, though, is to expand into single-family homes and even multifamily developments.
 
Founded by Alexis Rivas in 2017, Cover has grown to 50 employees, including alumni from Google, Amazon.com Inc. and Space Exploration Technologies Corp.

Rivas, a Toronto native, was interested in architecture, homes and construction from a young age. He earned a BA in architecture from Cooper Union in New York City.
 
Early in his career, Rivas worked for high-end residential architects building $20 million to $100 million homes. Over time, he said, he realized that the use of architects, clients, electricians and other contractors were big factors in the high cost of homebuilding.
 
"I was shocked at how expensive things were but was also really attracted to stunning high quality and detail," Rivas said. "Things that should cost a lot less end up costing more because of the coordination involved."

It's not just high-end homes. These costs occur across the price spectrum, Rivas said, and he began to think of ways to build more affordably.

The solution? Building in a factory.

In 2014, Rivas began working for what was then known as LivingHomes, a Santa Monica-based prefab home company.
 
But Rivas said he had ideas for more efficient ways to build. He decided to leave and launch Cover.
 
The company, which Rivas called a technology company, "redesigns the home to be geared toward manufacturing."
 
To do this, Cover has created wall and floor panels that can be combined for any layout and design.

Rivas said the company is filling a growing need.

"People want high-quality homes, they need homes, there's a shortage of housing out there," Rivas said. "We can provide housing that is affordable, available to everyone and really high quality."
 
The average Cover ADU costs $260,000.

Property owners who employ Cover to build an ADU first provide their address for Cover to determine if an ADU is legal at the site. (Less than half of permits submitted to the city are approved, Rivas said.)

From there, Cover and the client go over the client's needs and start designing the ADU. Some customization is allowed, but there are limits in order for Cover to build in a factory at low prices.

From the time of purchase, the ADU usually takes nine months to be delivered to a client's home, largely because of a backlog of orders at the factory, Rivas said.
 
So far, the company has delivered 50 units and has many more in the works.

For now, Cover is working with ADUs of up to 1,200 square feet for use as an office or a home with a kitchen, living space, bedrooms and bathrooms.

Rivas said starting small allows the company to learn and develop the technology before gearing up.

Right now, the company is focused on L.A. but eventually wants to work throughout the state.

The Covid-19 pandemic has not slowed the company. Rivas said Cover has had "two record sales quarters" as people are looking for more space at home, such as an office, or space for parents or in-laws they don't want to have to move to a group living facility but still want to have some privacy from the rest of the household.
For reprint and licensing requests for this article, CLICK HERE.