ArcLight, Pacific Theatres Are Closing Permanently
Originally published April 13, 2021 at 9:32 a.m., updated April 16, 2021 at 11:59 a.m.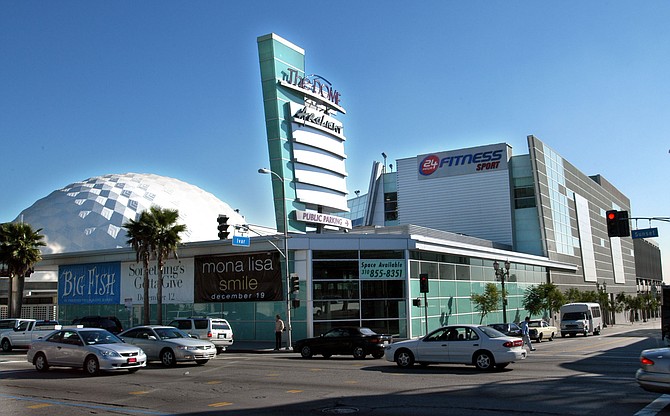 Can the Cinerama Dome be saved?
That's the question on the mind of Los Angeles moviegoers following news that Beverly Grove-based Decurion Corp., owner of Pacific Theaters and ArcLight Cinemas, plans to permanently close the beloved chains.
The April 12 announcement to shutter more than 300 screens, including the iconic Cinerama Dome on Sunset Boulevard in Hollywood, ends a combined 94 years of operation by the theater chains.
The news caught studio executives, critics and moviegoers by surprise. Fans immediately launched petitions and hashtags to #Save-TheArcLight and #SaveTheCineramaDome.
Speculation swirled that a streaming company would acquire the landmarked Cinerama Dome, which is often used as a venue for special screenings and filmmaker Q&As. There's precedent for that; last spring, Netflix Inc. purchased Hollywood's historic Egyptian Theatre from American Cinematheque.
Variety reported that Decurion President Christopher Forman may decide to continue operating the Dome as a special event space with help from investors.
Announcement of the closures came as the state loosened restrictions on Los Angeles County movie theaters, which were allowed to reopen at partial capacity on March 19. As of April 5, theaters are allowed to seat 50% of their occupancy or 200 people, whichever is less.
ArcLight Cinemas and Pacific Theatres did not take advantage of the reopening allowances and have remained closed for more than a year. It's possible the chains were feeling the impact of streaming, which is starting to upend theatrical releases.
"This was not the outcome anyone wanted, but despite a huge effort that exhausted all potential options, the company does not have a viable way forward," both theater brands said in a shared statement on their websites.
Pacific Theatres was founded in 1946 and operated six locations in California, including the Cinerama Dome, which opened in 1963. The Cinerama Dome is a part of the ArcLight Hollywood complex, the flagship location for ArcLight Cinemas, which opened in 2002.
ArcLight Cinemas operated 11 locations, including several on the East Coast.
In L.A., the brand had built a loyal customer base with its sound and picture quality, generous refund policy, rewards membership program, special events, comfortable seats, celebrity sightings and relatively affordable concessions, including cocktails.
"To our guests and members of the film industry who have made going to the movies such a magical experience over the years: our deepest thanks," the company said in a statement. "It has been an honor and a pleasure to serve you."
ArcLight Cinemas and Pacific Theatres locations were mainstays in several malls and shopping centers in Los Angeles, including at the Grove in Fairfax, Santa Monica Place and Americana at Brand in Glendale.
"Angelenos and moviegoers across the country can rest assured knowing that there will always be a place on our properties to revel in the shared experience of watching a film together," Rick Caruso, whose Caruso owns the Grove and Americana, said in a statement. "Los Angeles is the epicenter of the film industry, it would be an unimaginable loss to our city if we were to lose this critical touchpoint and the ability to celebrate storytelling and the magical ways it can bring all of us together."
The pandemic has devastated the movie exhibition industry. Leawood, Kan.-based cinema giant AMC Entertainment Holdings Inc., which owns and operates more than 30 theaters in L.A. County, lost $4.3 billion in revenue in 2020 due to the shutdowns, down 77% from the previous year. Culver City-based cineplex operator Reading International Inc. saw revenue plummet roughly 72% compared to 2019, losing nearly $200 million in revenue in 2020.
"To all the Pacific and ArcLight employees who have devoted their professional lives to making our theaters the very best places in the world to see movies: We are grateful for your service and your dedication to our customers," the companies said.
For reprint and licensing requests for this article, CLICK HERE.