Company 3 Leases Large Space at Sunset Las Palmas Studios
Monday, April 12, 2021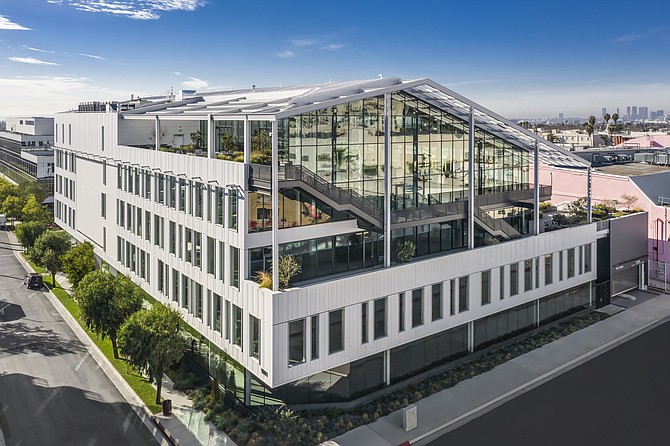 Post-production group Company 3 has leased 70,285 square feet at Hudson Pacific Properties Inc.'s Harlow, a recently completed office development at Sunset Las Palmas Studios in Hollywood.
The 11-year lease at the iconic studio property will start in the second quarter of 2022.
Company 3 also leases the entirety of 3401 Exposition in Santa Monica, another property owned by Brentwood-based Hudson Pacific.
"We are thrilled to significantly expand our relationship with Company 3 and welcome them to Harlow, a shining example of what we deliver for our tenants — stunning architecture; sustainable, wellness-centric and tech-forward design and operations; and a unique on-studio lot location," Victor Coleman, chairman and chief executive of Hudson Pacific said in a statement.
Harlow is located between Sunset Las Palmas' stages and production offices.
The four-story building has 130,000 square feet of space, flexible floorplans, a two-story mezzanine and terraces on every floor.
The building was designed by RIOS.
"Harlow is now over 50% leased and we have strong interest in the balance of the building. This underscores the resiliency of demand, particularly for our assets and locations as companies plan for and commence a return to the office and productions run full-steam ahead," Coleman said in a statement.
Last year, Blackstone purchased a 49% interest in Hudson Pacific's Hollywood Media Portfolio, comprised of Sunset Gower, Sunset Bronson and Sunset Las Palmas.
The deal valued the portfolio at $1.7 billion.
Hudson Pacific is responsible for day-to-day operations at the properties, leasing and developing excess land.
Last year, Hudson Pacific's plans to nearly double the size of the Sunset Gower property were approved. The studios already have more than 530,000 square feet of production and support space and 12 soundstages. The expansion will include two soundstages, a high-rise office tower and a low-rise building for office and production support staff.
For reprint and licensing requests for this article, CLICK HERE.