Cadiz Faces New Suit Over Water Pipeline
Monday, April 12, 2021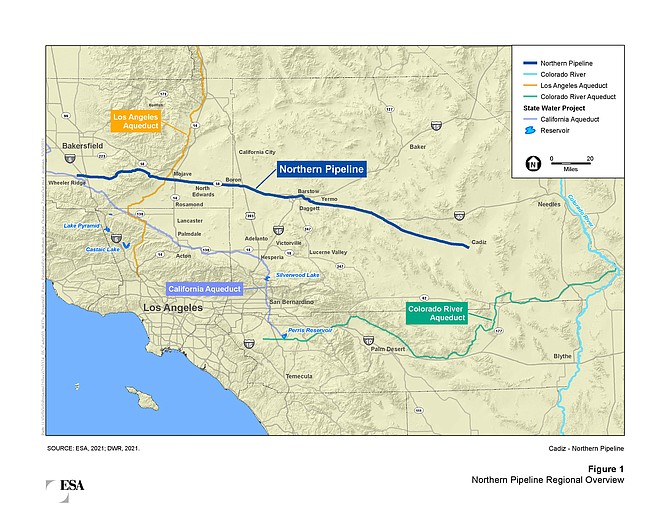 Additional legal challenges have been launched against a project by downtown-based water infrastructure company Cadiz Inc. to pump and transport water from its desert aquifer to connect with existing water conveyance systems.
 
This latest lawsuits were filed March 23. Cadiz is not a direct party to the suits but would be impacted by any resulting decision. One suit is against the federal Bureau of Land Management by the Center for Biological Diversity, Earthjustice and the Sierra Club. It asks the federal court to overturn a December BLM decision to approve the conversion of an idle oil and gas pipeline to carry water from Cadiz's desert aquifer. 

The other lawsuit was filed by the Native American Land Conservancy and the National Parks Conservation Association. That suit alleges that the BLM failed to consult with Native American tribes before granting the pipeline approval.
The filings marks the third decade in which Cadiz' water transfer plan has faced legal challenges from environmental groups. Cadiz, which purchased the land over the Mojave Desert aquifer in the 1980s, has prevailed in the vast majority of the cases.

This 217-mile pipeline, which Cadiz acquired in 2011 from El Paso Natural Gas Co. (now owned by Houston-based Kinder Morgan Inc.), extends west from the Cadiz Valley in the middle of the Mojave Desert to the southern tip of the Central Valley, near the California Aqueduct. It passes near interconnecting pipelines in the Barstow area that convey water to High Desert communities.

Cadiz also has approvals to build a 43-mile pipeline to connect the aquifer to the Colorado River Aqueduct and then to water agency customers in Southern California. That proposed pipeline has also endured a long legal battle.

In the lawsuit over the idle oil and gas pipeline, conservation groups say that in the last weeks of the Trump administration, the Interior Department gave Cadiz approval to convey water through the pipeline without a proper environmental review.

"The Trump administration did one last favor to Cadiz by granting this right-of-way without any public review," Ileene Anderson, senior scientist at the Center for Biological Diversity, said in a statement.

But the plaintiffs said the real aim of their lawsuit was to put a permanent end to Cadiz's water transfer plan.

"This massive water-privatization scheme would dry up life-giving desert springs and seeps that some of California's rarest desert species rely on," Anderson said.
 
Cadiz issued a statement after the March 23 lawsuit filing.

"Cadiz has been working for five years to ready an idle, already-constructed oil and gas pipeline to use for the better environmental purpose of transporting needed water between disadvantaged and underserved communities in Inland California," the statement said. 
For reprint and licensing requests for this article, CLICK HERE.