Passenger Traffic Plunges 73% in February at Local Airports
Monday, April 5, 2021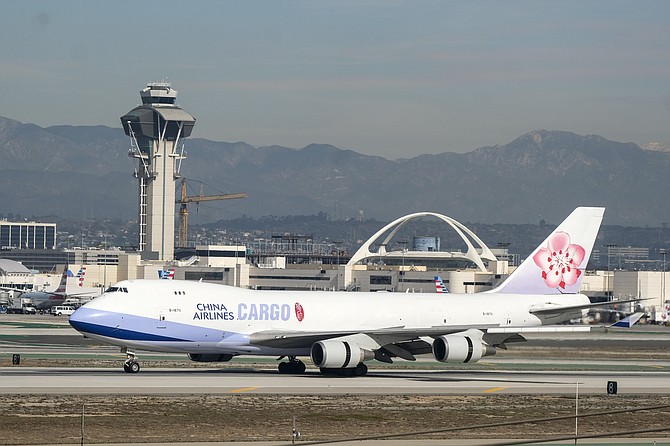 Local airports continued to tell a tale of two worlds in February as passenger counts dropped yet again while cargo tonnage surged to new heights.

The cumulative passenger count at Los Angeles International, Ontario International, Hollywood-Burbank and Long Beach airports was 1.9 million for February, down from 1.98 million in January.

That marked the lowest total since August as the region struggled with the third and most severe wave of coronavirus infections. Cumulative passenger traffic was down 72.8% from February 2020.

But total cargo tonnage at the four airports rose 34% in February compared to the same month in 2020, reaching 281,000 tons. LAX led the way with a 42.5% year-over-year gain as personal protective equipment and vaccine shipments flowed through the airfield.

Passenger traffic at the four airports in February declined 4.1% from January, marking the fourth consecutive monthly drop from October's pandemic-era peak of 2.5 million passengers. The drop came despite improvement throughout the month in Covid case counts and hospitalizations.

February's passenger traffic decline was most significant at LAX, which saw 1.7 million passengers for the month compared to nearly 5 million in the same period in 2020. That's a year-over-year decrease of 72.2%.
February Year-Over-Year Airport Traffic Changes

Airport
Air Passengers (Feb. 2020)
Air Passengers (Feb. 2021)
% Change
LAX

5,821,479

1,620,270

-72.2

ONT

419,955

152,293

-63.7

BUR

456,545

73,316

-83.9

LGB

278,099

51,305

-81.6

TOTAL

6,976,078

1,897,184

-72.8

Sources: Airport Governing Authorities
Preliminary LAX passenger count data from March 1 through March 28 showed considerable improvement with the Transportation Security Administration tabulating 1.1 million boarding passengers, up from 825,000 for the same number of days in February. (These numbers do not include arriving passengers and therefore represent roughly half of the total passenger traffic at LAX in that period.)
According to data provided by Los Angeles World Airports, the city agency that runs LAX, this was down 63.6% from the same days in the pre-pandemic period of March 2019. (LAWA decided not to use March 2020 data as the comparison point since the pandemic hit mid-month.)

"In March, we saw a continued uptick in the number of passengers traveling through LAX, and this past Sunday, we had our busiest day in more than a year," said LAWA Chief Executive Justin Erbacci.
 
On March 28, TSA data showed 55,169 boarding passengers, the highest single-day total since the pandemic began.
"These numbers, coupled with the increase in the number of flights being added by airlines, leaves us cautiously optimistic going into the summer," Erbacci said. "However, with Covid-19 cases on the rise in Europe and in the Northeast part of the U.S., we remain diligent in adhering to our health and safety protocols, and request all travelers, even those who are vaccinated, to do the same."

Turning to the region's other airports, Hollywood Burbank posted an 84% drop in passengers in February from the same month a year earlier. Long Beach was close behind with an 81.5% year-over-year decline.
 
This reflects a common trend during travel downturns of airlines cutting flights at smaller or outlying airports and consolidating those flights at larger airports in major metropolitan areas.
This effect was magnified at Long Beach Airport as JetBlue Airways Corp., previously the airport's dominant carrier, cut all flights there last year in favor of expansion at LAX.
New York-based JetBlue's decision was set before the pandemic when the city denied the airline's bid to establish international service at the airport; Covid-19 prompted the carrier to move up the transition date.
Dallas-based Southwest Airlines Co. has picked up most of JetBlue's flight slots but is only gradually adding flights back.
 
Ontario Airport continued to fare slightly better, with a February passenger count of nearly 152,000 — a drop of roughly 64% from the same month in 2020.

February will likely be the last month showing year-over-year passenger traffic drops of 70% or more at the four airports. Percentage changes for March will begin to reflect the plunge in passenger traffic that occurred as a result of the Covid-19 lockdown.

Meanwhile, the pace of year-over-year growth in cargo tonnage accelerated once again in February, especially at LAX, which saw 210,000 tons go through its airfield.
February Year-Over-Year Airport Cargo Changes

Airport

Cargo Tonnage (Feb. 2020)

Cargo Tonnage (Feb. 2021)

% Change

LAX

147,572

210,261

42.5

ONT

54,460

66,052

17.0

BUR

4,112

3,747

-8.9

LGB

1,470

936

-36.3

TOTAL

209,614

280,996

34.1

Sources: Airport Governing Authorities
That was an increase of 42.5% from the same month a year earlier, though it should be noted that the February 2020 figure reflected the pandemic-induced shutdown of Chinese factories. LAX has long been a major import hub for Chinese products.
LAX has benefited from Covid-related transports of personal protective equipment and, more recently, vaccines.
"Last year, LAX was a key hub for personal protective equipment, helping to get these critical items to people around the globe, and in the past few months, LAX has become an important stop for vaccines en route to people throughout Southern California," LAWA's Erbacci said.

Ontario International also continued to see double-digit growth in air cargo tonnage, with a 17% jump in February to 66,000 tons. 
That airport has emerged as a major cargo hub tied to the extensive warehouse and distribution facilities in the region, a trend that has accelerated during the pandemic as online orders have surged.
"Despite the ongoing impact of the Covid-19 pandemic on air travel and other sectors of the economy, freight shipments through Ontario continue to show tremendous strength and make the airport a focal point of Southern California's goods movement industry," Mark Thorpe, chief executive of the Ontario International Airport Authority, said in the authority's monthly data release.

Memphis, Tenn.-based FedEx Corp. opened a new facility at Ontario in November — a 251,000-square-foot complex with sorting machines capable of handling 12,000 packages per hour, nine wide-body aircraft gates, 14 feeder aircraft gates and 18 truck docks.
Cargo tonnage fell in March at both Hollywood Burbank and Long Beach airports although those two airports together make up only about 1% of the total cargo flowing through all four airfields.
For reprint and licensing requests for this article, CLICK HERE.