How Hyperloop Is Prioritizing Passenger Experience
Monday, April 5, 2021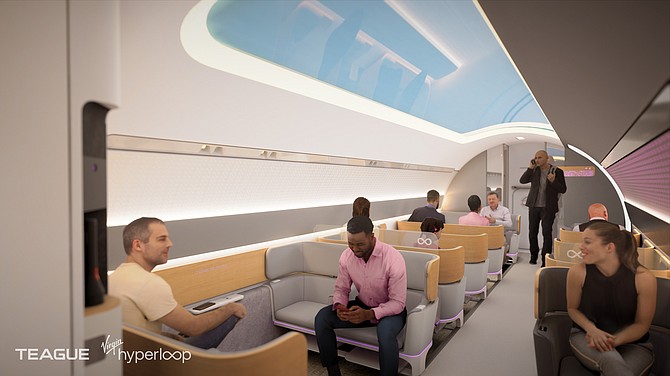 In 2012, Tesla Inc. and Space Exploration Technologies Corp. Chief Executive Elon Musk published a proposal outlining a concept called the hyperloop, a futuristic transportation system to carry passengers through nearly airless tunnels at speeds reaching 700 mph.
In renderings included in the proposal, faceless passengers are seen traveling in steely pods that look like something out of a science-fiction movie.
Less than a decade later, Hyperloop Technologies Inc., doing business as Virgin Hyperloop, is testing a prototype of the system.
In 2017, Virgin Group invested in the company, which had been operating as Hyperloop One, and the Virgin brand was attached to the business. Virgin founder Richard Branson chaired the company's board until 2018.
The downtown-based company's technology is still very much in an early stage, but people curious about the new form of transportation can get a good idea of how it might look — and even sound.
The person most responsible for this is the company's director of passenger experience, Sara Luchian, who fittingly became one of the first humans to travel aboard a Virgin Hyperloop system in November.
In January, under Luchian's direction, the company unveiled gleaming images and video renderings of both the vehicles and the light-filled stations where riders might wait to board. Prototype vehicles already built by the company have a sleek, all-white aesthetic with interior seating designed by Bjarke Ingels Group and Kilo Design.
Luchian joined Virgin Hyperloop in 2017 as director of business strategy and quickly saw a need to centralize riders in the company's plans for the futuristic transportation system.
"I recognized that there was this gap in our focus," Luchian said.
At its test tunnel outside of Las Vegas, the company had already demonstrated that hyperloop systems could be constructed, but it hadn't yet shown that they would be an appealing alternative to existing forms of transportation.
"For years, our engineers had been understandably focused on refining and developing the technology that was the number one priority," Luchian said. "But we hadn't really talked about people. I really wanted to start developing and communicating that story."
The work that the company was doing was already drawing the attention of both investors and the general public, and Luchian said most people learning about the technology were less interested in the logistics of how the system operates than they were in understanding what it might be like to experience it as a rider.
"The average person is not asking for the nitty gritty about how magnetic levitation works," Luchian said. "They're asking, 'What does it feel like? Is it safe? Are there windows?'"
Detailed vision
Virgin Hyperloop's concept video addresses questions like these with an animated depiction of a trip aboard its system. The passenger pods, planned out by design consultant Teague, include roomy seating spaces, bathrooms and an overhead light fixture that gives the appearance of a skylight.
Riders appear calm and unfazed as the pod rockets through a tunnel to its final destination, with the hypothetical soundscape of the system provided by audio branding company Man Made Music Inc.
The vision for the system is astonishingly detailed, given that Virgin Hyperloop's first commercial transportation line could still be years, if not decades, away. Virgin Hyperloop aims to start commercial operations by 2030 and is already competing for an array of proposed transportation projects around the world, from the Midwest to Mumbai. The company is also working to advance regulatory approval processes for Hyperloop systems in the United States, India and the European Union.
Still, the technology is new and relatively unproven. The top speed of 387 kph achieved by Virgin Hyperloop at its test tunnel is still less than half the speed it aims to hit when its system is in everyday use.
And an analysis conducted last year by Lux Research Inc. found that a wide range of engineering challenges remain to be overcome by companies developing hyperloop technology in order to ensure systems can be built and operated in a cost-effective way.
The authors of the report concluded that a system carrying passengers is unlikely to be completed before 2040.
Ethan Elkind, director of the Climate Program at the UC Berkeley Center for Law, Energy and the Environment, said that the permitting process for major transportation projects could add to delays in getting a Hyperloop system up and running in the United States.
"It can literally take decades to get permits," he said. "And in this case, you have a new technology where people don't have great data on the impacts to endangered species, cultural sites, and on and on. So, all of that would have to get worked out through permitting."
On the regulatory side, Virgin Hyperloop last year announced plans to build a certification center with a 6-mile test track where engineers can demonstrate the safety and effectiveness of the system.
The company also brought a prototype pod to cities in Texas, Kansas and Ohio in 2019 to demonstrate the system's viability to people living in regions where transportation planners are considering the possibility of implementing Hyperloop systems.
Focus on safety
Luchian said this is where the company's focus on the passenger experience makes a difference. As the company attempts to gain regulatory approval for a new technology at the same time as it pursues the investment needed to bring that concept to life, being able to give people a sense of what the system will look and feel like is vital, she said.
"You can design the most elegant mechanical solution and display sophisticated diagrams," Luchian said. "But at the end of the day, we're talking about moving human beings."
Elkind said the Hyperloop concept has a lot of potential as a mode of transportation due to the speeds engineers promise systems will be able to maintain. For the concept to work, though, companies like Virgin Hyperloop will need to ensure riders feel at least reasonably safe and comfortable.
"If the experience can be tolerable, and you have the time savings and the distances that can be traveled at a potentially cheaper rate than flying, that would be a really valuable value proposition," Elkind said.
Luchian said by anticipating the needs of riders far in advance of the deployment of a commercially operating system, Virgin Hyperloop is setting itself up for long-term success and the ability to meaningfully change the way people travel.
Those needs include a feeling of safety, as well as more mundane details like pods equipped with bathrooms and features that make cabins feel less claustrophobic.
"I've been fortunate in that people have come to appreciate the value of doing the work now because the implications of not making certain investments and improving the design now will lead to much greater costs down the line," Luchian said.
This mindset is part of the company's ethos, she said.
"Something that goes along with dreaming such a bold and ambitious dream of what the future of transportation could be is that we are thinking about the future already," Luchian said.
For reprint and licensing requests for this article, CLICK HERE.