Disney Theme Parks Unit Hit by Huge Layoffs
Disney Co. Parks' chairman Blames State of California for keeping Disneyland closed
Originally published September 29, 2020 at 4:31 p.m., updated October 2, 2020 at 10:41 a.m.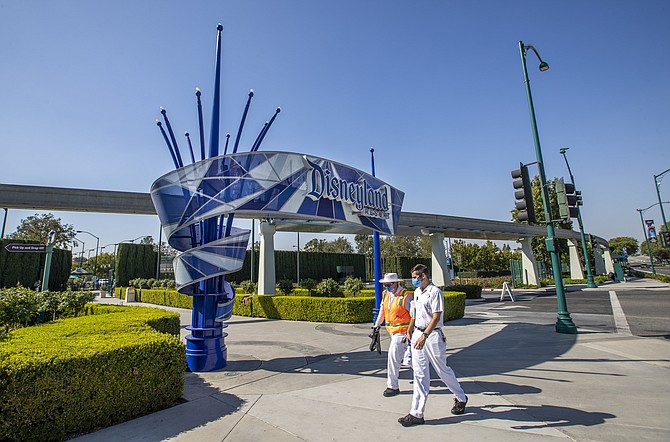 Walt Disney Co.'s parks division, which accounted for much of the company's extensive pandemic-driven furloughs earlier this year, will bear the brunt of the massive layoffs announced last week.
Disney said on Sept. 29 that it would cut 28,000 domestic workers "across all levels" in its Parks, Experiences and Products division.
That followed an April move by the entertainment giant to stop paying more than 100,000 workers — nearly half of the company's workforce.
Most of those furloughed in the wake of the Covid-19 pandemic were employees at Disney's theme parks around the world. Some included in the layoffs may be part of that group while others will remain on furlough.
The layoffs are likely to hit mostly park employees, but also may impact executive and administrative staff. The parks division also oversees consumer products, retail businesses and Disney Cruise Line operations.
Division Chairman Josh D'Amaro said in a statement that about 67% of the 28,000 affected domestic employees are part-time.
Disney theme parks across the globe have closed at various points during the pandemic. Shanghai Disney and Hong Kong Disney shuttered in late January, and Tokyo Disney Resort went dark in late February.
Disneyland and California Adventure in Anaheim and Walt Disney World in Orlando, Fla., all closed in mid-March.
Since then, all but Disneyland and California Adventure have reopened, with varying degrees of Covid-19 restrictions.
D'Amaro largely blamed the new layoffs on California's pandemic restrictions.
"In light of the prolonged impact of Covid-19 on our business, including limited capacity due to physical distancing requirements and the continuing uncertainty regarding the duration of the pandemic — exacerbated in California by the state's unwillingness to lift restrictions that would allow Disneyland to reopen — we have made the very difficult decision to begin the process of reducing our workforce at our Park, Experiences and Products at all levels, having kept nonworking Cast Members on furlough since mid-April while paying health care benefits," he said in a  statement.
D'Amaro added that the division was looking forward to "providing opportunities where we can" for laid off employees to return.
The announcement came one day after D'Amaro had joined the California Attractions and Parks Association and a number of California state senators and assembly members in issuing a letter asking Gov. Gavin Newsom to define guidelines for theme parks to reopen responsibly.
For reprint and licensing requests for this article, CLICK HERE.