Southwest to Become Dominant Carrier at LA Airports
Monday, September 21, 2020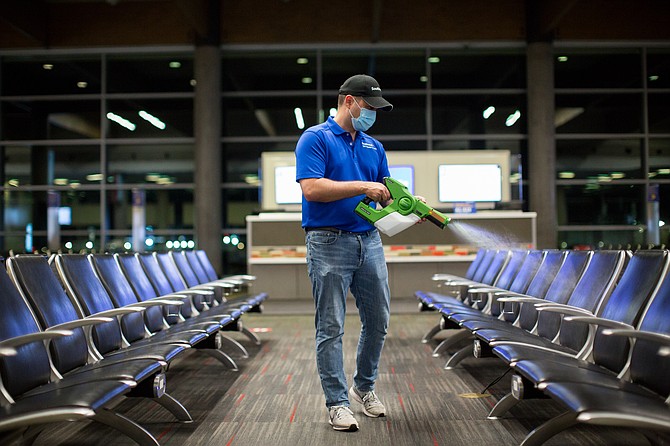 Angelenos seeking alternatives to Los Angeles International Airport will soon find Southwest Airlines Co. has become the dominant player at the other regional airports serving L.A. County.

Dallas-based Southwest, which already enjoys a sizable position at LAX, is on the verge of having the majority of flights and passengers at Hollywood-Burbank, Long Beach and Ontario International airports.

Starting in October, no other airline will control as many airfields around a major metropolitan area in the United States.

Southwest is in this position thanks to a decision earlier this month by the city of Long Beach to award the airline all 17 of the flight slots relinquished by New York-based carrier JetBlue Airways Corp. at Long Beach Airport. 

When Southwest assumes those slots next month, it will have the rights to 34 of the 53 slots at that airport, or nearly two-thirds of the flights. Given the sharply reduced demand due to the Covid-19 pandemic, it might take a year or two before Southwest fills the slots. 

But even before taking over JetBlue's slots on Oct. 7, Southwest is the airport's de facto dominant carrier. In July, the airline handled about 60% of the total 40,400 passengers at the airport.

Meanwhile, Southwest has been the dominant carrier at Ontario International for most of the last dozen years, according to an airline spokesman. The airline slipped below the 50% passenger total mark earlier this year when the pandemic hit. But as of July, Southwest was back up to 50.4% of the 176,220 total passengers at the airport.

Southwest has also long been the dominant carrier at Hollywood Burbank where it handled 75.6% of the airport's nearly 6 million passengers last year. 

That percentage has slipped a bit this year: For the first seven months, about 960,000 passengers flew Southwest, comprising 68.4% of all passengers at Burbank Airport. But it's still far and away the prime carrier at the airport.

For Southwest, this dominance is the fruit of a decadeslong strategy to maintain its presence at the regional airports serving Los Angeles, though the majority status milestones it is now achieving are more the result of happenstance than deliberate plotting.

"We see that during each downturn, other airlines take a step back, whereas we stay put at these airports," said Andrew Watterson, chief commercial officer for Southwest and the top executive with oversight over the Southern California market. "As a result, over multiple decades and downturns, we end up being the biggest airline at these airports, as other airlines periodically consolidate to LAX."

JetBlue departures

That has certainly been the case at Long Beach. Just three years ago, JetBlue had 80% of passenger traffic at the municipal airport. But in late 2017, after the airline failed in its bid to establish international air routes at the airport, it began cutting back flight offerings there. 

With each round of JetBlue flight cuts, Southwest was there to take up the slots at the flight-capped airport, gradually ramping up its own flight offerings.

Then in July, JetBlue dropped the hammer, saying it was pulling out of Long Beach Airport altogether and that it would make LAX its new focus of Southern California operations. 

Southwest immediately submitted its bid for JetBlue's 17 remaining flight slots. Just as important, no other airline stepped in to join the bidding.

Watterson said Southwest has additional planes ready to fly out of Long Beach as soon as passenger demand picks up again.

"It all depends on the pandemic," he said.

He added that the airline eventually plans to expand service at Ontario International to levels exceeding the number of prepandemic flights, "especially to points mid-continent and farther east."

As for comparing Southwest's dominance of the smaller regional airports in the Los Angeles market with other major metro markets, Watterson said Southwest is the largest air carrier at many regional airports around the country though it only has absolute majority status at a few of them.

Other markets

What's more, he added, in no other major metropolitan market does Southwest dominate as many airports as it does in the Los Angeles market. 

Watterson said the airline is the largest carrier at both Oakland International and San Jose International airports in the Bay Area, while in the Washington, D.C., market it is the largest carrier by passenger volume at Baltimore Washington International Airport, and the second-largest carrier at Reagan National Airport in Arlington, Va.

Southwest is essentially the only carrier at Chicago's Midway Airport, with 96% of total passengers, but Midway is the only smaller regional airport operating as an alternative to O'Hare International in the Chicago market, compared with the three regional airport alternatives serving the Los Angeles market.

It's highly unlikely Southwest will achieve that level of dominance at Long Beach, Burbank or Ontario airports, given the overall attractiveness of the Los Angeles market and the gate and airfield constraints at LAX. 

But Southwest's upcoming increase at Long Beach and its ongoing influence at Burbank and Ontario is overall a good thing, according to Michael Boyd, president of Denver-based Boyd Group International, an aviation consulting company.

"It opens up these airports to substantial access through its (Southwest's) route network," Boyd said. "And we need to remember that other carriers are not interested in these airports. So at least there is one airline that has interest."
For reprint and licensing requests for this article, CLICK HERE.