Edison to Build 38,000 EV Charging Stations
Monday, September 21, 2020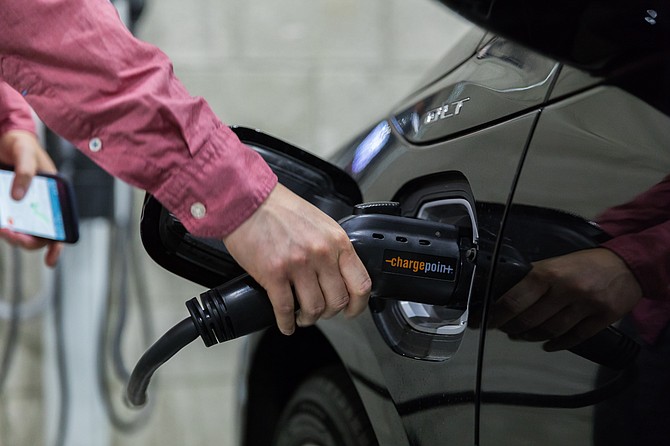 Electric car drivers, a charging station will soon be arriving near you.

Southern California Edison received approval from state regulators on Aug. 27 to spend $436 million to deploy 38,000 electric car charging stations over its 50,000-square-mile Southern California territory over the next four years. 

It's the largest electric car charging program run by an investor-owned utility in the nation.

SCE, the electric utility subsidiary of Rosemead-based Edison International, had previously deployed 1,800 charging stations at more than 100 sites under a three-year pilot program in partnership with businesses and local governments that ended this year. 

And earlier in 2020, SCE broke ground on the first five stations of a five-year, $356 million program — called Charge Ready Transport — to build 870 charging stations for medium- and heavy-duty electric trucks, buses and industrial equipment.

This program, known as Charge Ready 2, is targeting electric cars, sport utility vehicles and light-duty trucks and vans — essentially the heart of the consumer vehicle market. Much of the focus will be on operators of fleets of these electric cars and light-duty trucks.

With approval from the California Public Utilities Commission in hand, stations are planned for workplaces, public parking lots, schools, hospitals and other destination centers.

"By making more charging stations available, we are helping to advance a key component of California's ambitious climate and transportation electrification goals," Jered Lindsay, SCE's principal manager of air and climate policy, said in Edison's announcement of the program approval.

The electric charging station program is part of the state's effort to meet greenhouse gas reduction targets that include a 40% reduction in emissions from 1990 levels by 2030 and an 80% reduction by 2050. The $436 million cost of the program will be borne by Edison ratepayers, which is why the CPUC had to approve it.

One goal of this new electric charging station push is multifamily dwellings, which have been a particularly hard nut to crack. 

A third of all SCE customers live in multifamily units, and in some parts of Edison territory in L.A. County, that figure is significantly higher. But landlords and condominium associations have been reluctant to spend the money necessary for charging stations.

The Charge Ready 2 program includes rebates for the installation of charging stations in new multifamily dwellings that are planned or under construction.

"Going forward, we will have an added emphasis on the unique challenges faced by apartment and condo complexes, where one-third of SCE customers live and have limited access to at-home charging options," Katie Sloan, SCE's director of emobility and building electrification, said in the announcement.

Rebates are also available for other facility owners who agree to host charging stations. Under the Charge Ready 2 program, SCE will install and support the charging station infrastructure while facility owners will own, operate and maintain the actual charging stations.

The CPUC approved rebates of up to $2,000 per charge port for conventional charging stations and up to $27,000 for fast-charge stations. 

Vehicles can get most of their charge in about 20 minutes at fast-charge stations versus several hours for conventional charging connections. But these stations cost much more to build because they use high-voltage, direct-
current connections instead of the more common lower-voltage, alternating-current outlets.

The charging stations for this program, targeting electric cars and light-duty trucks and SVUs, will have different hardware components from the stations being rolled out for the heavy-duty trucks, buses, forklifts and other industrial equipment under the Charge Ready Transport program, according to SCE spokesman Paul Griffo.

How many of the 38,000 charging stations planned for SCE's service territory will end up in L.A. County? Griffo said that would depend on the number of applications.
He noted the program does set a target to locate 50% of the stations in state-designated disadvantaged communities, or areas that suffer most from the effects of air pollution.
For reprint and licensing requests for this article, CLICK HERE.