JetBlue to Add Flights at LAX
Monday, September 14, 2020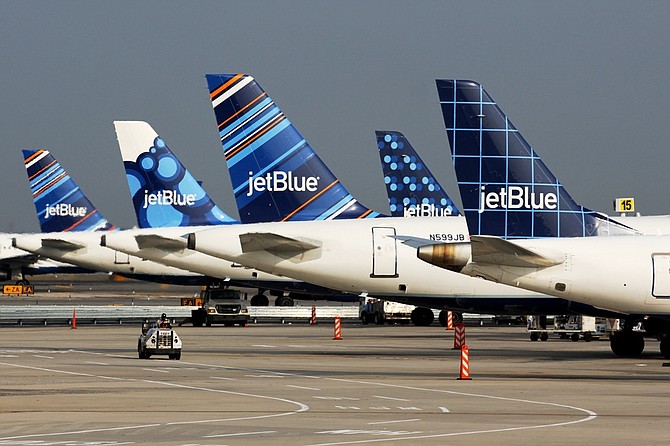 Two months after deciding to abandon Long Beach Airport and make Los Angeles International Airport the focus of its Southern California operations, JetBlue Airways Corp. announced Sept. 10 that it is adding seven flights at LAX later this year, including three to international destinations.

JetBlue plans to start service from LAX to the resort city of Cancun, Mexico, and to two cities in Costa Rica: the capital San Jose and Liberia in the northwest part of the country. Liberia is considered the gateway city to popular tourist beaches.

Domestically, JetBlue is adding flights from LAX to Charleston, S.C.; Palm Beach, Fla.; Raleigh-Durham, N.C.; and Richmond, Va.

The airline's service from LAX to Cancun and Palm Beach will start Nov. 19 with two daily flights to Cancun and one daily flight to Palm Beach. All other flights will launch on Dec. 18 and be once daily, except for the Liberia flight, which will be twice per week.

These LAX flights are "building out the airline's new Los Angeles focus city with expanded domestic and — for the first time in JetBlue's history — international service at LAX," the airline said in the announcement.

The new flights were part of a broader service expansion announced by the New York-based carrier that includes the addition of 24 flights at several airports across the nation. 

The strategy is aimed in part at capitalizing on recent trends for more leisure travel as the Covid-19 pandemic has persisted, the airline said in the announcement. Demand has been particularly high for remote or small city destinations as people seek escapes from crowded urban areas that have seen high Covid-19 infection rates. 
Meanwhile, business travel has plunged as more meetings are being held virtually.

"Every market has been uniquely identified as one in which JetBlue anticipates increasing demand for leisure travel," the announcement said.

The airline announced on July 9 that it will end all service at Long Beach Airport on Oct. 7.
For reprint and licensing requests for this article, CLICK HERE.