Rocket Lab Deploys First In-House Satellite
Monday, September 7, 2020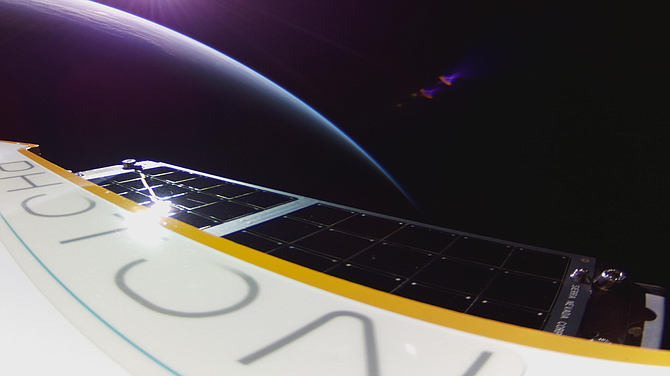 Long Beach-based Rocket Lab USA Inc. made a successful return to flight on Aug. 30, rebounding from a July mission where the company lost its launch vehicle and client payloads.

Rocket Lab also hit a milestone, deploying its first in-house built operational satellite, First Light, along with the customer's payload.

The mission marks the 14th launch of the company's Electron rocket. Rocket Lab has now deployed 54 satellites.

The I Can't Believe It's Not Optical mission lifted off from Rocket Lab Launch Complex 1 on New Zealand's Māhia Peninsula on Aug. 30.

The Electron rocket deployed a single microsatellite to a circular orbit at about 500 kilometers for Capella Space Corp.

The satellite will provide insights and data that can be used for security, agricultural and infrastructure monitoring, as well as disaster response and recovery.

Shortly after deploying the customer payload, Rocket Lab completed a technology demonstration of First Light. The satellite was built on the existing capabilities of Electron's Kick Stage, which is designed to circularize payload orbits with additional subsystems to enable long-duration satellite operations.

First Light is the first craft from Rocket Lab's family of configurable Photon satellites to be deployed to orbit.
The Photon project, announced in August 2019, is focused on designing and building satellites for each client's specific payload and mission objectives, from constellation development to commercial data services.

Rocket Lab acquired Canadian satellite hardware manufacturer Sinclair Interplanetary in April to access a steady supply of critical components for the Photon satellites.

"Launching the first Photon mission marks a major turning point for space users. It's now easier to launch and operate a space mission than it has ever been," Rocket Lab founder and Chief Executive Peter Beck said in a statement.

"When our customers choose a launch-plus-spacecraft mission with Electron and Photon, they immediately eliminate the complexity, risk and delays associated with having to build their own satellite hardware and procure a separate launch," he added. 
For reprint and licensing requests for this article, CLICK HERE.