CIM Group Sets Record With $506 Million Deal
Monday, September 7, 2020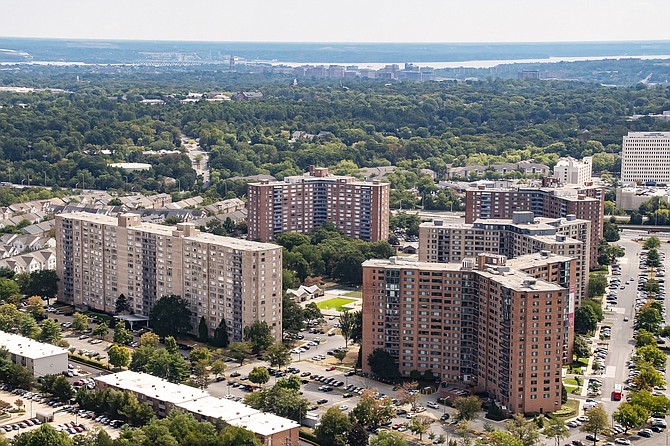 CIM Group, a development company based in Mid-Wilshire, has purchased a 2,346-unit apartment property in Alexandria, Va., for $506 million, records show.

It's the highest-priced multifamily transaction ever for the Washington, D.C., area, according to CoStar Group Inc.

The acquisition gives CIM Group more than 5,000 units in the market.

The property, at 4901-5055 Seminary Road, is called the Southern Towers. It consists of five, 16-story buildings and almost 2 million square feet.

The development was built from 1961 to 1965, and one of the buildings was renovated in 2015. 
Amenities at the property include two swimming pools, tennis courts and a playground. There is also a gym in each building. 
The units range from studios to three bedrooms.

CIM Group has been in the greater Washington, D.C., area for more than 15 years. In Northern Virginia, the company owns the 939-unit Skyline Towers, the 1,180-unit Mason at Van Dorn and the 285-unit Park Place at Van Dorn.

It is also converting the Crowne Plaza Hotel Alexandria into 119 condominiums and 41 townhomes.
It's been a busy year for CIM Group.

In July, the company announced a $40 million investment in Israel-based Ecoppia Scientific Ltd. that expands CIM's solar infrastructure portfolio.

Ecoppia Scientific makes and installs eco-friendly cleaning solutions for solar products.

In June, CIM Group backed out of its previously announced deal to purchase the 869,000-square-foot Baldwin Hills Crenshaw Plaza. The deal fell through following protests from the community.

Terms of the original sale were not disclosed, but experts estimated it could have sold for more than $100 million. Baldwin Hills Crenshaw Plaza sits on 40 acres at 3650 W. Martin Luther King Jr. Blvd.

In April, CIM Group sold Inglewood Plaza for $29 million. Stone Hill Capital, Downtown Holdings and Urban Center Holdings bought the 98,000-square-foot retail center which has three buildings.

And in March, CIM Group sold a 147-unit multifamily site and an adjacent collection of 37 apartments in West L.A.

The largest property in the transaction was Elevate at 1515 Granville Ave. The site has 147 units and retail space. 
The property, formerly an auto dealership, was built in 2019.
For reprint and licensing requests for this article, CLICK HERE.