Business Slows for LA Funeral Homes
Monday, October 26, 2020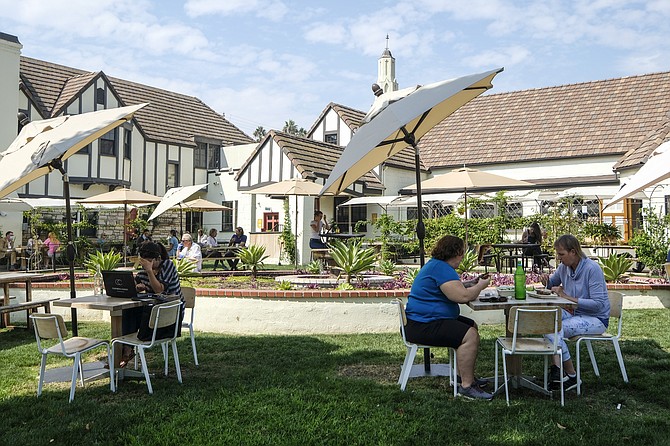 On a Saturday afternoon in June 2004, a hearse carrying the late President Ronald Reagan passed by hundreds of admirers along Santa Monica's Arizona Avenue on its way into Gates Kingsley & Gates Moeller Murphy Funeral Directors.

Inside the funeral home, then-California Gov. Arnold Schwarzenegger, celebrities and family members would pay their respects at the start of Reagan's weeklong state funeral.

Gates Kingsley, whose ownership could be traced in part to the Spanish land grant family that once held rights to Santa Monica and much of West Los Angeles, would later host Nancy Reagan's funeral.  

Today, the Tudor-style building is an outpost of the Tartine Bakery chain, where patrons dine on Vietnamese plum salad at pandemic-era distanced tables. 

The changeover at Santa Monica's last reported funeral home highlights the local market forces that have squeezed the industry. 

While the industry is traditionally tight-lipped about numbers, some insiders say profit margins have fallen as low as 5%. Not long ago, the margins ranged from 15% to 20%. 

"They're razor thin now," said a casket industry veteran, who asked to remain anonymous.

So, the industry has begun adapting its business model to the shifting cultural values that have elevated cost-saving cremations and celebrations of life over embalming, burials and somber religious services.

"I shut it down," said Anthony Lampe, who oversees Gates Kingsley as head of Los Angeles area operations for the business' owner, the Dignity Memorial division of Houston-based Service Corp. International. 

"Mostly because (of) … more and more people choosing … lower-cost type services," he added. "That whole business model was based (around) … services that were more traditional."

A range of services

The traditional funeral home provides clients with a range of services. That includes selling burial caskets — often marked up 350% to 400% — outer burial containers, cemetery plots, preparation, embalming, burials, arranging and directing funeral services, chapel rental, flowers, visitations, catering, video tributes and obituaries. 

Merchandise, services and burial insurance have long been the major profit centers for the industry. 

"The culture has shifted (to) … 'We're looking to have a balloon release on the beach,'" Lampe said. "When people started shifting toward cremation, it just wasn't viable anymore."

Cremations with burials typically cost 33% less than funerals with burials, according to the National Funeral Directors Association. In L.A., for cremations alone, Clarity Funerals and Cremation charges $895, and Tulip Cremation, part of a private equity rollup by Foundation Partners Group, bills $750. 

By comparison, an average L.A. funeral runs $7,000 to $8,000, said Chase Mirassou, an executive board member and secretary of the Los Angeles County Funeral Directors Association.

The cremation rate in the L.A. metro area has risen to about 60%, according to estimates by the casket industry veteran. That's close to California's 67% rate, as reported by the NFDA. 

Nationally, the rate of cremation has risen to 55%, up from 31% when Reagan died, according to The Cremationist magazine, which is published by the Cremation Association of North America.

"You have (L.A.) funeral homes that were doing 500 calls a year and are now doing 300 calls a year," said the casket industry veteran.

Some states, such as Oregon and Washington, have higher cremation rates. But California leads the nation with 225 crematoria and about 175,000 cremations in 2018, according to CANA. Second-ranked Florida has 206 crematoria, followed by Illinois with 138.

"California has the biggest cremation industry in the U.S.," said CANA Executive Director Barbara Kemmis.

Shift to cremation

By all accounts, the Covid-19 pandemic has accelerated the shift to cremation.
With social gatherings restricted in size and the economy's dive, many bereaved have been opting to cremate now and hold ceremonies later or to conduct smaller ceremonies now. 

For example, Service Corp. International reported in a Securities and Exchange Commision filing that average revenue per funeral service fell 4.1% for the first six months of 2020, compared to the same period in 2019.

"We increased our reserves for credit losses … as a result of the economic impact of the Covid-19 epidemic," the SCI report said. 

But not everyone is turning to cremation.

"I work for a lot of African American funeral homes where a lot of the cultural belief is that you should have a home-going," said the LACFDA's Mirassou. "So (the preference is for) … a full-fledged service (and) everything else like that."

At the same time, aversions to cremation in L.A.'s Latino Catholic and Jewish communities have been slowly eroding, industry executives said.  

Alex Matthews, whose family owns and runs All Caring Cremations Inc., said "We actually cremated a rabbi 18 months ago."

All Caring conducts about 5,000 cremations a year, primarily for small independent L.A. funeral homes, mainly in underserved minority communities. 

Matthews said the company was founded in 1908 by his great-great-great-grandfather, who peddled traditional funerals from a horse-drawn wagon with embalming equipment in the Coachella Valley. 

Today All Caring is adapting its business model to L.A.'s evolving market. 

The Van Nuys-based company is building a crematorium in the City of Commerce to add capacity to serve downtown and East L.A. 

And it will begin offering direct-to-consumer cremations online through Solace Cremation Inc., a 2-year-old Portland, Ore.-based company founded by ex-Nike Inc. marketing, branding and design executives. Solace expects regulatory approval in November to begin taking orders in Los Angeles, the company's beachhead for the California market. 

Solace will digitize all paperwork, and All Caring will pick bodies up from homes, hospitals or coroner's offices, then return the ashes in person or by mail.

"We've removed the physical idea of a funeral home," said Solace co-founder and Chief Executive Keith Crawford.

Time of consolidation

Competition is tougher than ever in the industry. Big chains like SCI have been consolidating funeral home companies. New businesses can face high barriers to entry, including regulatory hurdles and high costs for property, hearses and other tools of the trade. 

Still, newcomers are popping up. Industry insiders say L.A. has seen a surge in funeral directors with funeral home licenses who undercut prices of established homes.

This new breed of funeral industry entrepreneurs handle business operations out of their residences or storefronts. They rent venues and hearses, and work with established homes for storage, embalming and other preparations. 

"It's relatively new," Mirassou said. "I can establish it at my home address. … I can have a contract with a family for $5,000. And after all is said and done, I will have about $1,000."

"You see a lot of that now," he added. "Before, it was unheard of." 

Funeral homes are attempting to fight back. 

The NFDA reports that 11% of U.S. funeral homes without their own crematories in the 45 states that allow ownership plan to open one within five years. 

SCI's game plan, according to an SEC filing, is to "exercise pricing leverage," given its 16% share of the U.S. market, and to develop cremation services and merchandise. 

The company also plans to make its web presence more customer friendly, use Facebook Live for virtual ceremonies, contain salary and merchandise costs, and take advantage of the "strong local heritage and relationships" of the many family operations it has acquired.

In an attempt to regain market share in Santa Monica, SCI has leased a room under the Gates Kingsley name in the Colorado Center at 2500 Broadway.

Although Gates Kingsley personnel were shifted to SCI-owned Pierce Brothers Westwood Village Memorial Park & Mortuary, Lampe said the company will schedule appointments for the Colorado Center in Santa Monica. 

"I think we lost calls," Lampe said. "Not everyone is hip to using online for everything. … People that are dealing with funerals are literally the older people."

"We'll send someone to their home."
For reprint and licensing requests for this article, CLICK HERE.