Torrance Office Building Sells for $56 Million
Monday, October 19, 2020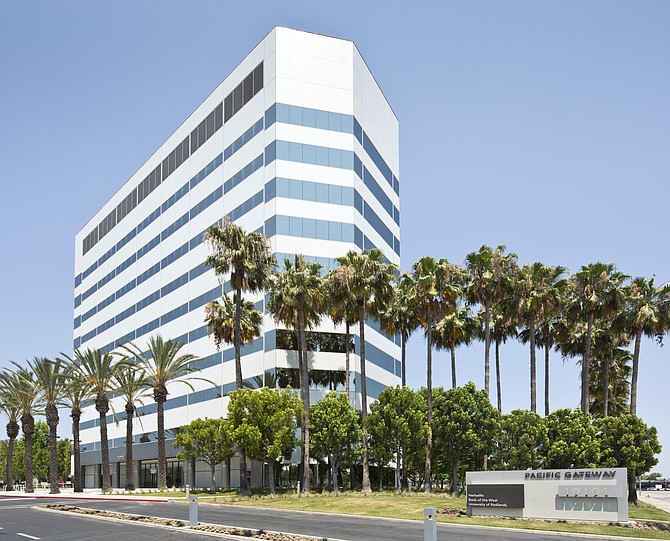 Nome Ventures has purchased Pacific Gateway, a 10-story office building in Torrance, for $55.5 million.

Newmark Knight Frank's Kevin Shannon, Bill Bloodgood, Ken White, Scott Schumacher and Aly Chelf represented the seller. NKF declined to name the seller, but records indicate it was Blackstone Group.

Pacific Gateway, located at 1919 S. Vermont Ave., is a 237,145-square-foot property that was built in 1981.

It recently underwent a $6 million renovation, including a lobby redesign by Gensler and the addition of a new tenant amenity center.

The building was 84% leased at the time of the sale.

"The 190th Street market has experienced tremendous leasing momentum and rental growth and has seen significant redevelopment," Shannon said in a statement, referencing the area of Torrance where the property is located.

CBRE Group Inc.'s Greg Grant, with help from Mike Longo, Todd Tydlaska and Sean Sullivan, arranged $39.3 million in financing.

Pacific Gateway is the second transaction CBRE has worked on with Nome in the past few months.

Nome also purchased 17777 Center Court Drive from Blackstone Group in July.

"Nome Ventures' acquisition of Pacific Gateway (signals) their confidence in strategically located, Class A product in fundamentally sound markets," Grant said in a statement. "We experienced significant interest for the acquisition financing and ultimately placed the loan with a large domestic bank on a nonrecourse basis."

Covid-19 has had a large impact on the office market as many employees work from home and some companies assess their leasing needs.

CBRE, though, is expecting office markets to fully recover by the end of 2021. And asking rents for Class A office product in L.A. are still strong.

In the third quarter, the average asking rate in L.A. County was $4.02 a square foot, up 1 cent over the previous quarter, according to data from Jones Lang LaSalle Inc. In-demand office markets, like the Westside, saw rental rates increase 18 cents quarter over quarter.

Asking rates in the Torrance office market during the third quarter were $3.15 a square foot, flat from the previous quarter.

Torrance offers a slight discount over some nearby office markets.

"El Segundo tenants have seen their rates increase by approximately 25% in the past three years and have embraced the 190th Street market as a viable proximate alternative to relocate with comparative occupancy cost savings of almost 40%," Schumacher said in a statement.

Torrance has also been home to one of the most talked-about sales this year: an industrial building leased to Amazon.com Inc.

The property, formerly a Costco Wholesale Corp. store, was sold for $81 million. It is being renovated for use by Amazon.

Realterm US Inc. purchased the site from Bridge Development Partners in one of the priciest industrial deals in a decade, based on price per square foot, according to CoStar Group Inc.

Bridge Development Partners had purchased the site at 2751 Skypark Drive in November for $41.3 million.
For reprint and licensing requests for this article, CLICK HERE.