Disney Shifts Strategy, Execs to Focus on Streaming
Monday, October 19, 2020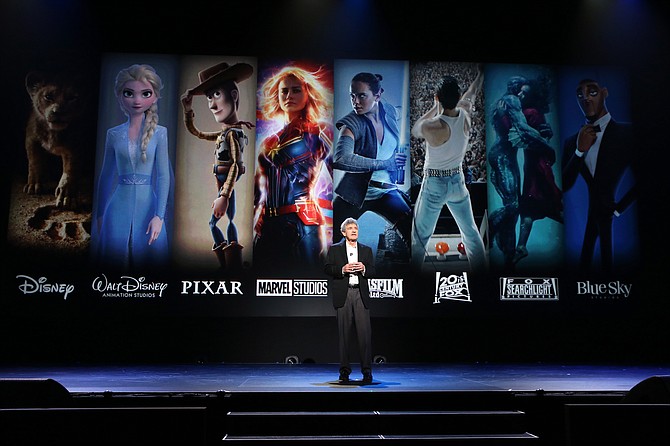 Walt Disney Co. is about to become the streamiest place on Earth.

Burbank-based Disney on Oct. 12 unveiled a plan to restructure its operations with a focus on the company's streaming service, Disney Plus.

The company's bet on direct-to-consumer entertainment and its expanded investment in digital includes several executive shifts.

Kareem Daniel, formerly president of consumer products and publishing, was named chairman of a newly formed Media and Entertainment Distribution division.

Rebecca Campbell will report to Daniel and will continue to oversee the company's streaming services, including Disney Plus, Hulu, ESPN Plus and the upcoming Star International streaming service that was announced in early August.

According to a statement from Disney, the new structure will include three content groups: Studios Content, co-chaired by Alan Horn and Alan Bergman; General Entertainment, chaired by Peter Rice, and Sports, chaired by James Pitaro.

"Given the incredible success of Disney Plus and our plans to accelerate our direct-to-consumer business, we are strategically positioning our company to more effectively support our growth strategy and increase shareholder value," Disney Chief Executive Bob Chapek said in a statement.

The restructuring news came on the heels of a letter to Chapek from activist investor Daniel Loeb, founder and chief executive of New York-based hedge fund Third Point.

In the letter, Loeb praised the success of Disney Plus and urged the company to "further capitalize on this transformational opportunity" by permanently suspending its $3 billion annual dividend and redirecting the capital "entirely into content production and acquisition for Disney's DTC (direct-to-consumer) businesses," centered around Disney Plus.

One outside observer who is intimately involved in the streaming wars, Estrella Media Inc.'s newly appointed Executive Vice President of Digital and Streaming Media René Santaella, said Disney's move represents a shift toward digital platforms that started long before Covid-19 upended the entertainment industry.

Santaella held executive positions in digital sales and marketing at Sony Corp. and Disney before joining the Burbank-based Spanish language media company Estrella.
"Obviously, it is very unfortunate the sudden impact (the pandemic) had on media and entertainment, along with other verticals, but those trends were already happening, and companies were already adjusting to those trends," Santaella said. "When you look at Disney, they are continuing to kind of rewrite the script."

Santaella added that the media industry's direct-to-consumer push is not unique to Disney.

TV viewing was already undergoing a move to subscription and advertiser-supported streaming services with content available on multiple devices prior to the pandemic.

With movies, Santaella said, "the theatrical business was healthy in many ways, but you also saw a decline in attendance. Those seeds were planted, but what happened with the pandemic is it accelerated growth in those trends."

For Disney, 2020 has brought the kind of ups and downs usually seen on one of the company's theme park thrill rides.

On Sept. 29, Disney announced it would lay off 28,000 domestic workers across all levels from its Parks, Experiences and Products division.

That move followed a company decision in April to stop paying 100,000 workers, nearly half the company's workforce.

In both cases, those affected were largely cast members — as the staffers are known at Disney's beleaguered theme parks. Many of them part-time employees.

Streaming, however, has generated much better news for Disney.

In early April, the company announced that its Disney Plus streaming service had topped 50 million subscribers less than five months after its launch. 
For reprint and licensing requests for this article, CLICK HERE.