Who's Who in Real Estate: Playing the Long Game in the Office Space
Monday, October 12, 2020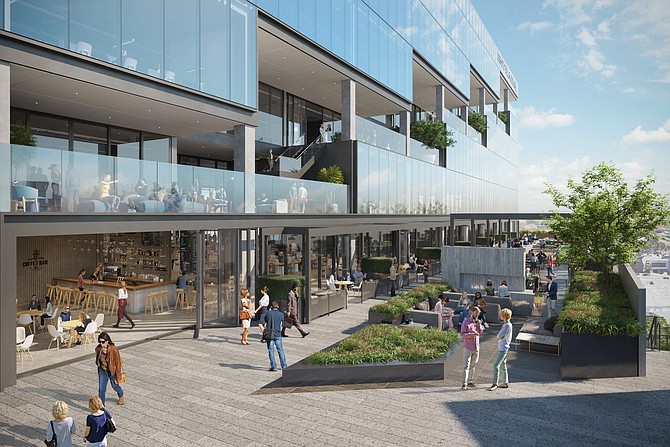 HUDSON PACIFIC PROPERTIES INC. 
Founded
: 2009
Headquarters:
Brentwood
CEO:
Victor Coleman
Perhaps no developer has made as much news in the past few months as Brentwood-based Hudson Pacific Properties Inc.
In June, the real estate firm announced the addition of Blackstone Group Inc. as a new partner in its iconic Hollywood studio properties.
In a deal valued at nearly $1.7 billion, Hudson Pacific sold Blackstone a 49% interest in the Sunset Bronson, Sunset Gower and Sunset Las Palmas studios. The properties boast 35 soundstages and adjacent office buildings totaling 2.2 million square feet. The office properties include the Icon, Cue and Epic buildings.
Hudson Pacific still owns 51% of the properties and leads day-to-day operations, leasing and development. The largest tenant in the portfolio is streaming giant Netflix Inc., which leases more than 700,000 square feet.
"It's the largest announced real estate transaction in the country," Hudson Pacific President Mark Lammas said. "When you think about the assets involved, it's not too surprising that there would be interest in it."
"With the explosion of online content, streaming content, the studios have become the most sought-after locations by these streaming media companies," he added.
Lammas said the proceeds are being used to pay down debt and have money on the balance sheets for future projects.
"We have tons of capital to go back out and reinvest in studio spaces or new office opportunities and fuel our growth ambitions, whether it be in the studio component or traditional office," Lammas said.
He added that the company could build up to 1.1 million square feet of additional office space within its platform.
Hudson Pacific Founder and Chief Executive Victor Coleman has more than 30 years of real estate experience.
He started Arden Realty in 1990, which went public before being sold to GE Capital Real Estate in 2006. He then launched Hudson Capital, which preceded Hudson Pacific, where he served as managing partner.
Hudson Pacific quickly purchased almost 40 acres of land in Hollywood and built more than 1 million square feet of new space and renovated existing properties there.
In addition to its studio properties, Hudson Pacific is the driving force behind One Westside, the 584,000-square-foot redevelopment of the Westside Pavilion into creative office space.
The project, which has been preleased to tech giant Google, is a joint venture with Santa Monica-based Macerich Co.
Hudson Pacific also has a large presence in the Arts District, having developed Fourth & Traction and Maxwell.
The company is looking at new development opportunities as well. Lammas said it wants to grow in Hollywood and was "actively pursuing further studio acquisitions and development opportunities in markets outside of Los Angeles."
RISING REALTY PARTNERS
Founded:
2011
Headquarters
: Downtown
CEO: 
Chris Rising
One of the biggest names in downtown real estate is Rising Realty Partners. The office developer, founded in 2011 by the father-son team of Nelson and Chris Rising, has 5 million square feet in its portfolio.
Chris Rising oversees the company as its chief executive, while Nelson Rising serves as its chairman.
Rising Realty properties include One California Plaza, the California Edison Building and the Trust Building.
One Cal Plaza, at 300 S. Grand Ave. in Bunker Hill, is a more than 1-million-square-foot office tower with a water court and dining.
Rising Realty stayed on the project as the operating and managing partner. Improvements made to the property include a revamped lobby and concierge and upgraded common areas.
The company also leased up the building, which features architectural firm Jerde Partnership and H&M Innovation Labs as tenants.
Rising recently oversaw an overhaul of the Trust Building, at 433 S. Spring St., which was built in 1928.
The company has focused on adaptive reuse projects in the past, but Rising said value-add office products are difficult in today's market.
Last year, Rising Realty purchased its first property outside of L.A., the 600,000-square-foot Civic Center Plaza in downtown Denver. The company partnered with BentallGreenOak on the acquisition. Reports put the sale at $125 million.
And earlier this year, Rising Realty announced plans to invest $300 million across the Western U.S. over the next few years. Rising said that number could change due to Covid-related uncertainty, but the company was still interested in acquiring more properties.
In the next six months, he thinks there will be some good investment opportunities and is even interested in assets outside of office. He's looking at both industrial and multifamily properties.
And Rising said he is looking to expand his company's third-party business doing more property management as well.
LINCOLN PROPERTY CO.
Founded:
1965
Headquarters:
Dallas
Local Arm:
LPC West
Senior Executive
Vice President:
David Binswanger
Downtown-based LPC West, the West Coast arm of Dallas-based Lincoln Property Co., has made a big splash in Los Angeles in recent years.
The company's notable properties include the Desmond downtown, 877 Washington Blvd. and Entrada in Culver City, I|O at Playa Vista, Sears Santa Monica and the Hollywood Media Center.
The Hollywood Media Center has nearly 103,000 square feet of creative office space. It sits at 6700 Santa Monica Blvd. and 1017 N. Las Palmas Ave.
The Desmond is a nearly 88,000-square-foot property that LPC redeveloped for Anschutz Entertainment Group, better known as AEG.
And the company transformed the I|O at Playa Vista into a nearly 302,000-square-foot creative office complex.
All this work earned LPC a No. 2 ranking on the Business Journal's list of top commercial real estate developers.
And the company has more on the horizon. LPC West's 100 West Walnut project in Pasadena includes 10 West, which will replace old parking lots with a five-story creative office building, retail space and 394 residential units. It is expected to open in 2021.
In Culver City, 8777 Washington is a four-story, 125,000-square-foot creative office building under construction that has been preleased to Apple Inc. The Entrada is an 11-story building with 280,000 square feet of office space and ground-floor retail. It is being designed by Gensler and is also under construction.
And the vacant Sears store in Santa Monica will undergo a $50 million renovation into an office property.
LPC has $1.5 billion of Class A office products under construction now.
LPC West Executive Vice President Rob Kane said the company had the opportunity "to deliver best-in-class, some of the first new buildings to be delivered post-Covid" with a focus on wellness tech and sustainability.
"It's been an interesting few months. The impact of Covid will have all sorts of ripple effects on commercial real estate, and we are continuing to be very active. We are still very bullish about the future of L.A.," Kane said.
LPC West is also looking to expand into more mixed-use projects, hiring Omar Rawi as executive vice president to oversee the efforts. He was previously with Greystar Real Estate Partners.
The company has developed some mixed-use projects around L.A., including Runway at Playa Vista, which features 420 multifamily units and is anchored by a Whole Foods.
Kane said multifamily is still in high demand, making it a focus for the company.
And LPC West, which owns some industrial product in the Inland Empire, is interested in expanding that portfolio as well.
SAVILLS
Founded:
1855
Headquarters
:London
Western Region Lead:
Mark Sullivan
London-based Savills sets itself apart from other brokerages in Los Angeles by focusing on tenant and landlord representation. It does not work on property sales, but instead focuses on leases.
The company was No. 4 on the Business Journal's latest list of commercial brokerage firms by L.A. County sales and lease deals with $8.6 billion of deals in 2019, up from $7.8 billion the previous year. In 2019 it had 7,118 deals, compared with 1,458 the previous year.
The brokerage, which entered the L.A. market in 1971, has offices downtown and in Westwood.
Savills has worked with tenants in sectors including technology, advertising, media and information, retail, hospitality, legal and government.
Mark Sullivan oversees Savills' seven West Coast offices, including those in L.A. He has done headquarters leases for Comcast Corp., Panavision Inc., ICM Partners, the city of Los Angeles, Inland Empire Health Plan, the State Bar of California and Canyon Partners.
Office leases in L.A. have suffered as a result of the Covid-19 pandemic. Activity in the second quarter decreased 52%, compared to the first quarter, according to Savills data. Only 1.9 million square feet of leases were signed, which is the smallest amount since the Great Recession.
Savills has been ramping up in the flex office space. Workthere, its flexible office advisory service, launched in 2017 to help businesses find flexible and coworking workspace in Europe, North America and Asia.
Savills also has its own flexible office space arm dubbed Pivot, working with landlords in the United Kingdom.
It isn't the only brokerage to get involved with flex office space. Downtown-based CBRE Group Inc. has added flexible office space business Hana to its offerings. And Newmark Knight Frank is an investor in Knotel Inc., a flex office provider.
The pandemic, however, has affected Savills' bottom line. In the first half of the year, revenue was down 7% and profit before tax was down 69%, according to financial statements.
"During this period, our less transactional businesses have provided a solid platform for the group, and our transactional business teams have partially mitigated the effect of significantly lower levels of trading activity by winning increased market share," Savills Chief Executive Mark Ridley said in a statement. "Much of this is due to our strategy of remaining open for business throughout, retaining the strength of our teams and focusing resolutely on addressing both the pandemic-related, and longer term, needs of our clients."
For reprint and licensing requests for this article, CLICK HERE.