Who's Who in Real Estate: Demand for Supply Drives Industrial Developers
Monday, October 12, 2020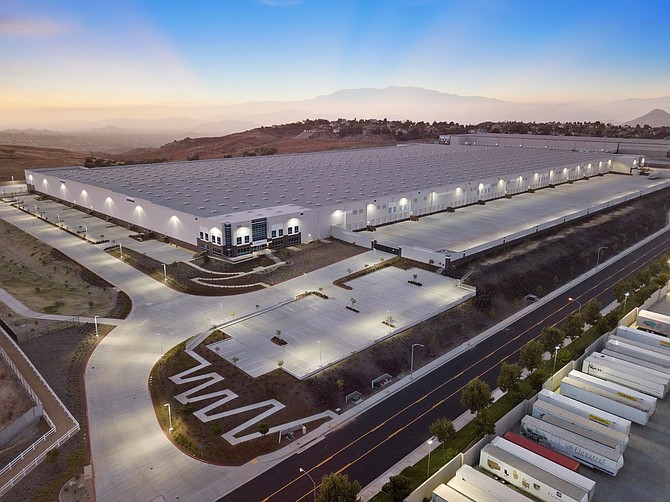 DEDEAUX PROPERTIES

Founded: 2006
Headquarters: Santa Monica 
Principal: Brett Dedeaux 
Santa Monica-based Dedeaux Properties is one of the busiest industrial real estate developers in Los Angeles.

The company owns or manages about 6 million square feet of industrial product and has another 1.5 million square feet of projects under construction or in the entitlement stage.

Principal Brett Dedeaux said the company experienced some slowing during the first few months of the pandemic, but since then, activity has picked up considerably.

"When Covid first became a reality, no matter what industry, there were a few months where everybody was trying to reprocess and a short pause as people were trying to strategize and understand," Dedeaux said. 

"We started seeing, after a few months, that our rent collections stayed strong in industrial, our tenants didn't close down their operations, and our more essential-type businesses, they were healthy, and there was still demand for a lot of their services."
He added that some smaller tenants were affected, but "the vast majority in our portfolio stayed healthy."

One Covid-related difficulty, Dedeaux said, was financing. "The capital markets and lots of the banks dried out," he said. "The banks retrenched a bit and got a little more conservative."

So, the company turned to regional and local banks instead, Dedeaux said.
The company has been able to sell some of its completed projects with what Dedeaux called "solid pricing ... pricing that was stronger (than anticipated), that we were very pleased with."

He added that the company will soon close on the sale of more properties, including a cold storage building in Vernon that is being listed with long-term leases already in place. 

The company continued to do deals during the coronavirus pandemic and is interested in taking on more opportunities, but it hasn't seen sharp price discounts develop.

"It's a competitive market again, like pre-Covid. Land and new deals, it's competitive," Dedeaux said.

He added that the company would start construction on three new properties this year and have new projects launch once a quarter following that.

"There's a wave coming now, and we are in the right position to ride the wave and take advantage of opportunities that are out there," he said. "It's going to continue to be a strong market."



REXFORD INDUSTRIAL; REALTY INC. 
Founded: 2013
Headquarters: Brentwood
CEO: Howard Schwimmer and Michael Frankel 
Brentwood-based Rexford Industrial Realty Inc. is one of the biggest players in L.A.'s increasingly competitive industrial market.

The company, which is run by Co-Chief Executives Howard Schwimmer and Michael Frankel, ranked No.1 on the Business Journal's latest list of top industrial property management firms.

Schwimmer said Rexford has performed well despite Covid-19, adding that the company just finished one of its strongest leasing quarters.

"We certainly took a pause when Covid first impacted everybody, but since June, industrial has come roaring back," Schwimmer said. "Our company is performing at levels we would think would be phenomenal, even pre-Covid."

Frankel said Rexford has grown 25% to 35% per year since 2013 and has acquired $1.5 billion in industrial product in the last 18 months.

He added that Rexford is only about 10% leveraged, making the company financially secure. "Coming through the pandemic and looking into next year, the company has never been positioned better," he said.

Rexford doesn't just passively hold its properties but creates value. Often this means finding old industrial product and purchasing it in off-market deals. Then, the company will enhance the property's quality and functionality to increase rents. 

"We have seen very strong rent growth in our markets," Frankel said. "We don't see that really slacking in the foreseeable future."

Unlike other industrial REITs, Rexford is focused exclusively on Southern California. Roughly 55% of its roughly 28-million-square-foot portfolio is in L.A.

Southern California "is the largest industrial market in the country, almost two times the size of the next largest market," Schwimmer said. "Economically, the value of industrial real estate here is about the equivalent of the next four or five largest markets in the United States combined."

He added that Rexford controls 1.5% of local infill markets, leaving a lot of room to grow.

Schwimmer and Frankel said that while it was hard to predict future acquisition volume, the company was interested in more opportunities and continuing to increase value in the assets it owns.

"We're pretty deep in really every market in Southern California," Schwimmer said. "We focus on the infill markets, markets that are land constrained, which is pretty much the entirety of Southern California, other than the eastern Inland Empire."

MAJESTIC REALTY CO. 
Founded: 1948
Headquarters: City Of Industry 
President: Edward Roski Jr. 
Majestic Realty Co., one of the nation's top real estate developers, has developed 48 million square feet in Los Angeles and owns 27.7 million square feet of commercial real estate.

Nationally, Majestic has 87 million square feet of industrial space in its portfolio, and it has offices in Atlanta; Bethlehem, Pa.; Dallas; Denver; Las Vegas; Phoenix; Portland, Ore.; Fort Worth, Texas; and Laredo, Texas.

Majestic's California industrial properties include 1.7 million square feet at Tejon Ranch Commerce Center, the 3.8 million-square-foot Fairway Business Center in the City of Industry and the 5.6 million-square-foot Majestic Airport Center in Ontario.

President and Chairman Ed Roski Jr. is one of L.A.'s richest residents, with a net worth of $7.7 billion, putting him at No. 7 on the Business Journal's most recent Wealthiest Angelenos list.

While Majestic is active in the L.A. market, the company has also been working on large projects elsewhere.

In August, Subaru of America Inc. signed a lease for a 550,000-square-foot building Majestic is developing in Aurora, Colo., at the Majestic Commercenter, a 1,600-acre master-planned business park. Groundbreaking is expected for later this year.

Amazon.com Inc. signed a 702,000-square-foot lease for one of the other buildings at the center, dubbed the Big Bomber, which Majestic calls the largest speculative industrial building in Colorado. Amazon already had a roughly 450,000-square-foot sorting center at the complex.

In December, Majestic acquired a 30-acre site in Phoenix that it plans to turn into a 502,000-square-foot speculative industrial building.

JONES LANG LASALLE INC. 
Founded: 1783
Headquarters: Chicago 
Market Leader: Peter Belisle 
Chicago-based Jones Lang LaSalle Inc. is one of the most active brokerages in Los Angeles, where it has six offices.

It was No. 5 on the Business Journal's list of commercial brokerage firms, with $8.1 billion L.A. County sales and leases in 2019, up from $7.8 billion the previous year.
JLL's team is led locally by Market Director Peter Belisle, who said much of his time this year has been focused on the safety of his employees, both at the office and with productive work-from-home arrangements.

"That whole dynamic has really, really been different. I think now we've really hit our stride on that, but there was definitely a learning curve," Belisle said.

For his brokers, being unable to meet in per
son has altered the job and forced them to find different ways to reach people.

"A lot of people feel the uncertainty of what's happening and what that means for their real estate and the demand," Belisle said. "Brokers are spending a lot more time in a consultative role, rather than doing transaction after transaction."

One of the hot spots in the real estate market has been industrial properties.
"A number of our top industrial brokers will have their career best ever (year). There's a strong demand for industrial now," Belisle said.

Ecommerce is driving the market, which had a record third quarter, according to JLL data. Experts predict more than 2 billion square feet of industrial space will be needed in the next decade.

Belisle said retail brokers are sometimes working with industrial brokers to help keep up with demand. "There's a real surge in demand right now in trying to find space," he said. 

In September, JLL launched a Retail Industrial Task Force to help clients with solutions and leasing.

For the rest of the year, Belisle expects industrial to stay strong, retail to pick up steam, and office tenants to start to reoccupy buildings and start to think about a 12- to 18-month plan.
For reprint and licensing requests for this article, CLICK HERE.