How See's Candy Is Adapting to the Covid Era
Monday, October 12, 2020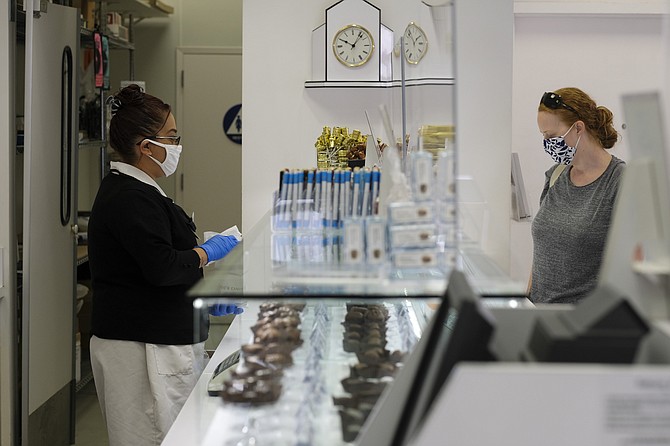 Angelenos have focused on many concerns other than candy since Covid-19 shutdowns swept through local businesses in mid-March. 
Still, a sweet sorrow overtook the city's chocolate lovers when news broke in late March that See's Candy Shops Inc. was suspending operations for only the second time in a century. The first was a brief shutdown during World War II when butter, sugar and cream were rationed and in short supply. 

"On Monday March 16, all (243) of our stores were open," said See's Chief Executive Pat Egan. "The following Sunday, all of our stores were closed. In the span of about six days, we went from full operation to no retail operation."

See's was purchased by Warren Buffet's Berkshire Hathaway Inc., located in Omaha, Neb., in 1972. See's corporate headquarters is in San Francisco, with a packing facility in Daly City and a lollipop factory in nearby Burlingame. The confectioners' stores have spread across the Western United States and beyond. 

Still, many locals continue to claim ownership of See's as an L.A. brand. 

The company was founded in Los Angeles in 1921 by Charles See, who opened his first shop in what is now Koreatown. A See's factory has a prominent place on La Cienega Boulevard, and that facility served as the training ground for TV stars Lucille Ball and Vivian Vance to learn about dipping and packing chocolates for a 1952 "I Love Lucy" episode in which the pair cause chocolate chaos trying to keep up with the conveyor belt.   

And See's largest packing and shipping facility is in Carson, further solidifying the local connection. That location also serves as the call center for Sees.com. 

The company's shutdown hit at the same time as a Covid-induced spike in candy consumption nationwide. In August, the National Confectioner's Association, based in Washington, D.C., released a report saying overall sales of chocolate and candy increased 3.8% from March 15 to Aug. 9, with chocolate (up 5%) and premium chocolate (up 12.5%) dominating assorted available sweets.

It didn't take long for See's to get back to business, however. In late April, the company announced it would resume candy production and soon after resumed shipping orders via Sees.com.

In late May, the company began rolling out its new Click, Pick and Go option. The program allows customers to browse and order online, then head for contactless pickup at participating stores. Locations in Anaheim, Long Beach, Reseda, South Pasadena and Torrance were among the first to offer the service.

In recent weeks the company has begun opening shops for in-store business, beginning with stores with street access. New rulings allowed Los Angeles-area indoor malls to reopen at limited capacity, so some local See's mall locations opened last week, including stores at Culver City's Westfield mall and Westfield Fashion Square in Sherman Oaks. 

Like many restaurants and other businesses, Egan said, some See's mall stores went through the process of training staff on Covid-19 protocols and reopening in June, then closing again in July due to the post-Memorial Day weekend spike in coronavirus cases.  

There is one big difference in the current in-shop experience, however. Due to Covid-19 safety protocols, customers no longer are handed See's signature free sample chocolate in a paper wrapper at the candy counter. 

Don't worry about missing out on free sugar, however. Egan said See's shops now put an individually wrapped candy or lollipop in each customer's bag on the way out.  

The company's most popular individual chocolates remain the Scotchmallow and the Bordeaux, which features a brown sugar center enrobed in milk or dark chocolate.

Airport kiosks are able to sell prepackaged See's candies, but that part of the business may not get back up to speed until air travel recovers, Egan said.

However, "we just had major orders filled at San Francisco International Airport and LAX," he added. "We expect it to get back to full strength, but it will take a while."

Egan said 2019 had been See's best year to date, and 2020 had started off strong. He said the company is on track to experience "100% restoration" by the end of 2020, with direct-to-consumer sales up more than 200% during the pandemic. "We're very confident we can get back where we were," he said.

However, the executive ruefully noted that the shutdown period affected sales for two of the most important holidays in the chocolate world — Easter and Mother's Day. And there was no possibility of selling candies produced for the holidays at a later date.  

"We don't use any preservatives. … It's got to be fresh like bread," Egan said. "It's got a past pull date, and we don't push that. We had to literally donate a lot of candy."
For reprint and licensing requests for this article, CLICK HERE.