CodeSpark Wants to Teach Kids to Code
Monday, October 12, 2020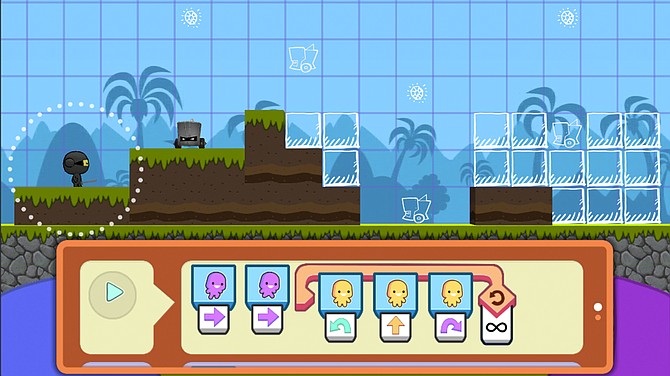 Pasadena-based CodeSpark Inc. wants to teach kids to code even before they can read. 

"People tend to think of coding only as text-based coding — which is what adults do — using JavaScript, Swift, Python or whatever. We have a visual coding language … based on icons and pictures. That is a complete coding language, but it's something that young kids can access," said CodeSpark co-founder and Chief Executive Grant Hosford.

The company's visual coding language is designed for kids between the ages of 5 and 9. The company's platform, called CodeSpark Academy, has a word-free drag-and-drop interface as well as creative assets that allow kids to design and code their own video games and interactive stories. 

The creative assets include cartoon-like ch
aracters, themed settings like "winter" and tool packages like "crazy machines." Kids can build their own characters with elements, including facial expressions, outfits and skin tones in a wide spectrum of colors, even purple and green.

The platform can be accessed via the web, as well as on iOS and Android devices.
Because the coding language is visual, Hosford said, kids don't have to be able to read or speak English.

"It's not a good use of a young kid's time to worry about where the semicolon is in JavaScript," he said. "By removing the text, we allow the kids to focus on what's really important — the foundational skills behind programming." 

Added Hosford, "We try to introduce the kids to the power of creating so that they look at technology as a tool and not as something to be consumed." 

CodeSpark charges a $9.99 monthly subscription fee, or $79.99 annually. The company makes its platform available free to public schools, libraries and nonprofits.
It also offers a dashboard for public school teachers that allows them to set up a virtual coding classroom, document individual student profiles and track student progress.

"We can reach more kids and more places by giving the program to those (institutions) for free. But also, it's a good way for us to connect with parents who would eventually consider purchasing the product," Hosford said.

He said the company's platform has more than 3 million student users every month. It has raised a total of $5.6 million to date from investors including Pasadena-based Idealab, Kapor Capital, PGA Venture Partners, Felton Group and Fusion Fund.

CodeSpark has been profitable for more than a year, Hosford said. "We've doubled revenue and our staff in the last six months," he said.
For reprint and licensing requests for this article, CLICK HERE.