Arrowhead Strikes Major Partnership With Takeda
Monday, October 12, 2020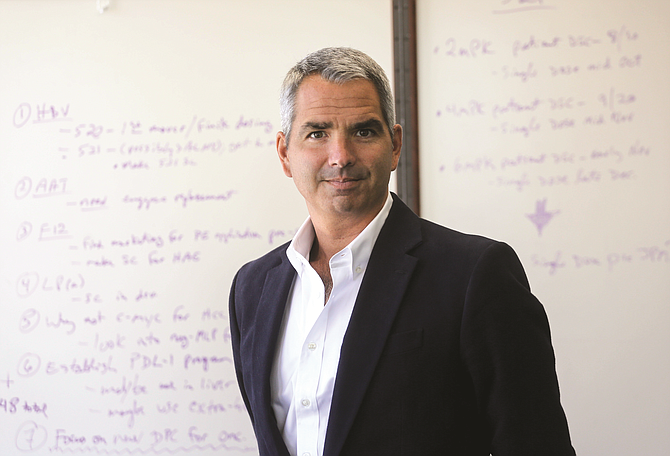 Pasadena-based Arrowhead Pharmaceuticals Inc. announced a major licensing and drug development deal with a Japanese pharmaceutical company to develop and commercialize a drug to treat a rare form of inherited liver disease. 

Under the deal announced Oct. 8 with Osaka, Japan-based Takeda Pharmaceutical Co. Ltd., Arrowhead would receive a $300 million upfront payment, could net up to $740 million in milestone payments and could earn up to 25% royalties on sales of the drug, should it come to market. 

Takeda is one of Japan's largest pharmaceutical companies, with $18.8 billion in revenue last year.

Should the deal clear antitrust regulatory hurdles, it would be Arrowhead's third major development and licensing deal with a major pharmaceutical company in the last four years.

All of the deals involve Arrowhead's RNA drug platform, which uses molecular technology to silence genes that trigger a range of diseases. Payments from the previous two drug development and licensing deals have contributed significantly to Arrowhead's revenue, which totaled $169 million for the fiscal year ended September 2019.

In the first deal, with Thousand Oaks-based Amgen Inc., announced in September 2016, Amgen paid Arrowhead $56.5 million up front and agreed to pay up to $617 million in drug development milestone payments for the rights to an RNA-based drug to treat cardiovascular conditions.

The second deal came in 2018 and was significantly larger. Janssen Pharmaceuticals, a unit of New Brunswick, N.J. pharma giant Johnson & Johnson, paid Arrowhead $250 million up front and agreed to up to $3.7 billion in total to develop and commercialize Arrowhead drug candidates for Hepatitis B treatment.
As part of that deal, Janssen gave Arrowhead three drug candidates outside its main drug pipeline while Arrowhead agreed to further develop those drugs, attempt to obtain Federal Drug Administration approval and, if approved, take the drugs to market.

The Takeda deal involves a drug known as ARO-AAT that Arrowhead has started to develop through to treat Alpha-1 antitrypsin-associated deficiency, a rare genetic disorder associated with liver disease in children and adults, and pulmonary disease in adults. 

The deficiency is estimated to affect 1 out of every 3,000-5,000 people in the United States and 1 out of every 2,500 people in Europe. There is no approved drug available to treat the disorder.

Under the agreement, Takeda and Arrowhead will co-develop ARO-AAT, which, if approved, will be commercialized in the United States under a 50/50 profit-sharing structure. 

Outside the United States, Takeda will lead the global commercialization strategy and receive an exclusive license to commercialize ARO-AAT, with Arrowhead eligible to receive tiered royalties of 20%-25% on net sales.

"Takeda's global presence and experience with payers and regulators in the rare disease and (gastrointestinal) therapy space, combined with its long history serving the Alpha-1 community, make it the ideal partner for ARO-AAT. It is well-positioned to work with the patient and medical community to help meet the severe unmet need of patients with Alpha-1 liver disease," Christopher Anzalone, Arrowhead's chief executive, said in the announcement.
For reprint and licensing requests for this article, CLICK HERE.