Sublease Availability on the Rise in LA
Monday, October 5, 2020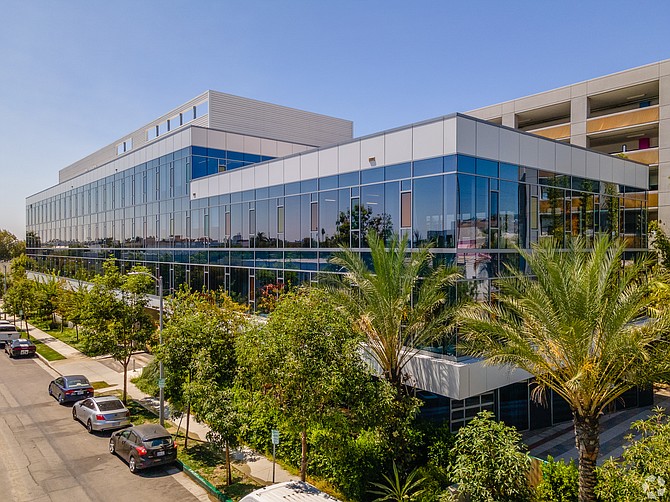 The availability of sublease space increased sharply in Los Angeles County over the summer, but not as much as it has in other major markets across the United States. 

In July and August, the amount of sublease space in L.A. jumped more than 20% to 5.2 million square feet, according to a report from Jones Lang LaSalle Inc.

Sublease space now accounts for 2.8% of the L.A. market, according to the brokerage. That's higher than the 2.1% level in 2019, but it's still below the 3.6% mark seen during the Great Recession. 


The sublease percentage mark is a closely watched barometer in the industry. When the amount of sublease space on a market rises, rent prices for surrounding buildings sometimes decrease to remain competitive. Sublease space is usually offered at a discount over spaces rented directly from landlords.

"Relative to the (rest of the) country, we're still significantly behind sublease activity in markets like San Francisco and New York. We're in really good shape compared to some of the markets in the country," said Josh Wrobel, a managing director at JLL. 

Jeff Pion, a vice chairman at CBRE Group Inc., pointed out that some of the sublease space on the market now was on the market before Covid-19 hit.

"It is higher than it was a year ago but not dramatically higher than the overall supply in the marketplace," he said.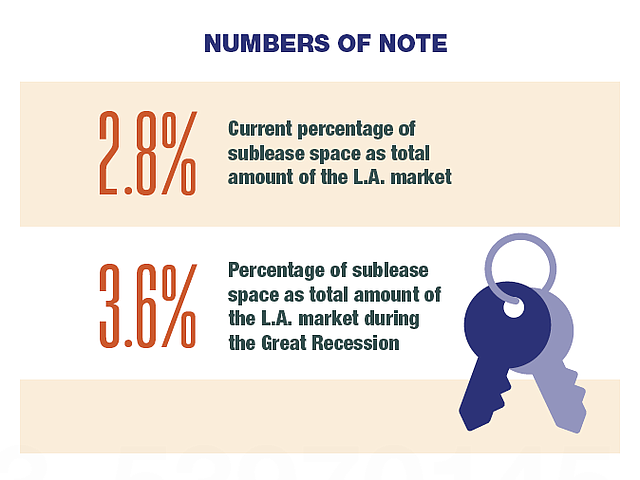 Smaller spaces

The average size of available subleases in Los Angeles remains small.

"These aren't dramatically large blocks of space," Pion said.

Wrobel said that the average size of sublease space available now is 20,800 square feet.

He said it's when larger spaces hit the market that problems arise.

"It's not the major big blocks in competitive Class A space that would drive down the market," he said. "With the downturn and crisis, we will have some downturn but not a dramatic shift."

He added that "there's been such limited activity that asking rates haven't had a big dip."

Wrobel said a lot of owners are simply unwilling to adjust asking rates.
Some sublease spots, however, do have a slight discount.

"It's a mixed bag. There are some that are phenomenal, newly built-out spaces and … tenants will take advantage of those spaces and take them almost at market rate. ... The converse of that is space that really doesn't have any unique (tenant improvements) in the space and is just kind of a placeholder, maybe an older sublease space, and those spaces are going to have to decrease their rates," Wrobel said.

Pion said there is a lot of interest in good sublease spaces that are fully decked out, don't require months of construction and allow tenants to sign for a shorter time than a new lease. 

"That flexibility is attractive to many companies today," he said.
 
Westside watch

The area with the most sublease availability was the Westside with 2.2 million square feet available, according to JLL's report. No other area had more than 748,000 square feet of sublease space available.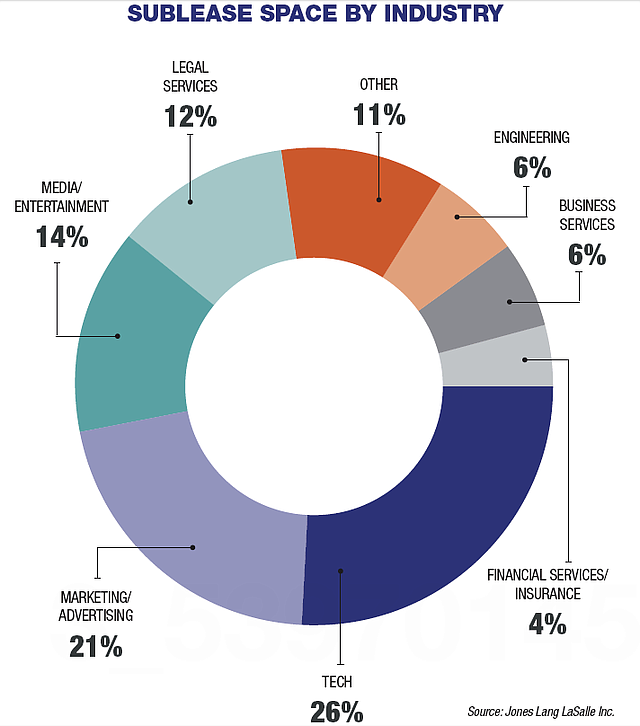 The amount of sublease space available on the Westside, especially in Santa Monica, coincides with the heavy presence of technology companies.

Tech companies accounted for 26% of all sublease space, followed by 21% for marketing and advertising companies, and 14% for media and entertainment companies.

Wrobel said L.A.'s diverse tenant mix was part of the reason why the region was faring well while cities like San Francisco, with a high concentration of tech companies, are hurting.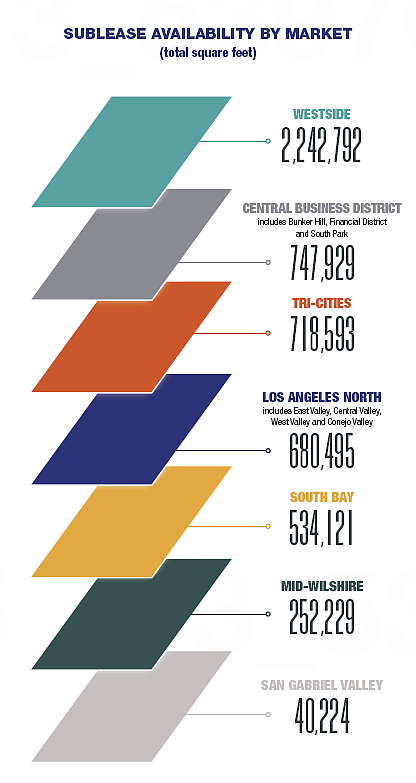 Looking forward, Wrobel said he believes some companies that have pushed back making decisions will start to decide on new spaces.

"A lot of folks pushed out their expirations in the short term. That should mean there's a decent amount of pent-up activity at the end of the year and beginning of next year," he said. "We're still significantly below peak for Los Angeles from the Great Recession. We're hopeful that we don't get there."

Pion added that L.A.'s real estate market has historically done well during recessions because of its tenant base.

"I think that L.A. will recover faster than many other markets across the country because of the concentration of entertainment, technology and media," he said.
Top Sublease Listings
For reprint and licensing requests for this article, CLICK HERE.