Long Beach to Open New $1.5 Billion Gerald Desmond Bridge
Monday, October 5, 2020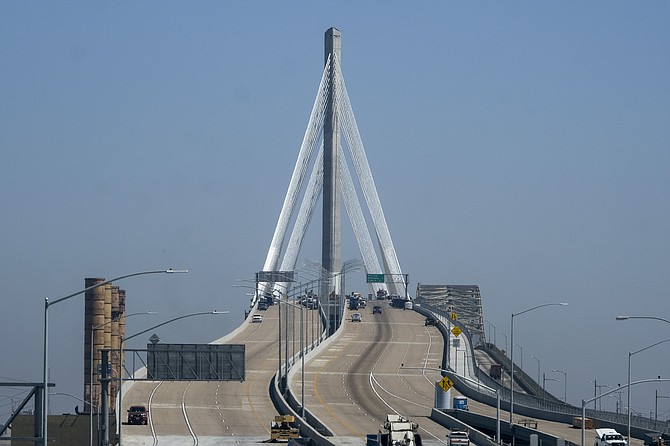 After nearly 20 years of planning and seven years under construction, the $1.5 billion Gerald Desmond Bridge replacement connecting Terminal Island with the Long Beach mainland is finally opening.

The bridge, which is set to open Oct. 5, promises to be more than just a new-and-improved vital artery for a huge slice of the nation's imported cargo truck traffic.

Its higher clearance above one of the main channels at the Port of Long Beach will eventually allow bigger cargo vessels into two of the port's major terminals. 

And the bridge is poised to emerge as a major attraction in its own right, remaking the Long Beach skyline.

"This is a bridge of national significance that will have a positive impact on the national economy and the local economy," said Mario Cordero, the Port of Long Beach's executive director, which, with the California Department of Transportation, led the replacement bridge project.

The old Gerald Desmond Bridge, which was completed in 1968, was 1.5 miles long with two lanes in each direction. It spanned the Cerritos Channel in the Port of Long Beach with a clearance of 155 feet. 

In recent years, that bridge carried a total 16,000 trucks per day, comprising about 15% of the nation's goods traveling by truck.

Even though it had a planned lifespan of 50 years, within 30 years the bridge began decaying, sending chunks of concrete into the water below. Eventually, the Port of Long Beach had to construct nets to catch the chunks.

That's when port and local elected officials began pushing for funding for a new bridge. 

With cargo traffic surging at the ports of Los Angeles and Long Beach, the new bridge was designed to be wider — with three lanes in each direction — to accommodate more truck traffic, and 50 feet higher than the old bridge with a water clearance of 205 feet, high enough to allow for the bigger Panamax-class ships to pass underneath.

It took nearly 15 years to secure the funding and receive environmental clearances. In July 2012, the Long Beach Harbor Commission awarded a $1.2 billion construction contract to a consortium led by Shimmick Construction Co. (now part of Century City-based AECOM), FCC Construcción of Madrid, and Impregilo, now part of Webuild Group of Milan.

Construction began in January 2013. The original target completion date was last year, but a series of delays, including having to dispose of old oil equipment found at the bottom of the harbor, pushed that back. Construction costs also mounted, pushing the price tag up by nearly $300 million to $1.5 billion.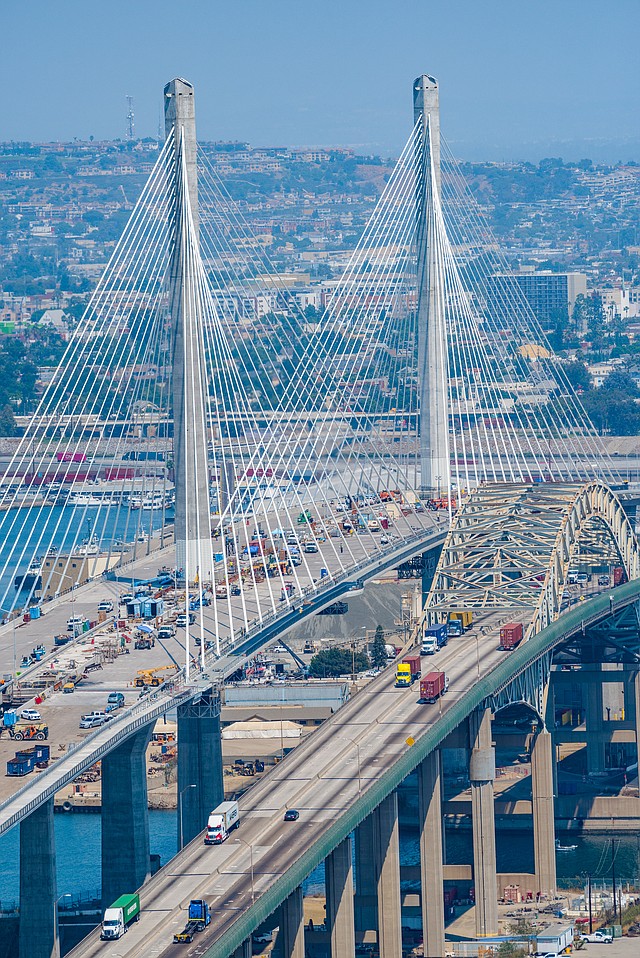 Unique design

The bridge uses a cable-stay design, which is a relative rarity in bridge design. It's the first cable-stayed vehicular bridge in California and the second-tallest cable-stayed vehicular bridge in the nation.

A total of 80 cables stretch down from two central 515-foot towers to the bridge deck. Those towers are the equivalent height of 50-story skyscrapers, making them among the tallest structures in Long Beach.

This unusual cable-stay design has the potential to be an attraction in its own right, something that Long Beach business leaders are looking forward to.

"It provides an iconic structure that serves as a gateway to downtown," said Kraig Kojian, chief executive of the Downtown Long Beach Alliance, which manages two business improvement districts in downtown Long Beach. "It's an aesthetic wonder that we think will draw people just to look at it, especially when it's lit up at night with special LED lighting."

But the design did pose some challenges for the construction consortium, according to Bob Schraeder, project manager for Shimmick Construction.

One challenge was with the massive towers that anchor the cable stays.

"The towers would 'gallop' with high winds before they were fully connected with the cables, so we had to put in dampers along the way," Schraeder said. "Not a huge additional cost, but it was a technical challenge."

But the biggest challenge, Schraeder said, was mitigating the earthquake risk. On a typical bridge project, the design must be able to accommodate one foot of seismic movement. But this bridge's tremendous height amplified that, he said, requiring mitigation for up to 7 feet of movement during a quake. A total of 34 seismic dampers were required.

In recent months, another set of delays cropped up because of the Covid-19 pandemic. Schraeder said some suppliers had to stop or slow operations due to Covid outbreaks, which in turn resulted in delays in wrapping up the project.
 
Wide-ranging impact

Now that the Gerald Desmond Bridge replacement is opening, city and port officials say it will ease and broaden the connections between the port, the city, the region beyond, and ultimately, the rest of the nation.

"This new bridge is an incredible icon that will connect Long Beach to the world," Long Beach Mayor Robert Garcia said. "With this new bridge, we will continue to build infrastructure and drive economic growth across the country."

The 50 feet of additional clearance above the Cerritos Channel will allow larger Panamax ships capable of carrying 13,000 20-foot container units to gain access to Piers A and C, two terminals at the back end of the port, both of which are operated by SSA Marine, a unit of Seattle-based Carrix Inc. Pier A is used by several shipping lines, while Pier C is primarily used by Honolulu-based Matson Inc. 

But it will be at least a year before the bigger ships, which can carry more than twice the number of container units of standard-sized ships, can access these terminals. That's because the old Gerald Desmond Bridge, with its 155-foot clearance, is still standing alongside the replacement bridge. 

According to Lee Peterson, spokesman for the Port of Long Beach, a contractor has yet to be chosen to lead the team that will demolish the old bridge. 

Once that contractor is selected — which is expected by late this year or early next year — demolition would likely take roughly 18 months. The main span over the channel could be demolished within nine or 10 months.

The other major advantage to the replacement bridge is its additional lanes. There's one more traffic lane in each direction, plus anemergency lane for vehicles that become disabled due to mechanical problems or accidents. 

Cordero noted that on the old bridge, there's no emergency lane, which means when a vehicle is disabled a lane has to close, reducing traffic flow to just one lane.

"With this emergency lane, the traffic lanes will mostly be left free-flowing, which will greatly reduce congestion bottlenecks," Cordero said.

These additional lanes, along with redesigned entrance and exit ramps, are expected to make the bridge more appealing to commuters, according to Kojian of the Downtown Long Beach Alliance.

"We expect to see more commuters using the new bridge than the old one," he said
For reprint and licensing requests for this article, CLICK HERE.