Cathay Names Liu as CEO
Monday, October 5, 2020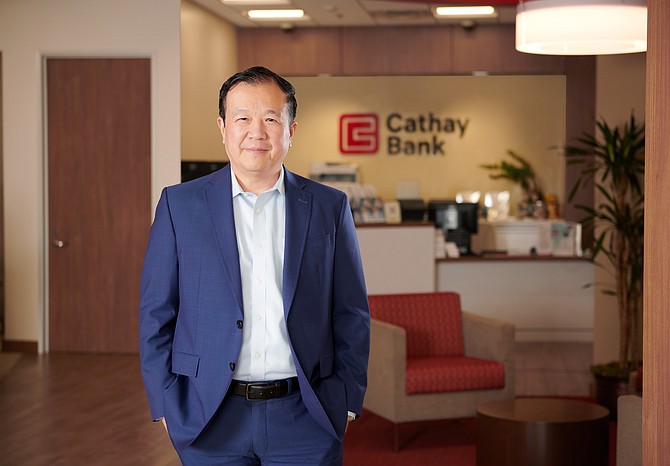 Chang Liu has officially assumed the role of chief executive at Cathay General Bancorp, effective Oct. 1. The Chinatown-based bank's new leader replaces Pin Tai, who had held the CEO role since 2016.

Liu, who also serves as Cathay's president, has had a rapid rise since joining the bank in 2014. 
Over the last six years, he successively rose from assistant chief lending officer to deputy chief lending officer, chief lending officer, chief operating officer, president and finally CEO.

A career Southern California banker, Liu's path to the profession was shaped largely by chance. 

Born in Taiwan, he was sent overseas by his parents at the age of 13 over fears he wasn't a good fit for the local education system.

"In the Asian education system, you have one test that determines your future," Liu said. "My parents decided that I wasn't good enough for the test and that I was doomed to failure."

"They sent me to the U.S. to live with my sister," he added, "despite not speaking a lick of English."

Liu attended middle school in Covina, high school in Van Nuys and college at UCLA. He said working at his sister's health food store led him at first to study science, but he switched to economics after lackluster experiences in his first biochemistry courses. 

Although he planned to go into accounting after graduation, Liu said an offhand comment by his sister led him to change course.

"She said, 'You've got some personality skills that might be wasted counting beans,'" he said. 

To make better use of those skills, Liu said, his sister suggested he try banking. He did, signing on with Sumitomo Bank of California, which later merged with two other banks to form California Bank & Trust. 

Liu's career over the following two decades focused primarily on credit and lending, as he progressed through a series of roles at L.A.-area banks, such as California National Bank, its acquirer U.S. Bancorp, and Banc of California. When he joined Cathay as assistant chief lending officer in 2014, he was already on the fast track to the C-suite.

"At the time, we all knew that the chief lending officer, Pin Tai, would ascend to the CEO position soon," he said. "So, they were also looking for someone to fill his role."
Liu was Tai's natural successor as chief lending officer when the latter became CEO two years later. Liu spent three years in the position before being named chief operating officer beginning early last year.

Although he acknowledged that hard work played a role, Liu is humble about the factors behind his rapid rise. "I was lucky enough to be in the right place at the right time," he said.

Liu takes the helm at Cathay amid unprecedented levels of economic and social uncertainty. The Covid-19 pandemic has forced most white-collar Angelenos to work remotely for more than six months. In all this time, however, Liu said he has only spent two and a half days out of the office.

"Nearly 40% of our people are in the branch, on the front lines," he said. "I don't feel right working from home under that. If you expect 40% of your workforce to be in the branch, I feel like you should be willing to as well."

Cathay has spent much of the pandemic adjusting loan conditions to help borrowers, according to Liu. Now, he said, the focus in the quarter ahead is getting borrowers back on their normal payment schedules.

"Coming out of this, we have to have a strong base in our loan portfolio," he said. "We may take some hits here or there but we want to minimize that as much as possible. We want to be able to lend into the recovery."

The new CEO said he is also looking to rebalance Cathay's deposit mix, increasing its percentage of noninterest-bearing deposits and driving down its cost of funds. This, according to Liu, will dovetail with efforts to grow Cathay's commercial and industrial loan portfolio. Toward that end, his bank recently hired a new commercial banking team in the San Fernando Valley. 

Despite the challenges ahead, Liu said he is confident in his staff and their ability to rise to the occasion.

"I truly believe I work for everyone here at the bank," he said. "Without the lending managers, without the team managers, without them bringing in those relationships, I don't have a job. If I can help put them in a place to succeed, then my existence is justified."
For reprint and licensing requests for this article, CLICK HERE.