Vurbl Wants to Outdo Spotify. Can It Become the YouTube of Audio?
Monday, November 23, 2020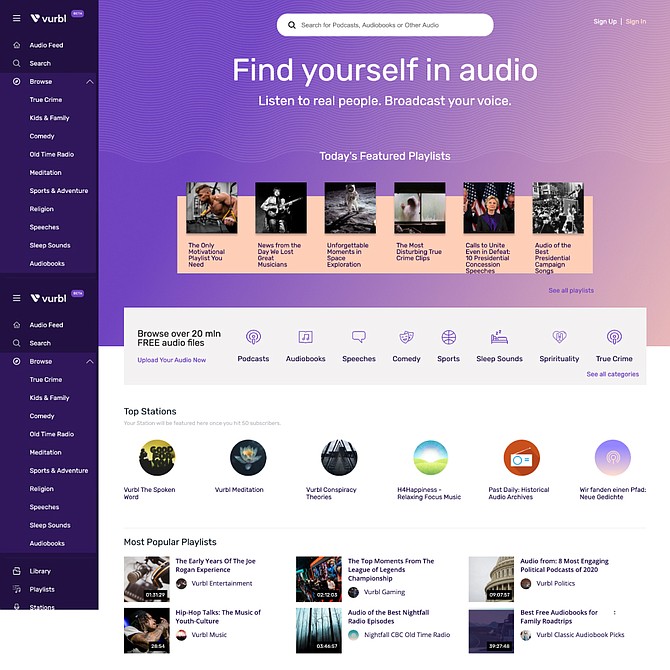 There's no shortage of audio streaming apps, but Santa Monica-based startup Vurbl Media Inc. is betting that its newly launched player can compete with established platforms like Spotify.

The company rolled out its new platform Nov. 17 with more than 20 million audio files. Co-founder and Chief Executive Audra Gold said the site's curated collection of streamable content includes podcasts, audio books and radio shows, as well as harder-to-find items like courtroom recordings and spoken word tracks.

"Most platforms just have music, podcasts or both," she said. "What we're aiming to be is really your one-stop shop for audio. There's no other site in the U.S. that does this."

Most of Vurbl's content is already available on other platforms, but users can upload original content and build a following in a system that Gold compared to YouTube's content creation process.

"YouTube democratized the video creation space," she said. "We're now bringing audio into a place where we brought video 10 years ago. It's a massive opportunity."
In September, the company announced the close of a preseed round of funding in which it raised $1.3 million to get its platform up and running.

For now, the media player is accessible to users only via a web browser, but Gold said the launch of an iOS app is planned for December, with an Android app possibly going live in January.

Gold said the company aims to attract not only amateur content creators but also professional podcasters and creators of premium content through a feature that allows users to promote their work by snipping segments of longer audio files that can be embedded in social media posts. Established podcasters can also claim feeds already set up on the site to add content or interact with listeners.

The company is also focused on revising the model by which advertisements are integrated into podcasts and other long-form audio programs. Gold said the fact that audio files on Vurbl are streamed rather than downloaded will allow companies to purchase ads in a customizable way because they can be incorporated into files that people are listening to in real time.

Vurbl's emphasis on long-form content and playlists could also ensure a relatively captive audience.

"You can just hit play and sit back for hours listening," Gold said. "We believe it's going to take audio to the next level."
For reprint and licensing requests for this article, CLICK HERE.