For SpaceX, Latest Launch Is a Big Leap
Monday, November 23, 2020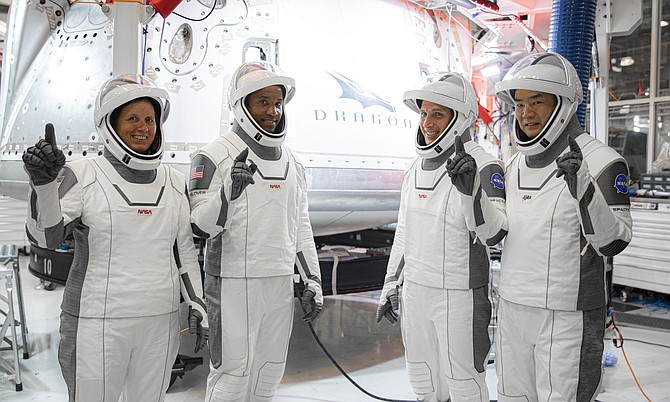 Space Exploration Technologies Corp. launched one of the highest-profile missions in the company's nearly two-decade history on Nov. 15, sending four astronauts to the International Space Station.

The space flight, commissioned by NASA, marked the first time the agency has undertaken a crewed rotation mission using a commercially designed spacecraft.

The launch followed a manned test flight earlier this year by NASA that used a SpaceX rocket and capsule.

At a press conference following the most recent launch, SpaceX Chief Operating Officer Gwynne Shotwell said the event represented "the beginning of a new era in human space flight."

In addition to proving that SpaceX could take the next step in its ambitious efforts to revolutionize space travel, the mission is expected to create new possibilities for the Hawthorne-based company. 

And in turn, industry analysts say, SpaceX's success is likely to provide a sizeable boost for other aerospace companies in the Los Angeles market.

Carissa Christensen, chief executive of analytics firm Bryce Space and Technology, said last week's launch signifies the beginning of a new era for SpaceX.

"I think this changes the way NASA views SpaceX, and it changes it for the better," she said. "This opens doors for all different kinds of collaboration in the future given that SpaceX has now demonstrably shown its ability to achieve results."

Years in the making

The launch was the culmination of a process that began in 2014 when SpaceX and rival Boeing Co. were commissioned by NASA to design and build rockets and shuttles of their own design that would transport astronauts to and from the Space Station.

SpaceX would eventually beat out Boeing to develop the first spacecraft certified by NASA for human spaceflight. 

In May, the company undertook a test mission of its Falcon 9 rocket and accompanying Crew Dragon shuttle, sending two astronauts to the Space Station and successfully returning them to Earth in August. 

After reviewing the results of that demonstration, NASA certified the company's spacecraft earlier this month.

Under the terms of its $2.6 billion agreement with NASA, SpaceX will complete five more crewed missions on behalf of the space agency.

While Boeing is fine-tuning its Starliner spacecraft in preparation for crewed missions, SpaceX now stands apart from other rocket manufacturers in terms of the potential for future work with NASA, as well as projects with private individuals looking to visit the stars.

Earlier this year, the company reached agreements with space tourism companies Space Adventures Inc. and Axiom Space Inc. to transport paying customers out of Earth's atmosphere as soon as next year.

'Rarefied air'

"Specific to commercial crew (missions), SpaceX inhabits rarefied air," said Quilty Analytics founder Chris Quilty. "I don't anticipate a large stable of competitors, certainly in the near term."

Quilty said the prospect of other companies eventually developing to the point of being able to transport passengers into space might even benefit SpaceX by building a market for private space exploration.

"It opens up the potential and the opportunity for space tourism, for lunar exploration, for industrialization that was previously unthinkable," he said.

SpaceX is already working with NASA on the agency's Artemis program, which aims to land the first woman on the moon by 2024.

The company is one of three selected by NASA to design a new lunar landing system for the project. SpaceX's proposal is anchored around its ambitious — and enormous — Starship spacecraft, which is now in the early testing stages.

Chief Executive Elon Musk has repeatedly billed the Starship as a s
pacecraft capable of interplanetary travel and earlier this year suggested it could reach Mars in the next four years.

Bryce's Christensen said the Artemis program could face future funding challenges, particularly as the incoming Biden administration works to address the economic ramifications of the Covid-19 pandemic.

"The new admin is going to have budget priorities, and coming in during a pandemic, I expect those priorities will be around that," she said.

Still, Christensen said the visible early success of NASA's partnership with SpaceX makes it likely that future missions will proceed as planned.

"I don't think there would be a great deal of shock if there was a (budget) adjustment," she said. "I think there would be a great deal of shock if that adjustment was 'we're not going to pursue space exploration anymore.'"

Millions watching

Millions of viewers tuned into livestreams of the company's Nov. 15 launch. The spacecraft lifted off from Kennedy Space Center in Cape Canaveral, Fla., just before 7:30 p.m. local time. 

Following takeoff, SpaceX successfully landed the first-stage rocket on a drone ship stationed in the Alantic Ocean.

The four astronauts aboard the spacecraft docked at the International Space Station on Nov. 16.

Quilty said the mission has validated NASA's move toward partnerships with private companies since announcing the retirement of its space shuttle program in 2004.

The agency's embrace of commercially designed spacecraft is already opening up opportunities for a host of private aerospace companies, including local upstarts like Rocket Lab USA Inc., which is also working on NASA's Artemis program.

Other companies, such as Phase Four Inc., SlingShot Aerospace Inc. and Relativity Space Inc., have also landed contracts and partnerships with the space agency.

Quilty said other government agencies, like the Space Force, have also warmed to working with less-established private companies that are taking new approaches to the challenges of space flight.

SpaceX "has certainly demonstrated that commercial companies are capable of significant engineering challenges, and — let's be honest — challenging business models," he said. "Its success is emblematic of a trend that's sinking roots."
For reprint and licensing requests for this article, CLICK HERE.