Koreatown Multifamily Site Sells for $10 Million
Monday, November 23, 2020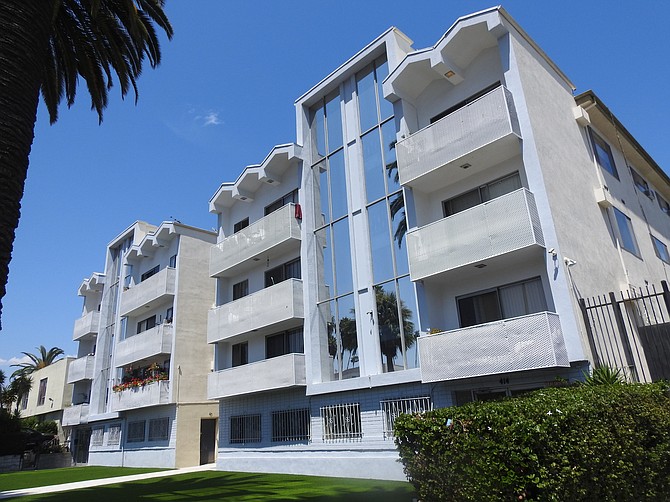 Manhattan 20 has acquired a multifamily property in Koreatown for $10.3 million from La Palma Professional Center, which can be traced to Koreatown-based Jamison.

Berkadia Commercial Mortgage's Brent Sprenkle represented the seller in the transaction, which closed on Oct. 30.

The property is located at 410 and 414 S. Manhatt
an Place and was 69% occupied at the time of the sale.

It was built in 1963 with efficiencies, one- and two-bedroom units.

"The property consisted of two value-added, rent-controlled apartment buildings that were delivered with numerous vacancies, allowing the buyer the opportunity to renovate and lease units at very favorable rental rates," Sprenkle said in a statement. "Finding unrenovated apartment buildings in prime locations has become very difficult in the last decade, and this fit perfectly for the new owner's business plan."

The Koreatown multifamily market has been red hot.

Earlier this year, Jamison sold a 72-unit multifamily property for $32.4 million to Omninet Capital.

Jamison had 3,000 units under construction at the start of the year with a focus on Koreatown. Some of the units have since opened.

Also this year, Klein Financial Corp. recapitalized the 449-unit Wilshire Vermont at 3183 Wilshire Blvd., valuing the building at $135 million.

The company brought in Divco West Real Estate Services as a joint venture partner, replacing Hearthstone Housing Foundation and Calpers.

Last year, Century City-based Cityview sold an equity stake in the 346-unit Pearl on Wilshire at 687 S. Hobart Blvd. to an entity led by Hankey Investment Co., valuing the property at roughly $171 million.

Also in the area, Equity Residential purchased the 398-unit Next on Sixth for $189 million, and Alhambra Place Partnership acquired the 60-unit Kodo at 2867 Sunset Place for $29.25 million from CGI Strategies.

More development in Koreatown is underway, especially for multifamily properties.
Much of that work is replacing old parking lots, while some properties are being converted from other uses.

Experts say the area is benefiting from its easy access to employment hubs in Hollywood and downtown along with its proximity to Metro stops.


For reprint and licensing requests for this article, CLICK HERE.