South L.A.-based Everytable Raises $16 Million for Healthy, Low-Cost Food
Wednesday, November 18, 2020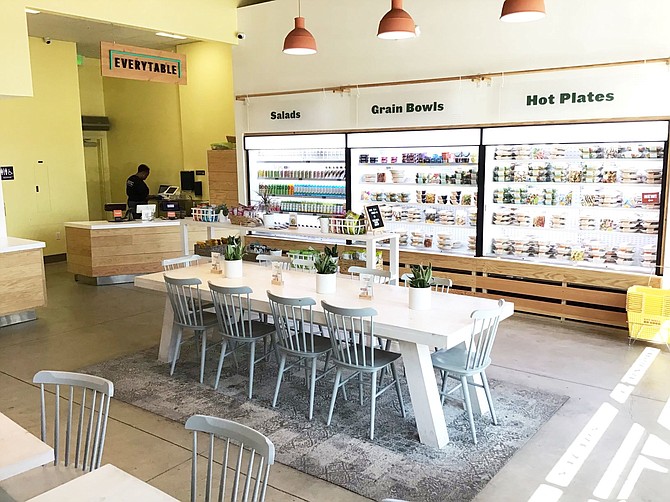 Everytable, a University Park-based prepared meal startup, has raised $16 million in series B funding. 
The round was led by Creadev, a Parisian family office, with participation from Kaiser Permanente Ventures, Candide Group, Gratitude Railroad Ventures, Desert Bloom Food Ventures and Kimball Musk — the younger brother of local billionaire Elon Musk.

Founded in 2016, Everytable purports to fight for food justice by selling inexpensive, healthy, chef-prepared meals. The business started as a grab-and-go restaurant concept in South Los Angeles targeting low-income food deserts and populations which might otherwise only have access to fast food. 
The company currently has nine locations across Los Angeles County, although several are temporarily closed due to Covid-19. Prices scale by location, from Brentwood on the high end, to Compton or Watts, where meals cost as little as $5.

A combination of technology and logistics makes Everytable's approach both a social good and good business, according to Founder and Chief Executive Sam Polk.

"It's the combination of direct-from-farm sourcing, centralized cooking and preparation of our food, and our omnichannel cold-chain logistics that allows Everytable to make fresh, nutritious food at a lower price than fast food, and do so at incredible margins," Polk said in an email.

The Series B capital will be used to fund Everytable's expansion into new markets across Southern California, according to the company, with the eventual goal of establishing a nationwide footprint. The company also plans to focus on developing institutional food service partnerships and expanding its subscription delivery service.

"This new funding marks a significant milestone in our next phase of strategic growth and will help Everytable take the next step towards creating a more just and equitable society," Polk said in a statement. 
"Creadev, along with new and existing investors, shares our mission and passion to transform America's food system to ensure that everyone has access to affordable and nutritious food. Nutritious food should not be a luxury afforded to few," he added.

Covid-19 helped set the stage for Everytable's expansion, according to the company. Shortly after the onset of the pandemic, Everytable partnered with institutions such as the City of Los Angeles to provide meals to vulnerable individuals such as seniors, the homeless and food insecure college students. 
According to Everytable, the company scaled production from roughly 30,000 meals per week to more than 180,000 over the course of the pandemic — establishing a platform for rapidly growing its offering going forward.

For reprint and licensing requests for this article, CLICK HERE.