Primary Care Practices Feel Financial Pain From the Pandemic
Monday, November 16, 2020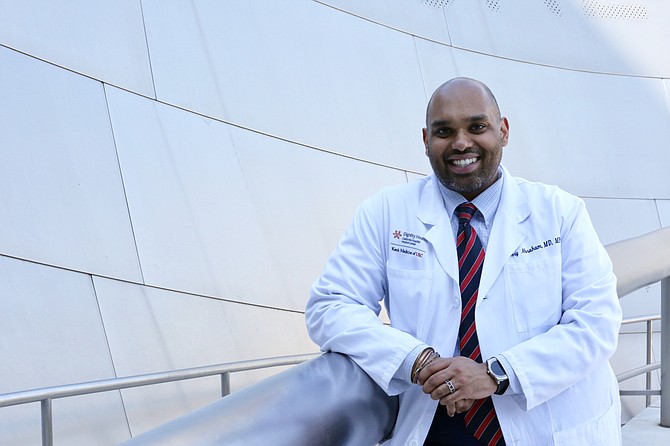 Toni Johnson-Chavis was feeling a grave responsibility.

When the pandemic hit, patients of the Clinica Wee Care primary care clinics she owns in Compton and Norwalk were among the most endangered: seriously ill newborns requiring care within 48 hours and frontline workers living in close quarters with multigenerational relatives with underlying conditions. 

Although safer-at-home orders caused a 40% drop in revenues, Johnson-Chavis thought about her patients and her 25 employees.

"I just wasn't going to shut down," said the Compton native. "It required significant, innovative changes rapidly to survive." 

Johnson-Chavis' clinics are just two examples of primary care practices that are struggling to stay afloat as Covid-19 cases are rising to record levels in Los Angeles County.  

Jerry Abraham, a board member and the secretary of the Los Angeles County Medical Association, estimates that as many as 10% of small primary care practices — groups of five or fewer family medicine, pediatric, and some OB/GYN and internal medicine doctors — have closed because of the pandemic.

"Those numbers are rising, and we're preparing for a large fallout of our solos," he said, adding that another "20% to 25% of small practices are at high risk of closing, certainly in the L.A. area."

Abraham, who is also a California Medical Association board member, said "at least 20% to 40% are probably seriously thinking about what their future in medicine holds."
Primary care physicians account for more than half of all medical office visits, and their businesses yield substantial economic benefits to their communities. 

"It's a reflection of a bigger story," said Kevin Klowden, executive director of the Santa Monica-based Milken Institute's Center for Regional Economics and California Center.
Many doctors, he added, especially primary care providers, "are another category of small businesses, like restaurants and service industries, that have been hit by a shift in people's spending patterns." 

Small primary care providers, with limited resources, have also been challenged as they adapt to new technology and an increasingly complex insurance environment. 

"You're seeing L.A. small primary care practices that didn't pivot to telemedicine taking as much as a 50% or more haircut," said Jacque Sokolov, chairman and chief executive of SSB Solutions Inc., which assists physicians in L.A. County and around the country with managing and developing their practices.

"Areas of town where you have individuals with Medicaid, lower-paying insurance, or who are self-insured, have been hit the worst," added Sokolov, who is also chairman of GlobalMed, one of the world's largest telehealth infrastructure companies. Both SSB Solutions and GlobalMed are based in Scottsdale, Ariz.

Private primary care medical practices have often focused on increasing the number of clients in the face of declining insurance reimbursement rates. 

Sokolov said private primary care doctors would benefit more from opting for reimbursement rates based on set monthly payments per patient pegged to health outcomes — but small practitioners often lack the sophistication to go that route. 

Instead, they continue to seek more, and more affluent, patients by clustering in centralized, accessible locations such as Santa Monica, Beverly Hills and Pasadena.
But that has subjected the practices to escalating rents. And with the pandemic, patient volume has fallen dramatically.

Broader impact
The Milken Institute's Klowden said the pandemic has taken a steep toll on most small practices. "This has absolutely messed with their economics," he said. "When you combine that with the problems that are facing small business, you get the combination that we're seeing right now."

Doctors and industry analysts agree that everyone is affected when these clinics shut down. Abraham and Sokolov estimate that a community will lose $1 million to $2 million in economic activity for each private primary care doctor who closes and lays off staff, is no longer writing prescriptions to be filled at local pharmacies or ordering X-rays at local clinics.

"My colleagues are seeing patients coming in far sicker because their physician's office is closed," Abraham said. "If we close (more of) your family doctors' offices in your neighborhood, patients are going to start flooding urgent care and emergency care offices in your neighborhood. That will be far more expensive and flow back into … your taxes." 

Added Klowden, "When there is a disruption to the primary care doctors, it ripples throughout the entire system."

Government relief has not completely filled the gap. In a nationwide survey of 2,774 physicians, half of the primary care doctors who said they sought Paycheck Protection Program loans came up empty, according to the Larry A. Green Center, a Richmond, Va.-based research, development and advocacy organization

"It was a tremendous help, but it dried up quickly," said Abraham, who treats patients in South and East L.A. "The practices that needed it most had the most trouble getting it. A person struggling to keep the lights on won't be able to fill out a very complicated, dense federal government application for assistance."

Added Johnson-Chavis, "You really had to have an existing relationship with one of the banks that were a part of the federal government program. You had to have an arrangement with a CPA or financial firm that had very tight, up-to-date financial records. You had to be first in line. I know less than 10% of providers that were able to apply for the first round."

Small family practices found a lifeline when Medicare expanded reimbursement for telehealth due to the national emergency, spurring private insurance carriers to follow suit. 

Primary care doctors pivoted, conducting 70% to 80% of their visits via telehealth from March 15 until May 1, up from 15% before Covid, Sokolov said. In the six months since, some patients have returned to office visits.

But telemedicine has not been a panacea.

"Some of our patients only have flip phones, no internet access and no families to help them utilize telemedicine," one L.A. physician reported in a Los Angeles County Medical Association survey in the spring. The L.A. County Medical Association shared the results with the Business Journal on condition that respondents not be identified by name. 

And fee-for-service insurance does not reimburse for regular phone calls, on which many L.A. primary care doctors said they are now spending a great deal of their time with patients to maintain physical distance.

In addition, establishing and managing telehealth videoconferencing has increased expenses, Sokolov said. It's unclear whether Medicare and commercial insurers will continue to cover telehealth at the same level after the pandemic. 

To be sure, some problems predated Covid-19. In 2016, general practitioners handled about 55% of all medical office visits in the United States, according to a Centers for Disease Control and Prevention survey while receiving only 7% of health care expenditures, JAMA Internal Medicine reported, making general practitioners among the lowest paid physicians.

Concierge gains
Not all small practices are suffering from the pandemic, however.  

Thomas LaGrelius, a family physician, geriatrist and president of Skypark Preferred Family Care, a Torrance-based small concierge medicine group, and president of the American College of Private Physicians, said demand at Skypark is up 300% over the same period last year. Concierge doctors offer carriage trade service, including house calls, on a subscription basis. 

"The wealthy are able to bypass the problems your average person has," said Milken's Klowden. "The people who have access to resources are making use of that."

Primary care doctors have weathered past economic downturns. "Historically, health care has been relatively immune from recessions," David Cutler, a professor of applied economics at Harvard University, wrote in the June 9 issue of the Journal of the American Medical Association. "However, the Covid-19 recession is shaping up to be different."

Health insurance covers less of the costs of medical services than in past recessions, Cutler said. And with the pandemic, physicians initially asked patients not to come in for preventive or chronic care to avoid spreading the disease and to preserve personal protective equipment. 

In response, the L.A. County Medical Association on Nov. 9 began distributing free to small practices $1.3 million worth of PPE donated by the state, the medical association's chief executive, Gustavo Friederichsen, said. 

And it has made $100,000 in loans to help keep practices afloat, Abraham said, particularly those of Black women physicians, who are in the greatest peril, he said.

For its part, Medicare and Medicaid will attempt to stabilize some small primary medical practices in California and other states next year by awarding higher reimbursements for improved outcomes, with monthly payments per high need patient, according to the Centers for Medicare and Medicaid Services.

Still, Klowden said, "Once we're past the pandemic, we're going to have to look at the economics of general practitioners and what can be done to makes things sustainable for them." 

Added Abraham, "Anybody who is doing things the way they used to do it … is not going to stay open."
For reprint and licensing requests for this article, CLICK HERE.