GeBBS Healthcare Solutions Benefits From Growing Demand for Back-Office Billing Work
Monday, November 9, 2020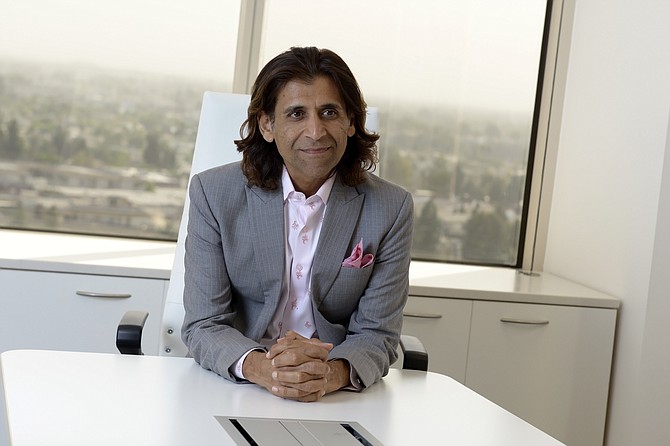 Medical procedure coding and insurance billing is among the most tedious and least glamorous work in all of health care, yet for Culver City-based GeBBS Healthcare Solutions Inc., these mundane tasks have been the ticket for explosive growth.

GeBBS Healthcare Solutions handles outsourced coding, billing and other back-
office functions for large health care providers, mostly hospital chains and major physician groups. Much of the work is done in Mumbai, India, which is where company co-founder and Chief Executive Nitin Thakor is from.

The company is one of the larger firms in the outsourced medical back-office market, with 10,000 employees. And it is also one of the fastest growing: Over the three-year period from 2017 through 2019, GeBBS doubled its revenue to $99.3 million, placing it at No. 48 on the Business Journal's Fastest Growing Private Companies list.

Unlike many of the companies on that list, GeBBS only recently reached the big time after unanticipated events led to the company's modest start 15 years ago.

When he came to the United States in the early 1990s to attend the University of Texas at Austin, Thakor was planning on a career in investment banking. But rather than accept a job offer from Goldman Sachs Group Inc. in New York, Thakor chose to return to Mumbai to try to save his family's computer manufacturing business.

But that business ultimately failed, leaving Thakor and his father a choice of what to do next.

"We looked around for an industry and type of business to enter and build up," Thakor said. "We picked the health care market to focus on. At that time, 15 to 20 years ago, health care back-office functions were very fragmented, with a lot of regional companies and many mom-and-pop businesses. And health care billing was something I could easily understand. We decided to build up a company that would become a major player in this market."

With $100,000 in family funds, Thakor and his father launched GeBBS in 2005, naming the company for the initials of his grandparents. Thakor's father was the owner, and Thakor was the chief executive.

Unlike many other medical outsourcing companies at this time that focused almost exclusively on coding, GeBBS also set out to offer clients the service of working with insurance companies to collect reimbursements.
Starting small

The Thakors started with an office in New Jersey, signing up small hospitals and physician groups. "We realized we had to start with these smaller companies to establish our credibility, so we could eventually go after the big guys," Thakor said.

GeBBS' first big break came in 2011 when it snagged its first back-office outsourcing deal with a major health care provider. Thakor declined to name the provider, citing a confidentiality clause in the contract. He would only say that the provider had a major footprint in California.

That contract was one reason why, that same year, GeBBS relocated its headquarters to Culver City from New Jersey.

With that first major contract under its belt, GeBBS was able to sign up other major health care providers, including Oklahoma City, 

Okla.-based Integris Health Inc., which is one of the largest health systems in Oklahoma. 

Michael Foye, vice president of Integris' system business office, said he first encountered GeBBS shortly after the company launched when he was working for the Indiana University Health System. 

"I became GeBBS' second or third client back then, using them for coding services," Foye said. "I have worked for a couple of other health systems since and have brought in GeBBS each time."

Foye said Integris' arrangement with GeBBS is not for complete outsourcing, but rather a "co-sourcing" arrangement in which GeBBS workers supplement a core staff of medical coders and billing personnel. Outsourcing all back-office work, he said, was not a prudent strategy.

"If something goes wrong and the outsourcing relationship sours, then you're left with absolutely no billing capability, which of course is not a position you want to be in," he said.

Foye added that the arrangement was not like outsourcing in other industries where workers in India are paid a fraction of what U.S. workers would be paid.

"The wage and salary gap for medical billing workers is actually not that great," Foye said. "Rather, the really big savings comes from us not having to constantly train new workers to bring them up to speed. In this country, medical coding is a high-turnover industry, so training can become a huge expense. Instead, GeBBS takes on all the necessary worker training, and they can scale up or down very quickly according to the billing volume."

Spurring growth

GeBBS has also benefited from fortuitous timing, according to Mac Boyter
research director for Orem, Utah-based KLAS Research, which provides information technology consulting services to health care companies.

"GeBBS came along right at the time when the industry has been converting everything to electronic medical records, which put even more emphasis on medical billing codes and increased demand for coding services," Boyter said.

In 2015 and 2016, a seemingly innocuous change by the U.S. government provided a huge boost to GeBBS, he added. That's when the Centers for Medicare and Medicaid Services conformed their coding system to international standards.

"All of a sudden, every medical provider in the U.S. that billed for Medicare or Medicaid had to convert their coding systems, which was a lot of work," he said. "That prompted many providers to seriously consider outsourcing the coding work, to take some of that burden off of themselves. The entire outsourced coding industry benefited from this."

Sure enough, starting in 2017, revenue growth took off for GeBBS. After years of relatively incremental growth, revenue in 2017 grew 37% to 49.3 million; the next year saw revenue grow another 50% to $73.9 million, and then in 2019, revenue grew 34% to $99.3 million.

Tricky politics

But it has not always been smooth sailing for GeBBS. Since it was founded, the company has had to navigate sensitive political waters around the issue of outsourced jobs. There have been multiple efforts to rein in the practice, including attempts to eliminate tax breaks for companies that shift jobs overseas.

"No question we've had to deal with an anti-outsourcing bias," Thakor said. "But what has really worked in our favor is that the company itself is based here and pays taxes here in the U.S."

That status changed slightly in 2018 when GeBBS sold a majority stake to ChrysCapital of Port Louis in Mauritius, an island in the Indian Ocean near the east coast of Africa. ChrysCapital is a private equity firm focused on business services companies in India.

Thakor still runs the company, though his father has retired.

Most recently, GeBBS has had to deal with the impact of the Covid-19 pandemic.
Many companies that have had to send workers home have become more amenable to outsourcing, Thakor said. "It's really just another form of remote work," he said.

But he said the pandemic has also brought increased attention to data security, which has meant GeBBS has had to take steps to strengthen data security protocols.

Looking ahead, Thakor said his goal is to continue doubling revenue by the end of the next three-year period. He said he plans to deploy more capital for acquisitions and continued organic growth.

He noted there are a few major players in the outsourced medical back office services market, including Watertown, Mass.-based Athenahealth Inc., which has a client network of 160,000 major health care providers. 

"Our goal is to eventually get to their size," Thakor said.
For reprint and licensing requests for this article, CLICK HERE.