Bike Shops Struggle to Keep Up With Pandemic-Fueled Demand
Monday, November 9, 2020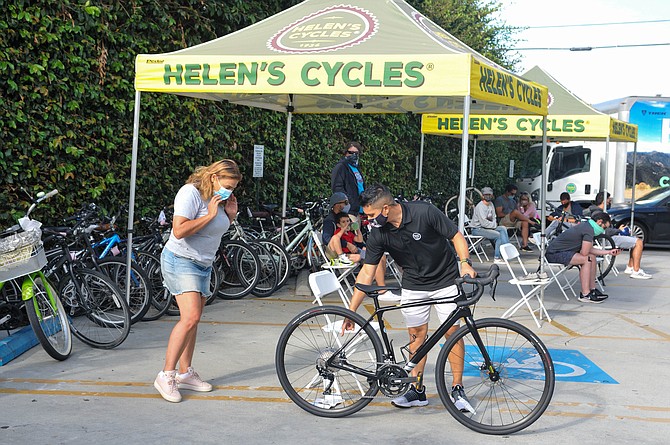 When Helen's Cycles opens its Santa Monica store in the morning, it's not unusual to see a line of customers who've been waiting 30 minutes or more. 

The queue starts at the shop's rear parking lot entrance, snakes around the corner and down the alley to Broadway. 

Owner Jay Wolff even had to reduce the store's hours and close the shop one day a week to allow staff to catch up with orders.

"The pandemic has been great for business," Wolff said.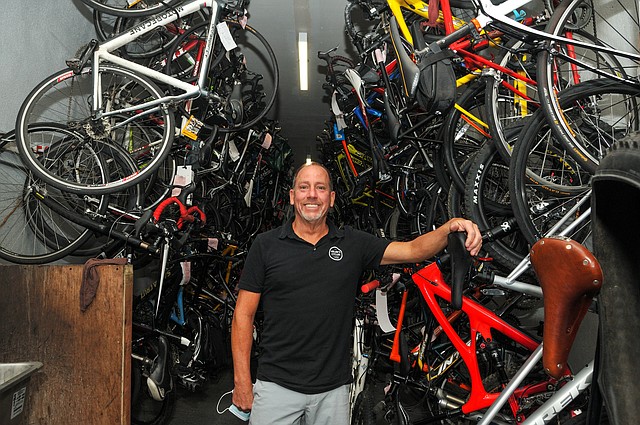 Wolff's experience underscores the pandemic-fueled interest in bicycles nationwide. Demand for bikes, and for mechanics to work on them, continues to exceed supply.  

In Los Angeles, that surge has been acutely felt, given the city's focus on fitness and recreation, as well as its open spaces and climate. And unlike in some parts of the country, bike shops here have been deemed essential businesses because they provide transportation. 

"Myself and my brethren bike shop owners in Southern California, we are all swamped to the gills," said Chris Kelly, owner of the Topanga Creek Outpost bicycle shop in Topanga and a member of the National Bicycle Dealers Association's board of directors. 

Kelly and other store owners say available bicycles priced under $2,000 are rare.
"We have had demand that is nothing like what we have seen in our lives," Kelly said. "We have never gotten so many people into bikes."

While definitive local figures are difficult to come by, retail bike sales jumped 81% nationally between April and July, compared to the same period the year before, according to market research firm NPD Group Inc. 

It's been "crazy," said Mike Robinson at La Brea Bike Works in Mid-Wilshire. "Anything we get in, we have no issue selling."

Vernon-based manufacturer Retrospec Bicycles just signed a warehouse lease in Perris to expand the company's footprint to 200,000 square feet from 65,000. 

Retrospec said in a statement that the move will enable the company "to shift into higher gear — in the wake of the Covid pandemic and the embrace of cycling as safe, accessible exercise." 

Industry observers say consumers see bikes as an alternate means of exercise when gyms are closed or curtailed, an antidote to cabin fever and a form of transportation that avoids mass transit crowds.

"We have lines outside the doors," said Darina Parker, a cycling engineer at downtown-based Just Ride LA. "It has been pretty intense."
 
At manufacturers' mercy

Bicycle categories that had been experiencing flat or declining sales prior to the pandemic saw an immediate surge in March, according to NPD Group. 

Bicycle prices begin as low as $100 to $200 for mass-market bikes sold by such chains as El Segundo-based Big 5 Sporting Goods Corp., Dick's Sporting Goods Inc. and Walmart Inc. 

Bikes for more serious riders can run $1,000 and up. Custom bikes have been known to carry price tags of $10,000 or even $20,000. 

Wolff said Helen's service business is up between 15% to 25%. 

At the same time, however, it has also been a rocky ride for local bicycle businesses.
Disruption in global inventory supply chains has left stores with long lists of unhappy customers waiting months for product.

"I have thousands of bikes on back order," Wolff said. "You know how many I have allocated? Zero."

"We've got probably 100 people waiting" for entry-level mountain bikes, he added. "And we could sell probably another 300 to 400 if we could get them. We probably won't see them 'til April. … It's Catch-22. Our business is still up 20% to 30% (for April to August this year compared to the same time last year), but it could probably be up double that if we had the inventory."

Said Topanga's Kelly, "We're just hoping for bikes to show up. We're at the mercy of our manufacturers."

Repairs are hampered, too.  

"Oh my God," Wolff said. "Literally, for the top 50 items we sell — tubes, baskets, handlebars, tapes — if you don't have it on back order with these vendors, you won't have it for months. You have to go outside your normal comfort zone as to who you buy from. You have to scramble. We've been out of basic tubes and had to turn people away."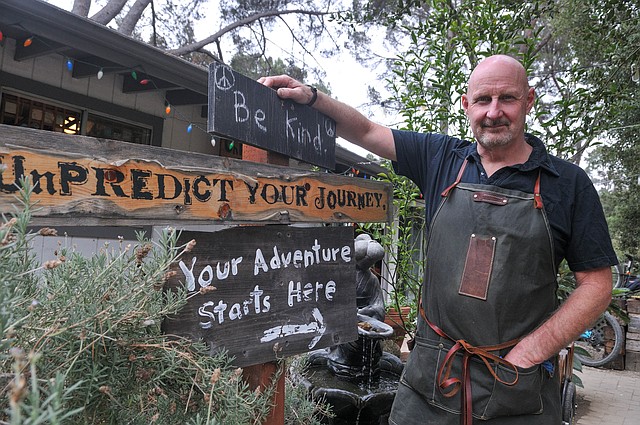 Now, he said, "We have some back in stock, but there's no guarantee of inventory."
Dane Larsen, of Spoke Bicycle Café in Elysian Valley said, "I've heard of some shops around the nation closing due to lack of inventory and availability of parts." 

Factories in Asia, which make the majority of the world's bicycles and bicycle parts, shut down in January and February in response to the pandemic. Few facilities were functioning at capacity until April, according to reports, and production is running two to three months behind. 

The industry had already entered 2020 with inventories at an all-time low, due largely to import tariffs imposed by the United States in 2018 and 2019 as part of the trade war with China, the source of 80% of U.S. bicycle imports, according trade publications. 

Market research firm Technavio forecast in July that the global bicycle market would see a compound annual growth rate of only 4% through 2024.

"We're anticipating the bike industry won't be solidly back with its inventory for the next couple of years," Kelly said.
 
Tough road to navigate

Despite the spike in demand, some shops have seen a decline in business.
Spoke, a mostly outdoor venue along the L.A. River Bike Path, is a combination bike shop, vegetarian restaurant and events venue that has featured performing arts, kids' activities and a yoga class. All have felt the effects of Covid-19.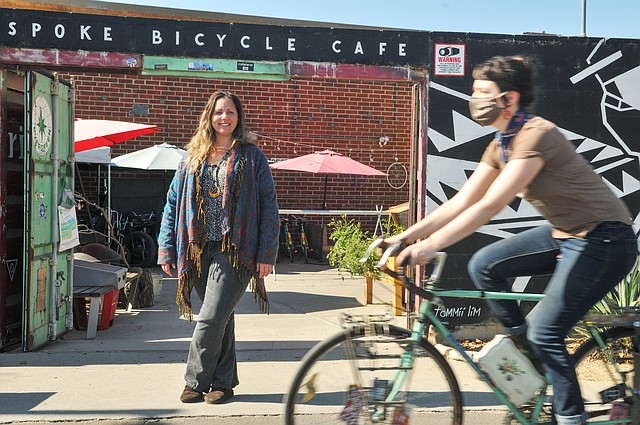 While Spoke's bike sales surged 297% in the past four months, the business now relies mainly on repairs and rentals. 

"Sales stayed fairly consistent at first," Larsen said. "And then bike service boomed, and we rehired a full-time mechanic. But I warned everyone that bike parts would be out like toilet paper. Today I got to order tubes for the first time in two months." 

Topanga's Kelly, who bills his shop as an adventure cycling outfitter, specializes in custom-made bikes that cost an average of $1,500 to $2,000 and go for as much as $12,000. He said sales have been up 83% year to date. 

Kelly, who mostly builds his own wheels, sometimes uses frames supplied by a small downtown builder as well as a manufacturer in Wisconsin. He also customizes complete bikes he buys from a company in Minnesota.

Having shut down his big rental business to comply with Centers for Disease Control and Prevention guidelines, Kelly has pivoted to capitalize on his location in an outdoors lifestyle community with an artistic heritage. 

He has added a line of leather goods crafted by his bicycle mechanics in the 1,000-square-foot shop with a Topanga pedigree. Kelly said Mama Cass Elliot, who lived in a house behind the shop, and Canned Heat used the building for jam sessions in the late 1960s and early 1970s.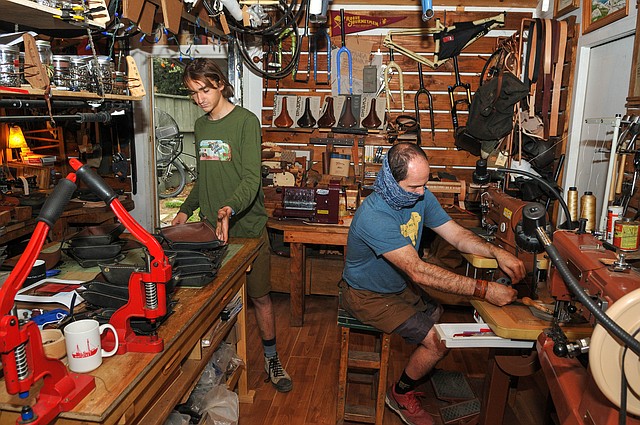 The line of leather goods, according to Kelly, is attracting buyers from "all over L.A. County. We made an apron for someone today. We got three wholesale orders this week. … Last week, we sold four computer messenger bags, selling for around $200 to $300.

"Everyone's saying they are watching our social media, and they see this uptick in good energy, and people are craving hand-made goods from bicycle mechanics," he added.

Helen's Wolff has closed two of his five locations due to the pandemic. He said he shuttered the Westwood shop due to the lack of students and the expiration of his lease in June. And he closed the Marina del Rey location because of lack of inventory and staffing. 

"We lost probably 20% of our staff … that either had asthma issues, or they had grandparents living at their house with them, or it was just too much for them to work in the front lines," Wolff said. "Then, I needed to pull the ones left to the Santa Monica (headquarters) store to help out with the abundance of business, especially in the service department. I could use three more mechanics right now." 

Wolff said he still has 60 employees. He recently reopened his I. Martin Bicycles shop in Beverly Grove, which had closed after losing about 40% of its inventory during looting in the spring. 

And demand has skyrocketed at Woolf's Manhattan Beach store, which is only open for six hours a day and closed on Mondays and Tuesdays, as it I. Martin, to allow buyers, assembly and service personnel to catch up on each week's work.

"The challenge is just trying to meet everybody's expectations," he said. "There have a been a ton of people who have brought in Grandma's bike or the bike they've found in their garage from 10 to 15 years ago" to be repaired. "But a lot of these bikes just have to be tossed in the garbage," often because replacement parts are no longer made.

"We've been trying to make magic happen on these old bikes," he said, but "it has been a strain on the service department."

Even storage is a problem as he tries to figure out where to keep the 65-100 bikes in for repair that couldn't be finished the same day. 

"It's going to be a long stretch until we get the flow of inventory that we used to have," he said. "I think we'll be playing catch up for another year."
For reprint and licensing requests for this article, CLICK HERE.