Increased Cargo Traffic Lifts Local Airports
Monday, November 2, 2020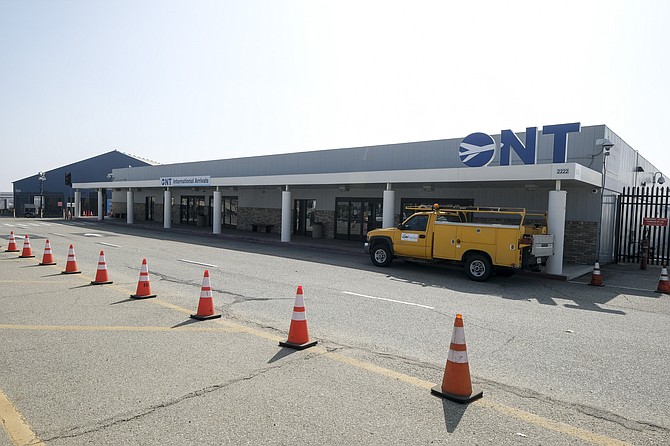 As passenger traffic at the four airports serving Los Angeles County continued in September a slow climb back from this spring's pandemic-induced collapse, an unexpected bright spot for the airports has been a cargo boom.

September air cargo tonnage at Los Angeles International and Ontario International airports surged more than 20% above September 2019 levels while Hollywood Burbank Airport was not far behind, with air cargo tonnage rising 17%. 

Long Beach Airport didn't share in the cargo boom as tonnage in September fell 29% from September 2019. However, that airport moves such a small amount of cargo that it is not really a factor in the regional picture.

At LAX, air cargo figures have been climbing steadily since May, reaching 225,000 tons in September, 21% above September 2019's level.

"Air cargo tonnage remains a bright spot for us," said Sean Burton, president of the Los Angeles World Airports Board of Airport Commissioners, which governs LAX.

For the first nine months of 2020, air cargo tonnage totaled 1.76 million tons, up 3.1% from the same period last year. That's quite a turnaround from the first four months of the year when cargo tonnage fell 8% from previous year levels.

The boom has been even more pronounced at Ontario International Airport where tonnage topped 75,600 in September, 23.5% above levels from September 2019. For the first nine months of the year, nearly 661,000 tons of air cargo have passed through Ontario, up 18.6% from the same period last year.

"Cargo continues to be a point of strength and pride for us as Ontario enjoys the fastest rate of growth among airports in the continental United States," Mark Thorpe, chief executive of the Ontario International Airport Authority said in the authority's September statistics announcement.

Even Hollywood Burbank Airport has shared in the boom, though on a much smaller scale. In September, 4,838 tons of air cargo went through Burbank, up 17.1% from September 2019. For the first nine months of the year, the airport had 83,591 tons of air cargo, up 5.8% from the same period last year.

Long Beach Airport reported 1,104 tons of air cargo moved in September, down 29.4% from the same month last year. But that 1,100 tons of air cargo represents only 0.3% of the tonnage flowing through LAX and Ontario.

Contributing factors

Several factors have converged to bring the air cargo increases at three of the region's airports.

The surge at LAX is being led by explosive growth in imports of personal protective equipment, including N95 respirators, surgical masks, face shields and other equipment. 

The dollar value of these PPE imports reached $3.36 billion for the first nine months of 2020, a whopping 20,433% increase from the same period last year, according to data from WorldCity Inc. that was cited by LAWA. WorldCity tracks import/export data on behalf of port and airport clients.

The data tracking company said LAX now accounts for 23% of all PPE imports entering the United States, compared to 0.5% in 2019.

"LAX is consistently one of the nation's leading airports for cargo, and we are proud that we have quickly become a critical hub for personal protective equipment and medical supplies that are distributed from Los Angeles to cities around the country," Justin Erbacci, LAWA's chief executive, said in an announcement on the air cargo increases.

At Ontario, the surge is due in large part to the airport's proximity to the Inland Empire's warehouse and logistics hub, which itself has boomed as more consumers across the nation have turned to online orders.

Underlying all this have been actions taken by several airlines to convert otherwise empty passenger planes to carry cargo. For example, according to a Bloomberg News report in September, Fort Worth, Texas-based American Airlines Group Inc. was planning on operating more than 1,000 cargo-only flights in September throughout its international networks in Europe, Asia and North America. 

LAX, with its Asian flight connections, has been a prime beneficiary of this trend.

Passengers slow to return

Meanwhile, passenger counts at the airports continued to slowly recover from the pandemic-induced collapse in the spring.

At LAX, 1.75 million passengers went through the gates in September, a drop of 75% from September 2019. That's a slight improvement from August's count of 1.71 million passengers, which was down 79% from August 2019. 

As has been the case since the start of the pandemic, international traffic was down much more (88%) than domestic traffic (69%) in September from the same month last year.

For the first nine months of 2020, LAX saw 22.7 million passengers, down 66% from the first nine months of last year.

Ontario recorded 195,000 passengers in September, down 58% from the same month last year. For the first nine months of 2020, 1.9 million passengers went through the gates at Ontario, down 53% from the same period in 2019. That drop is actually the third-smallest of major airports nationwide, according to Ontario International Airport Authority chief Thorpe.

Burbank had roughly 123,000 passengers in September, a 76% drop from September of last year. For the months of January through September, the airport saw a total of nearly 1.65 million passengers, down 62% from last year.

And Long Beach Airport reported 55,000 passengers in September, down 81% from the same month of 2019. For the first nine months of 2020, nearly 883,000 passengers went through the gates at Long Beach, down 67% from the same period a year earlier.

Long Beach air passenger totals have been impacted by New York-based JetBlue Airways Corp.'s decision to end service at that airport; the last JetBlue flights there took place on Oct. 6. JetBlue has relocated its West Coast focus center to LAX. 

Dallas-based carrier Southwest Airlines Co. has picked up JetBlue's flight slots at Long Beach, but it will be several months before it ramps up flights.

As for October, Burton of LAX's governing board said that the first half of the month was continuing the same trend line.

"For the first half of October, we saw about 30% of the passenger traffic we saw last year," Burton said. "While we continue to make slow progress, we are still down 70% versus last year, a stark reminder that we have a long way to go before we get back to where we were before the Covid-19 pandemic."
For reprint and licensing requests for this article, CLICK HERE.