Covid Causing Sales Slowdown for Office Market
Monday, November 2, 2020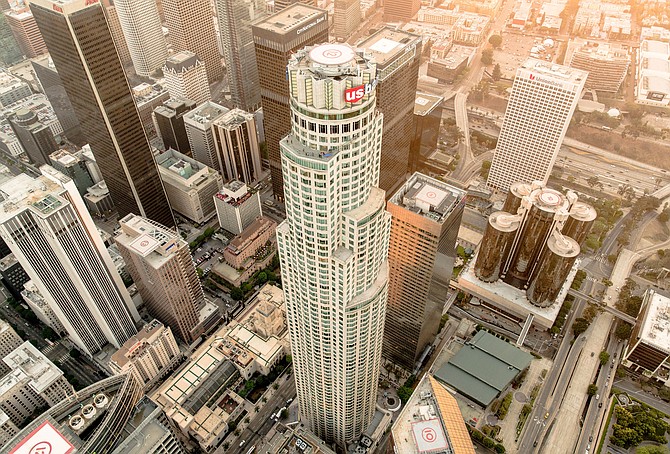 Covid-19 has taken its toll on the market for office sales this year.

The pandemic has prompted many businesses to turn to work-from-home models, which has created questions about the future of workplaces.

"It's been a very interesting couple months. A lot of volatility, a lot of headlines of what the future of office space is going to bring. That creates uncertainty in the minds of investors," said CBRE Group. Inc.'s Michael Longo.

Multitenant office buildings are facing plenty of questions regarding leasing, he added, leaving some investors in wait-and-see mode. 

"(Covid-19) creates a stagnant sale market for multitenant office buildings, and the majority of office buildings in Los Angeles are multitenant in nature," Longo said.
Total sales volume in L.A. this year is 58% of what it was last year, according to Longo.

Still, there have been some big sales over the last six months.

The largest was a recapitalization in which Blackstone Group Inc. purchased a 49% interest in Brentwood-based Hudson Pacific Properties Inc.'s Hollywood studio portfolio. 

The deal, which valued the portfolio at nearly $1.7 billion, includes iconic properties, such as the Sunset Bronson Studios, and office buildings in Hollywood.

The largest straight sale involved the U.S. Bank Tower downtown. New York-based Silverstein Properties purchased the property from Singapore-based OUE Ltd. for $430 million. That's far below the $700 million price tag experts predicted it would fetch before the coronavirus altered the landscape.
Focused demand 

Production facilities, such as those in the Hudson Pacific deal, are still in high demand.

Several studios changed ownership in the past few months, including Television Center in Hollywood, which Santa 
Monica-based BLT Enterprises added to its production portfolio for $64 million.
"There's demand for medical office, there's demand for life science, and then there's demand for studio and production product. That's what's driving the market. In your traditional multitenant office buildings, there's not a lot of sales since Covid hit," said Kevin Shannon, co-head of capital markets at Newmark Group Inc.

Other product types have sold recently as well. 

"Some of the largest (transactions) in L.A. in the last couple of months were user sales," Longo said.

The third-largest deal in the last six months was an owner-user sale. The Symantec Southern California Campus, a 288,000-square-foot office complex in Culver City, sold for $120 million.

Northwood Investors purchased the property from NortonLifeLock Inc., formerly known as Symantec Corp. 

Shannon said there have been a few owner-user sales, but not a lot, especially since most L.A. office buildings are multitenant buildings.

He added that office properties seeing interest often have long-term leases with quality tenants in place.

Owners staying put

Despite a handful of big-dollar deals, Longo said, many owners are not looking to sell.
"There's no motivation from the owners today to clear the buildings," he said, adding that sellers may have to take a price discount, so owners are unwilling to list unless they need to sell.

"There's very little distress in the market. (When) we went into this downturn, we weren't overleveraged like we were in the great financial crisis. Because people were not overleveraged, you're not going to have as much distress. A lot of people are looking at this as a time to refinance because rates are so low," Shannon added.
Looking ahead, brokers still see investor interest.

"There's no lack of demand from the buyers that have raised money for programs to start buying. I think everybody is waiting for the opportunity to arise," Longo said.
Shannon added that investors are still interested in areas like West L.A., where "there's just not a lot to buy."
Top 10 Office Sales (May 1 to present, not including leasehold interest sales)
1. Hollywood Media PortfolioBuyer:
Blackstone Group Inc.
Seller: 
Hudson Pacific Properties Inc.
Notable:
Blackstone Group purchased a 49% interest in Hudson Pacific's Hollywood Media Portfolio, which was valued at nearly $1.7 billion.
2. U.S. Bank TowerPrice:
 $430 million
Address:
633 W. 5th St., Los Angeles
Buyer: 
Silverstein Properties
Seller:
OUE Ltd.
Notable:
The iconic downtown tower sold at a significant discount from what experts had estimated it would bring in.
3. Symantec Southern California Campu
s
Price:
 $120 million
Addres
s: 900 Corporate Pointe, Culver City
Buyer: 
Northwood Investors
Seller:
NortonLifeLock Inc.
Notable:
NortonLifeLock, formerly Symantec Corp., sold its 288,000-square-foot property.
4. Television CenterPrice:
 $64 million
Address:
6311 Romaine St., Hollywood
Buyer: 
BLT Enterprises
Seller:
Henley Management Co. and Bixby Bridge Capital
Notable:
Santa Monica-based BLT Enterprises added to its production portfolio.
5. Pacific GatewayPrice:
 $55.5 million
Address:
1919 S. Vermont Ave., Torrance
Buyer:
Nome Ventures
Seller:
Blackstone Group Inc.
Notable:
The 10-story office property was built in 1981.
6. San Dimas PortfolioPrice:
 $42.9 million
Address:
924 and 960 Overland Court, San Dimas
Buyer:
Menlo Equities
Seller:
Greenlaw Partners, Walton Street Capital and Waterford Property Co.
Notable:
The new owner is expected to move in next year.
7. 12959 Coral Tree PlacePrice:
 $40.5 million
Address:
12959 Coral Tree Place, Playa Vista
Buyer:
Rialto Capital Management
Seller:
Ignition Creative
Notable:
The 57,000-square-foot office building was vacant as the seller moved out prior to the sale.
8. Magan Medical ClinicPrice:
 $40 million
Address: 
420 W. Rowland St., Covina
Buyer: 
IRA Capital
Seller:
DaVita Inc.
Notable: 
The medical office building has 64,000 square feet.
9
. 
Park Del Amo
Price: 
$39 million

Address: 
2355 and 2377 Crenshaw Blvd., Torrance

Buyer:
Ominent Capital

Seller: 
TA Realty

Notable: 
The two buildings total nearly 206,000 square feet.
10. Commerce Plaza East & WestPrice:
 $37.5 million
Address:
5601 E. Slauson Ave. and 5701 E. Eastern Ave.
Buyer:
Ominent Capital
Seller:
Colony Capital Inc.
Notable:
The two-building property spans 195,000 square feet.
For reprint and licensing requests for this article, CLICK HERE.