ACCO Engineered Systems Is the Secret Weapon Inside LA's Most High-Profile Projects
Monday, November 2, 2020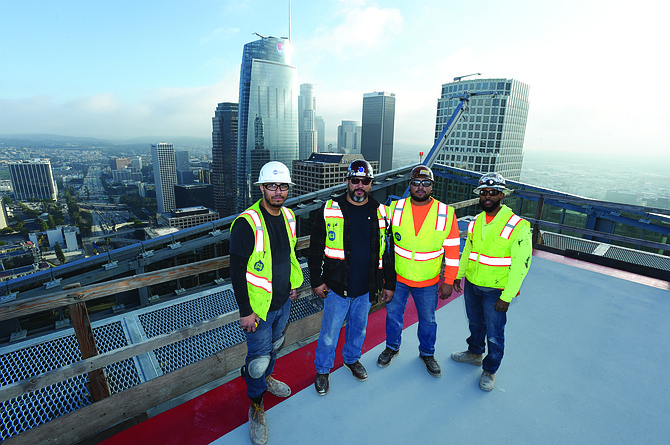 It's one of the largest private companies few have ever heard of. 

Yet millions of Angelenos have seen, felt and experienced this company's work for decades all over town, from Staples Center, the Wilshire Grand Center and Dodger Stadium in downtown to Cedars-Sinai hospital in Beverly Grove to the Getty Center in Brentwood.

The company is Pasadena-based ACCO Engineered Systems Inc. Its work is not easily visible from the exterior of the gleaming edifices of these and other Los Angeles landmarks. Rather, it focuses on the interior heartbeats of these structures: heating, ventilation, air conditioning, electronic systems controls and utility pipelines. 

In other words, the company is behind almost everything that makes buildings and major structures habitable and functional on a daily basis. 

"We do the mechanical electrical plumbing and the building automation work," said Jeff Marrs, ACCO's chief executive.

ACCO ranked No. 26 on the Business Journal's annual list of private companies, with $1.48 billion in revenue last year. That's up from $1.25 billion in 2018 and an even $1 billion in 2017.

The company serves as a mechanical engineering subcontractor, typically hired by the general contractor on major construction and renovation projects. Marrs said roughly half of ACCO's work is new construction, with the remainder split almost evenly between renovation/upgrades and service/maintenance.

ACCO specializes in larger projects, including sports and entertainment venues, major office towers, hospitals, university buildings and airport terminals. 

The company now has more than 4,300 employees in 30 offices and four fabrication plants throughout the Western U.S. According to Troy, Mich.-based trade publication Engineering News-Record, ACCO is the third-largest mechanical engineering contractor in the U.S., and the largest in the Western U.S.

"That size and capacity give us access to a broader array of projects," Marrs said.

Long history

ACCO was founded downtown in 1934 as Air Conditioning Co., primarily by businessman Ira Prentiss Fulmor, who started by servicing air conditioners, which had just recently begun to be deployed on a major scale. 

In 1949, the company moved its headquarters to Glendale, where it remained for 70 years.

During that span, ACCO gradually branched out to a broader mechanical engineering focus, taking on more and more of a building or structure's electrical systems. In 2002, to reflect this expanded scope, the company changed its name from ACCO to ACCO Engineered Systems.

In 2007, the company's second generation of owners began transferring ownership to employees, creating an employee stock ownership plan. Marrs said the transition to 100% employee ownership was completed in 2010.

ACCO also broadened the type of buildings and structures it worked on, including commercial office space, biopharmaceutical research and development facilities, semiconductor and electronics companies, data centers, medical offices and hospitals, educational facilities and, more recently, high-rise residential properties.
In downtown, for example, ACCO installed the heating, ventilation, air conditioning and building control systems in Chinese developer Greenland USA's Metropolis project, which was completed in December.

And ACCO just wrapped work on the $5 billion SoFi Stadium project in Inglewood, having been selected as the main mechanical engineering subcontractor by the general contracting team of Century City-based AECOM's Hunt Construction unit and New York-based Turner Construction Co.

One general contractor that has used ACCO frequently is San Francisco-based Hathaway Dinwiddie Construction Co.

"We have used them extensively for building systems work," said Steve Smith, general manager of the Southern California region for Hathaway Dinwiddie.

To the rescue

Smith said his company has a roster of about five mechanical engineering subcontractors, but ACCO is often at the top of that list. 

He said ACCO has been a subcontractor on major health care projects, such as the addition of a health sciences pavilion to Cedars-Sinai Medical Center and office buildings at Amgen Inc.'s Thousand Oaks campus, 

"ACCO is our main go-to company for the quality of the work that they do, their size and their management capability," Smith said.

On the Cedars project in 2013, Smith said Hathaway Dinwiddie had to call in ACCO on an emergency basis.

"Cedars had hired their own engineer to install a smoke control system to manage any fires that might occur," Smith said. "But as we were just about ready to hand over the entire project to Cedars, we tested that smoke control system and found that it didn't work as intended. 

"With only a week to go before the deadline, we called in ACCO, which brought in its own engineers, reworked some of the designs and got the smoke control system running. With the ACCO team working 24/7, we were able to deliver the project on the exact day we promised delivery."

Covid impact

After outgrowing its corporate headquarters space in Glendale, ACCO in April 2019 moved to the city next door, taking up 130,000 square feet in a Pasadena office tower. Marrs said the new space gives the company adequate room for onsite training, as well as for future growth.

But then the Covid-19 pandemic hit. Marrs said revenue took a hit in April and May as health and business shutdown orders put a halt to much of their work. Revenue picked up again starting in June, and he said the company is back on track to meet its original 2020 revenue projections.

But, Marrs said, the pandemic has impacted the way ACCO's engineers go about their work on construction sites. Covid restrictions often limit the number of people that can be at a specific location or inside a construction site elevator at any point in time.

"Instead of doing things simultaneously as we traditionally have, the general contractors have had to sequence the work more, which means it takes longer to get to the specific work locations onsite, and you can't get to those locations as often," he said.

Looking ahead to a time when the pandemic recedes, Marrs said he anticipates some extra work will be necessary to clean up and sanitize buildings.

"For the last seven or eight months, portions of buildings, or even entire buildings, have not been used, and our surveys indicate that's likely to continue for several more months," he said. "That means water sits stagnant in plumbing or HVAC systems, vents get clogged with dust and the like. When those buildings are finally cleared for full use, all that accumulation has to be cleaned out."

Growth track

Marrs said that once the economy fully reopens, ACCO plans to continue its growth strategy, which is a mixture of organic growth and strategic acquisitions. 

On the organic growth side, the aim will be to rebuild ACCO's project backlog, which has slipped about 5% this year from last year's level.

That may be harder to achieve in some markets, according to Gary Brennen, co-president of New York-based Syska Hennessey Group, a consulting engineering firm.

"Markets such as hospitality and aviation are unsure how to fund any new work or projects, given the scale of the pandemic and the hit on leisure and business travel," Brennen said. "This is creating a drag as we look ahead to 2021."

On the acquisition side, Marrs said the company will be eyeing geographically strategic acquisitions, similar to ACCO's June 2019 acquisition of Smith Electric Service of Santa Maria, which gave the company an entry into California's Central Coast market.

"We plan to continue with similar acquisitions to grow markets in places like Sacramento, Reno and Seattle," he said.
For reprint and licensing requests for this article, CLICK HERE.