Molina Pivots to Fight Virus
Exec shifts his focus to support startups
Monday, May 18, 2020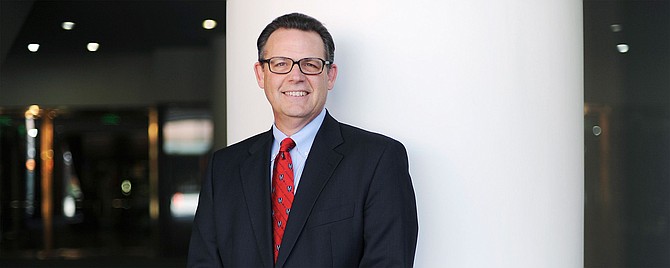 For the next chapter in his extensive career in health care, Mario Molina had planned to serve as the first dean of a new local medical school.
But then the Covid-19 pandemic arrived, and Molina decided to exit his academic role and pivot to battle the disease.
Molina, who was ousted three years ago as chief executive of Molina Healthcare Inc., the Long Beach health care insurance giant founded by his father, joined the board of a Long Beach company called BreathDirect that is developing a low-cost ventilator.
He's also on the boards of two other companies that have joined the fight against Covid-19.
The first is Culver City-based software developer Karen by Care3 Inc., which has developed an app to help patients and their caregivers track health histories, symptoms and medications.
The other is Monrovia-based biotech company Cell Care Therapeutics Inc., which is applying a treatment to reduce inflammation of blood vessels brought about by Covid-19.
Molina is also devoting more time to a Washington, D.C.-based nonprofit called United States of Care, trying to get the message out that recently unemployed people who have lost their health insurance should apply for Medicaid or the Affordable Care Act.
"I've refocused my attention on all things coronavirus," Molina said in an interview with the Business Journal.
Life after Molina
Mario Molina took the reins as chief executive of Molina Healthcare in 1996, succeeding his father, David Molina, who had founded Molina Healthcare in 1980.
The goal was to create a low-cost insurer to provide coverage to underinsured and low-income people through Medicare and Medicaid programs. Late in Mario Molina's tenure as CEO, the company grew rapidly as it secured several state health insurance exchange contracts under the Affordable Care Act.
But by 2017, with the ACA under attack from the White House and Republicans in Congress, Molina Healthcare lost many of its ACA contracts and faced a high fixed-cost structure while its revenue base was shrinking.
In May 2017, Molina's board fired Mario Molina and his brother, John, who had been chief financial officer. The brothers retained their board seats but lacked the shareholder clout to resist the ouster.
Mario Molina then purchased a network of 16 health care clinics from Molina Healthcare and ran that network — Golden Shore Medical Group — as a miniature version of Molina.
But he was forced to give up the clinic network early last year after a dispute over care reimbursement rates with Molina Healthcare resulted in the health insurance giant terminating its contracts with Golden Shore.
Academic opportunity
In August, Molina was named founding dean of a medical school planned by the Keck Graduate Institute in Claremont. He was tasked with securing accreditation and raising funds. But Molina quietly stepped away in February.
"When all this coronavirus stuff was coming down, I decided it was not the best time to start a medical school," Molina said. "I needed to raise something like $50 million and saw that running into a pandemic, and likely recession, would make raising that money much more difficult. I wanted to put my energy into something more directly related to the fight against this emerging Covid-19 pandemic."
In March, the Molina brothers joined the board of Long Beach startup BreathDirect. Medical device engineer Darren Saravis, who is chief executive of Long Beach-based medical device research and development company Nectar Inc., launched BreathDirect in March to make ventilators that cost between $10,000 and $15,000, about one-third the price of a typical ventilator.
Saravis said the idea for the low-cost, mass-produced ventilator came from Nectar's research into ventilators for a medical device company client, and the team that had conducted that research for Nectar was still in place.
He said BreathDirect has a contract with a manufacturer in Fremont to produce the ventilator using mostly off-the-shelf parts: The goal is to build a ventilator within one hour instead of the current five to 10 days. BreathDirect plans to make 10,000 low-cost ventilators per week.
Saravis said BreathDirect has just wrapped up the design phase and is awaiting final decisions from the Food and Drug Administration to sell the ventilator within the United States.
He expects that approvals will come within the next few weeks. With the Covid-19 pandemic yet to peak, Saravis said BreathDirect ventilators will still be of use in the fight against the disease.
Saravis said he sought out the Molina brothers for BreathDirect's board because of their knowledge of the health care system and their strategic business experience.
Other ventures
The chance to make an impact in the fight against Covid-19 is also what attracted Molina to Karen by Care3, which does business as Karen or Karen Health.
The company is marketing an app that allows patients with chronic conditions to coordinate care and track symptoms and medications.
"This is exactly the kind of thing we needed at Molina Healthcare to enable Medicare and Medicaid patients to coordinate their own care," Molina said. "It ties together the caregivers, doctors and family members with patients, all with an app on a phone or computer."
The company in recent weeks has rushed to develop a similar app for Covid-19, with a special focus on enabling people to track their symptoms. Molina said the initial hope was to sell the app to health plans, but the virus has made selling to individuals more urgent.
Meanwhile, Cell Care Therapeutics has taken its anti-inflammatory drug — developed to reduce inflammation in the blood vessels in the eyes — and applied it to treatment of inflammation associated with Covid-19.
"In recent weeks, it has become apparent that this coronavirus causes inflammation of blood vessels in the lungs and other vital organs, so there is potential for this treatment to work," Molina said.
As with the ventilator venture, the drug approval time frame for this treatment is likely months away or even longer, he said.
"This can be an application over the longer term," he said.
Molina said he's now spending much of his time promoting the use of Medicaid and Medi-Cal and state-authorized managed care programs on behalf of United States of Care, a nonprofit devoted to expanding the use of affordable care options for people without private insurance.
Now, with the business shutdowns to fight Covid-19, tens of millions of Americans have lost their jobs and many of those also lost their health insurance. "One of worst places to be is uninsured in the midst of a pandemic — not just you but your whole family," Molina said. "Many don't fully realize or understand that Medicaid and Obamacare were intended for situations just like this."
For reprint and licensing requests for this article, CLICK HERE.