Hollywood Bowl, Ford Theatres Cancel Seasons
Wednesday, May 13, 2020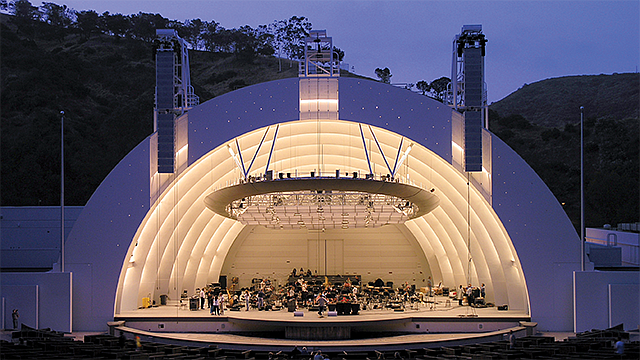 The Los Angeles Philharmonic Association has canceled all 2020 season performances at the Hollywood Bowl and the Ford Theatres due to coronavirus concerns, the organization announced May 13.
Summer season performances for the venues, normally scheduled from June through September, are programmed by the Association. They feature numerous artists, including Bowl performances by the Los Angeles Philharmonic, a resident company of the Los Angeles County-owned Music Center.
The LA Phil estimated that revenue lost from the canceled concerts, as well as those shows canceled during the orchestra's spring season, will result in a budget shortfall of approximately $80 million, the organization said in a statement.
The LA Phil is one of the largest orchestras in the world with a reported annual operating budget of $125 million.
The LA Phil also said it would furlough approximately 25% of its full-time nonunion workforce, as well as members of the Hollywood Bowl Orchestra through Sept 30. It also said it would lay off seasonal Hollywood Bowl employees.
Prior to these moves the Association had reduced all nonessential expenses, laid off its part-time employees, instituted salary reductions of 35% in aggregate and made the decision to draw from its endowment.
The cost-saving measures will continue through the summer, the Association said.
In early April the LA Phil canceled the remainder of its spring season at Walt Disney Concert Hall. At that time Music and Artistic Director Gustavo Dudamel said he would take no compensation during the spring cancellation period.
"The cancellation of our summer programs and the resulting impact on our musicians and staff is devastating," Philharmonic Association Chief Executive Chad Smith in the statement. "We are doing what is necessary to ensure that we are all here for the next century."
To mitigate financial strain the Association is launching "Play Your Part," a $35 million fundraising campaign to support operations and programs including the LA Phil's Youth Orchestra Los Angeles.
Bowl ticketholders will have the option of donating the value of their tickets back to the LA Phil, which has raised an initial $1 million from a challenge grant from Jane and Michael Eisner.
"The LA Phil will continue to monitor the impact of the Covid-19 pandemic and reassess the Association's situation as necessary," the statement said.
For reprint and licensing requests for this article, CLICK HERE.