Embodied Plans Robot for Children
Machine learning device Moxie aids development
Monday, May 11, 2020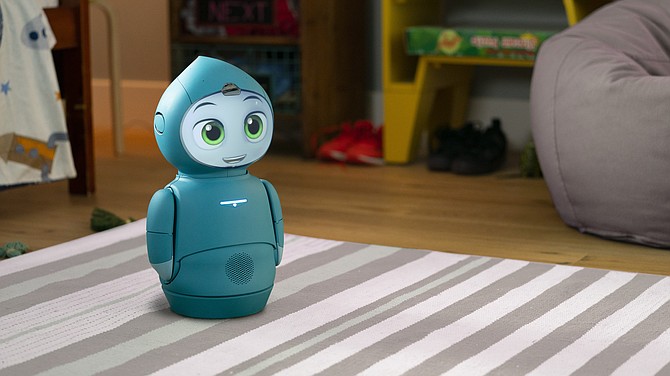 Embodied Inc., a Pasadena-based artificial intelligence and robotics company, has created an animatronic companion that it describes as "a Pixar character coming to life."
The company announced in late April the launch of Moxie, a robot with machine learning technology designed for children ages 4 to 12.
Embodied said the robot will be available in the United States later this year and will cost $1,499. Potential customers can place a reservation now with the company for a deposit of $50.
Moxie can "perceive, process and respond to natural conversation, eye contact, facial expressions and other behavior, as well as recognize and recall people, places and things," Embodied said in a statement.
The robot is designed to promote social, emotional and cognitive development for children, the company said.
Moxie is programmed to deliver content organized by weekly themes that can be broken down into daily episodes to gradually teach children about concepts like emotions, relationships and friendship.
"Then we go to even more complex things such as kindness, empathy and thoughts," said Paolo Pirjanian, founder and chief executive of Embodied.
The robot explains concepts by telling stories and engaging in conversations with the child, according to Pirjanian. The themed content is combined with jokes, riddles and fun facts, some of which help the child learn new words.
Toward the end of each theme, the robot will ask children to take some actions. Under the "kindness" theme, for example, the robot will suggest that children write "kind notes" for their parents.
"Moxie is not designed to be something like Amazon Alexa or Google Home. It's not a transactional information device," Pirjanian said. "We have a lot of different types of content you can talk to. But then, as much as possible, the robot will steer the conversation to stick to the plan, which is the weekly theme," he said.
The robot will evaluate answers from children and rate their performances by social, emotional and cognitive scales.
Pirjanian said the metrics the robot uses to measure the child's performance come from methods that are "well understood and established from child development."
He said the company has also consulted with its advisers, including Clara Lajonchere, deputy director of UCLA's Institute for Precision Health, and Jeffrey Cohn, a psychology professor at the University of Pittsburgh, to develop the measurement metrics and other features of the robot, including its voice and body languages.
One of the metrics, for instance, is the number of times the child uses "me" or "I," versus "we" and "us," Pirjanian said.
Parents can track their child's performance and progress on an app, which shows every activity the robot does with a child, including reading, meditation and breathing exercises.
The app also carries a library with topics that parents can add to Moxie's calendar, such as "the first day at school," to prepare the child for upcoming events. Pirjanian said the robot's information is encrypted and can only be unlocked by a parent's unique key.
He said Moxie's price includes an annual subscription for updates of the parents' app and the robot's software with features like special access to its Global Robotics Laboratory, a portal where the child can play memory games and engage in activities and content featuring other characters created by the company.
Embodied said its investors include Intel Capital Corp., Toyota AI Ventures, Amazon.com Inc.'s Alexa Fund., Sony Corp.'s Sony Innovation Fund, Jazz Venture Partners, Calibrate Ventures, Osage University Partners, Grishin Robotics, and Vulcan Capital, the investment arm of Vulcan Inc.
For reprint and licensing requests for this article, CLICK HERE.