A Dog Training Boom for Zoom Room
Remote sessions give company a new leash on life
Monday, May 11, 2020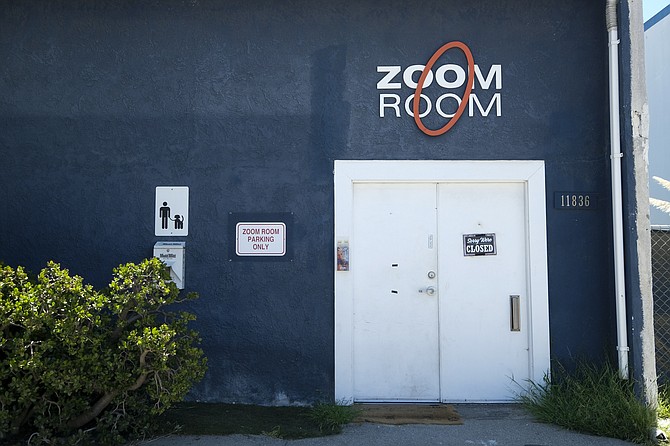 Children are not the only family members in need of home schooling during the Covid-19 crisis. In response to the pandemic, Culver-City based Zoom Room Inc., a chain of indoor dog-training gyms, has gone virtual to provide live remote training sessions for canines stuck at home.
The numbers of pet adoptions and animals leaving shelters for foster care have risen sharply since safer-at-home restrictions took effect in mid-March.
The American Society for the Prevention of Cruelty to Animals in Los Angeles reports a 70% increase in animals going into foster care. And Illinois-based PetPoint, a software program shared by about 1,200 shelters nationwide, has revealed data that indicates pet fostering and adoptions are up 700% over last year.
Unscientific observation suggests self-sufficient cats are most likely OK with the socially distant new normal. A dog's routine, however, may be disrupted by missed visits to doggie day care, groomers and dog parks — as well as that mainstay of the puppy generation, group training sessions.

That's where Zoom Room remote comes in.
Zoom Room Director of Operations Liz Claflin said the timing of the Covid-19 shutdown has not only left former shelter dogs without training but caused a break in the education of the many holiday gift puppies.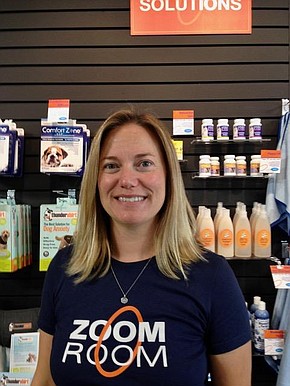 "I don't remember exactly who first mentioned remote sessions. I think there were a bunch of us all at the same time, as a franchise system," Claflin said. "We jumped on a conference call with everybody and kind of talked about what it would look like and whether it would be possible, beneficial and helpful.
"We all quickly came to the same conclusion — the managers, the owners and the trainers — that it had to be live, it couldn't be some recorded thing that we throw up on YouTube," Claflin continued. "And it needed to be one on one, not like a group (exercise class) or yoga. It's hard enough to do that with human beings, but when you add in another living creature, it gets difficult."
Claflin said customers can book half-hour one-on-one remote video sessions for $35 each or a four-pack for $125. The costs are comparable to Zoom Room's typical gym training sessions and far less than the going rate for one-on-one in-home sessions with a professional trainer.
Additionally, Zoom Room customers can apply credits they may have left from in-person packages to remote sessions.
"The goal here was not 'let's make a fortune off what's going on here,'" Claflin said. "We were actually hoping these sessions wouldn't be incredibly popular because they could almost become our entire business model.
"What we wanted was to stay connected to our clients, to provide help to anybody who felt like they needed it, and to let them burn through their credit, which is not a bad business model."
Claflin said nearly 500 remote training sessions have been booked across the chain's Southern California stores in Culver City, Sherman Oaks, Huntington Beach and at a newer location that opened Jan. 1 in Woodland Hills.
Claflin said dogs are often but not always present for video sessions, some of which are consultations with pet owners. No one expects dogs to pay attention to a computer screen. Rather, the video connection gives the trainer a chance to observe a problem happening in the home.
"(An owner) might be learning a 'leave it' command and say, 'Let me back up from the camera to show you what happens with my dog,'" Claflin said. "Other people are putting Zoom on their phones and taking us on walks with them, so they can show you how their dog reacts to other dogs or is pulling on the leash."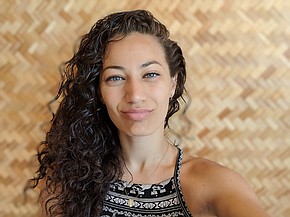 Zoom Room trainer Victoria Seanoa had been working at the Huntington Beach location and planning a move north to work at the Belmont Zoom Room when the virus crisis hit. Now she is sheltering at home with family in Buena Park.
Both her well-trained dog Mango and the family puppy Mai Tai have been called into service as online demonstrators of various training techniques.
"The service is extremely helpful not only to the clients, but I am able to get a deeper connection with some clients," Seanoa said. "I am able to have actual conversations instead of just going through the motions of training, of having to split our attention to the rest of the classroom."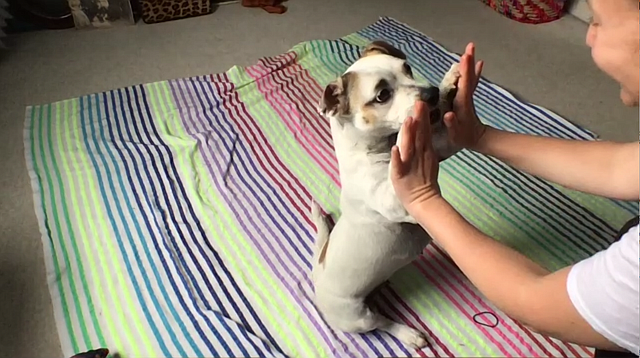 Zoom Room is considering how video conferencing might enhance current training options post-Covid, perhaps for clients who travel with their pets. Still, the company plans to offer online training as a limited adjunct service rather than as an alternative to gym training.
"For most people it's just no substitute for the real thing," Claflin said.
In fact, Claflin and Seanoa said puppy owners may find themselves facing extra socialization challenges post-Covid. In the interim, Seanoa suggests, be creative.
"If you don't have real-life distractions, I recommend just pulling up YouTube and playing sound distractions," Seanoa said. "Or if you know there's a high-traffic area outside where (your dog) can see people walking their dogs, that you could be your distraction for now."
She added with a laugh that the standard length for a leash is 6 feet, so try letting your puppy approach other dogs outdoors with that built-in social distance.
Another idea from Seanoa: Start preparing your dog of any age for post-Covid separation anxiety by taking yourself for a walk and leaving your dog at home. "Go outside without your dog, even if it's just for 30 minutes, so they'll know it's still OK to be alone," Seanoa said.
For reprint and licensing requests for this article, CLICK HERE.