Modern Animal Provides Clients Virtual Pet Care
Startup relies on app, remote capabilities
Monday, May 4, 2020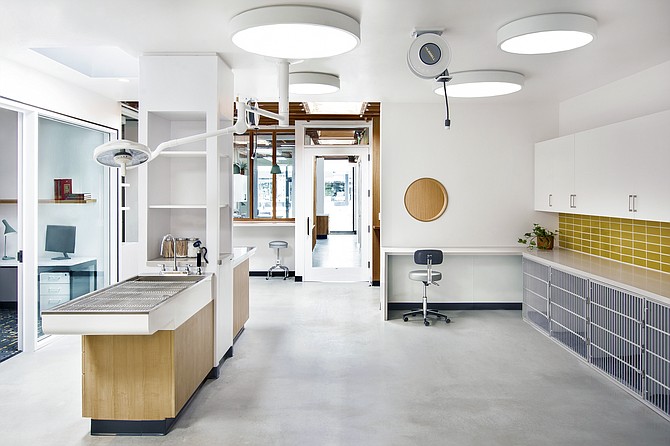 Modern Animal Inc., a company that provides telemedicine services in its veterinary clinic, opened its first location in Beverly Grove in April.
So far, no Modern Animal client has entered the clinic — and the company plans to keep it that way.
"In fact, we don't allow clients inside the clinic," said Modern Animal founder and Chief Executive Steven Eidelman. "We rely on curbside drop-off. Then the visit is conducted via video entirely while you wait in your car — or from home if you'd like to come back later."
Founded in 2018, the company has raised more than $10 million in seed funding and has 32 employees, according to Eidelman.
Ahead of the clinic's opening, Modern Animal developed a mobile app that customers can use to make appointments for clinic visits and make payments for procedures, treatments and medications.
Both pet owners and veterinary technicians can track an animal's medical records through the app, which streamlines a pet's visit history and other aspects of treatment.
There is also a section for in-app video calls, or what the company calls "virtual care." Users can initiate video calls and text chat to solicit advice from veterinary technicians round the clock when they have questions or concerns about their pet's condition.
The company has six employees working in shifts to provide the 24/7 virtual care service. The number of on-call technicians and doctors will grow as the clinic takes on more clients, Eidelman said.
"There's an opportunity to build a very trusted brand where people aren't relying on their individual relationship with their doctor, who may not be available all the time," Eidelman said.
Modern Animal's always-on approach is designed to reassure clients and keep lines of communication open at all times, according to Eidelman.
"(Clients') anxiety and questions persist throughout the day into the night, seven days a week," he said. "We want to be available anywhere, anytime with people who have full access to all of your information because everything's in the cloud. We have veterinary technicians to answer your video call or your text message or your phone call at 3:00 in the morning," he said.
The company charges a $100 annual membership fee to access services. Members are exempt from exam fees for clinic visits but still pay for procedures, treatments and medications, Eidelman said.
Modern Animal is providing its 24/7 virtual consultation service free to Los Angeles County residents during the coronavirus lockdown, Eidelman said. It is also providing free one-year membership to those who adopt a pet from March 1 to June 1.
While technologies such as cloud storage and online payments are taken for granted in many industries, veterinary clinics have not kept pace with digital advancements, Eidelman said.
"A lot of veterinary clinics use paper. A lot of those who have software are using software that was built 15, 20 years ago. It makes it very hard for people to access information from anywhere outside of that clinic itself," he said.
"I hope things go back to normal as much as possible, but I think that we'll be living with some of the consequences of Covid-19 for some time. And for us, we're using that as an opportunity to really push our creativity and to bring solutions to the market," Eidelman added.
He anticipates that the company will expand its clinic locations in 2021.
"Our vision is definitely to build many locations," he said, "starting here in Los Angeles."
For reprint and licensing requests for this article, CLICK HERE.