Long Beach Bridge Hits a Milestone
Shimmick unit leads on Gerald Desmond project
Monday, May 4, 2020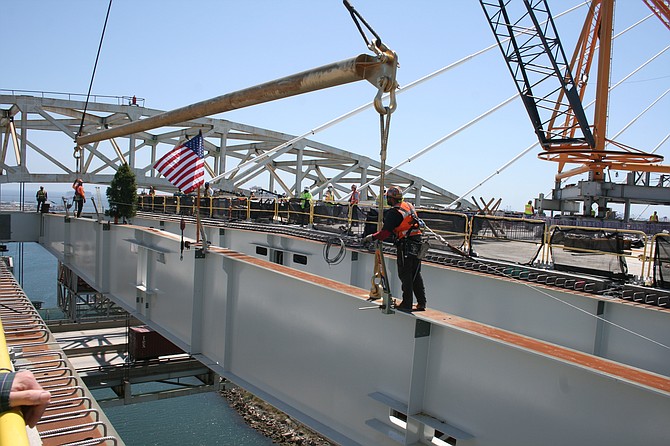 Construction crews led in part by Century City-based Shimmick Construction on April 21 lifted the final floor beam into place for the main span of the Gerald Desmond Bridge replacement at the Port of Long Beach.
The step marked the completion of a key phase of the $1.5 billion project, which is expected to be finished later this year.
The span will replace the original Gerald Desmond Bridge, which opened in 1968, linking the port's Terminal Island with downtown Long Beach and the 710 freeway.
The bridge had become an increasingly vital thoroughfare for cargo traffic and the thousands of people working in and around the Long Beach and Los Angeles ports. As of last year, the bridge handled nearly 15% of the nation's truck-transported imported cargo, according to the Port of Long Beach.
With a main span clearance nearly 200 feet above the port's back channel, the new bridge will provide a higher passage for cargo ships and two extra traffic lanes for trucks and cars for a total of six lanes. It will also be the first bridge in California to use steel cable stays to hold the main span in place.
The bridge project is a joint effort of the California Department of Transportation and the Port of Long Beach, with additional funding from the U.S. Department of Transportation and the Los Angeles County Metropolitan Transportation Authority.
Construction of the replacement bridge began in 2013, led by the prime contractor trio of Shimmick Construction (since acquired by AECOM), FCC Construction of Madrid and Salini Impregilo of Milan, Italy.
The entire bridge replacement project had an initial target completion date of late 2019. But the project experienced months of delays, primarily due to higher-than-expected winds that exceeded safety margins and forced repeated construction halts.
Construction began on the bridge's main span on April 26, 2018, almost exactly two years prior to the placement of the main span's final floor beam.
According to an announcement from the bridge project team, construction crews have put into place 117 steel floor beams — each about 140 feet long, 10 feet tall and weighing about 32 tons.
Sets of these floor beams were bolted together, and then crews used cables to attach each floor section to one of the two 515-foot-tall towers anchoring the bridge to the bedrock underneath the port's back ship channel.
The announcement said several more major tasks remain before the bridge can open sometime during the second half of this year. The work includes strengthening the main span's concrete deck with steel cables, constructing a bike and pedestrian path along the ocean-facing side of the bridge, and putting a concrete overlay in place.
For reprint and licensing requests for this article, CLICK HERE.