LAX Posts Traffic Dip for February
Drop is expected to worsen in March and April
Monday, March 30, 2020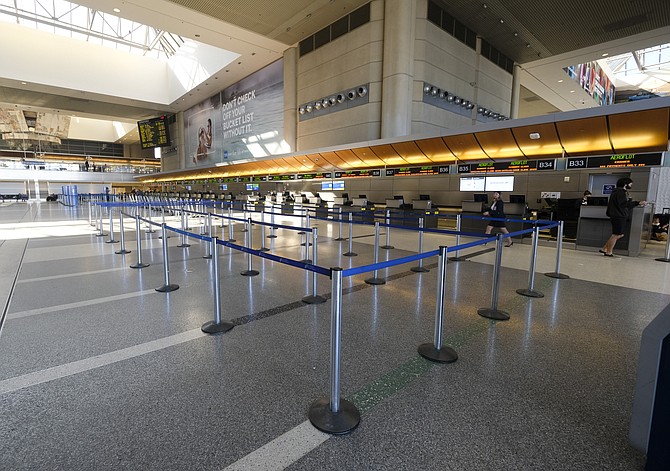 Passenger traffic at Los Angeles International Airport fell nearly 4% in February with international traffic plunging almost 10% as the first impact of the coronavirus pandemic was felt, according to statistics released March 24.
But officials with Los Angeles World Airports, the city agency that operates LAX, said those drops are only the tip of the iceberg, and that March and April passenger figures will likely show catastrophic declines.
"LAX passenger traffic was down 80% on Sunday (March 22) compared to the same day in 2019, and we anticipate similar trends in the coming weeks," LAWA spokesman Heath Montgomery said in an emailed statement.
The situation was better at Long Beach Airport in February as that facility has no international flights. Passenger traffic was up 11% in February from February 2019 to about 278,000 passengers and climbed nearly 10% for the January through February time period compared with last year.
Hollywood Burbank Airport and Ontario International Airport had yet to report February figures as of March 24.
About 5.8 million passengers went through LAX's gates in February, down 3.8% from February 2019. Domestic travel fell 1.4% to 4.26 million while international traffic fell 9.8% to 1.56 million.
For January and February, a total of 12.5 million passengers went through LAX, down 2.3% from the same period in 2019. The domestic passenger count fell 1.1% while international travel fell nearly 5.2%.
The drops in international travel continued a trend that began last year — although for different reasons. The international passenger count for all of 2019 fell 1.4% from 2018 to 25.7 million. That 2019 drop was blamed on the rising dollar and increased trade tensions with China.
International travel declined another 1.1% in January.
The decline accelerated in early February as President Donald Trump banned most flights from China due to the coronavirus spread in that country.
As the pandemic reached more countries in late February and early March, travel bans grew more numerous. And even where no travel bans are in effect, passenger traffic has plummeted as more and more people have canceled their trips.
And there may be worse to come.
The Wall Street Journal reported on March 24 that the nation's major airlines were considering canceling all flights in the United States, both domestic and international, with a possible exception for cargo-only flights. The Journal said the airlines preferred to do this voluntarily, rather than have the government suddenly order it.
Cargo tonnage at LAX has also fallen. Airport officials report that 147,572 tons moved through the airport in February, a 7.8% drop from February 2019. For the first two months of the year, 320,000 tons were moved, a 6.4% drop from the same period last year.
As the situation has steadily worsened, LAWA officials have started to trim expenses and have met with representatives from the airlines, concessionaires and other parties at LAX to try to come up with collective steps to address the crisis, Montgomery said.
Another issue LAWA may face: The sudden drop in passengers could affect revenue streams that both LAWA and the airlines are using to pay for the $14 billion in improvements now underway in and around LAX.
Most of the airport terminal renovations are funded directly by the airlines, so a deterioration in their financial condition could put the brakes on those projects.
Another aspect is that the money to pay back the bonds LAWA has sold to fund the $2 billion people mover project and the $1 billion consolidated car rental facility comes from airport revenue, so a significant, prolonged revenue plunge could make future bond issuances more costly.
For reprint and licensing requests for this article, CLICK HERE.