Strength in Numbers
LA's commercial real estate market led the nation last year with $28 billion in sales
Friday, March 6, 2020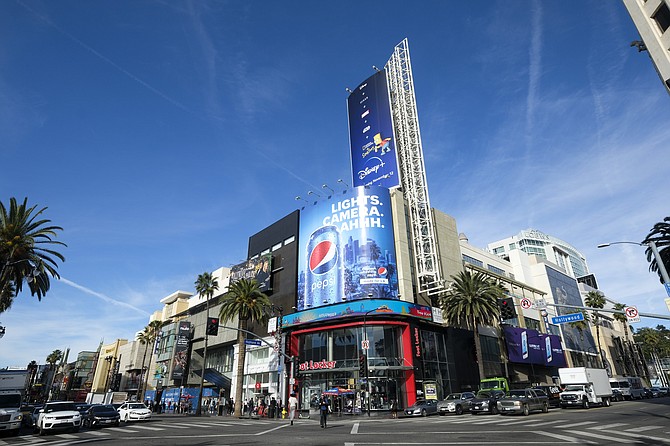 Commercial real estate in Los Angeles County ranked as the most coveted in the nation last year, according to a report from CBRE Group Inc.
Some $28 billion worth of commercial properties sold in L.A. County in 2019, the largest total for any county in the United States.
Commercial sales in the area are down slightly from last year, according to Newmark Knight Frank, but they're up nearly 400% from 2001.
The L.A. market is "really incredible," said Jay Maddox, Capital Markets Group principal at Avison Young. "There is an abundance of capital right now for both debt and equity for real estate here. The underlying fundamentals are so great with employment growth and a diverse economy. It's astonishing to me how many years this has been going on."
The continuing growth comes despite the fact it's "hard to build new product (in L.A.) because of the strict limitations on new development and getting a new project built," Maddox added. "To some degree, we're supply constrained. A lot of capital was pouring into New York and the Bay Area. Compared to them, we're a bargain."
Still, Maddox called current prices in the market historically high.
Multifamily and industrial sales volume in L.A. hit all-time highs in 2019, and they're up 350% and 380% in the past decade, respectively, according to CBRE.
Kevin Shannon, co-head of capital markets at Newmark Knight Frank, said demand continues to climb for multifamily and industrial sites. "Those food groups remain at the top of the shopping list for institutional capital. Los Angeles, with the ports, is one of the major industrial hubs in the country. Industrial really had a strong year in Los Angeles."
Eric Willett, regional director of research and thought leadership at CBRE, said sales were driven by the ports, infrastructure and L.A.'s talent pool.
"Those economic fundamentals are positioning the region as one of the premier gateway markets in the U.S.," Willett said.
He added that access to the ports was a huge part of the industrial market's appeal because transportation is a big cost and "being as close as possible to the ports is a way for the tenants to reduce these costs. The flipside is the size and wealth of the market in L.A. There's increased interest in facilities that serve the market and that population."
Office deals, Shannon said, were down slightly in 2019 due to a lack of available product in desirable markets like West Los Angeles.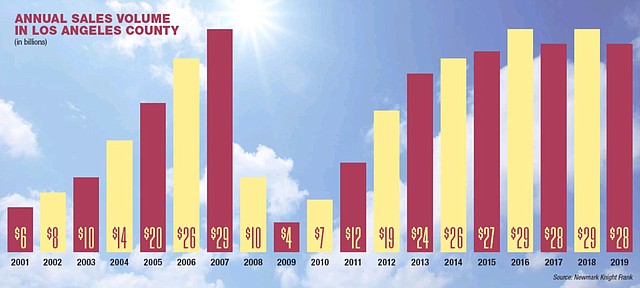 Investor shifts
For the first time since 2012, foreign investors were net sellers in L.A. County, according to CBRE.
The market peak came in 2016, when Chinese investors spent $1.6 billion on local properties.
By comparison, Chinese investors spent $100 million on acquisitions in 2019, Willett said, preferring to bring capital back to China.
But not all investment from abroad is easing.
"That foreign capital has slowed is a misconception," Shannon said, adding that there was still interest in the market from foreign investors even if there weren't as many big-dollar sales.
Tensions in the Middle East last year brought an influx of foreign capital to the United States, Shannon added.
"The institutional demand and capital coming from Canada and Europe, we haven't seen any major setbacks," Maddox said.
For the first time in six years, institutional capital investors in 2019 acquired more properties than they sold, according to CBRE.
"This group of capital providers has moved from being a net seller to a net buyer," Willett said, adding that trend was seen everywhere but was the most dramatic in L.A.
Factoring in uncertainty
Experts expect 2020 will be another strong year for sales.
Willett believes numbers this year will be similar to, or slightly above, figures from 2019.
But others say there may be some hiccups.
"We're thinking that investment volume might be down slightly," Shannon said. "There's going to be a lot of people watching the election and who the candidates are on the Democratic side. Capital markets don't typically like uncertainty. But right now, interest rates, depth of capital and the fundamentals in L.A. are all very strong."
He expects sales velocity to be down slightly but still above historic averages.
"We think 2020 will be a good year for foreign capital," Shannon said.
Maddox said the big question is whether Covid-19, the disease caused by a coronavirus, will impact real estate sales.
"Until the coronavirus came along, I would have said nothing but blue skies (for real estate investment in 2020)," Maddox said. "There's some uncertainty regarding the upcoming election, but if you look at the capital markets, people are (already) factoring in the election."
Top Commercial Real Estate Sales of 2019
Overall Top Sale 2019
Hackman Capital Partners purchased CBS Television City at 7800 Beverly Blvd. in Fairfax District for $750 million.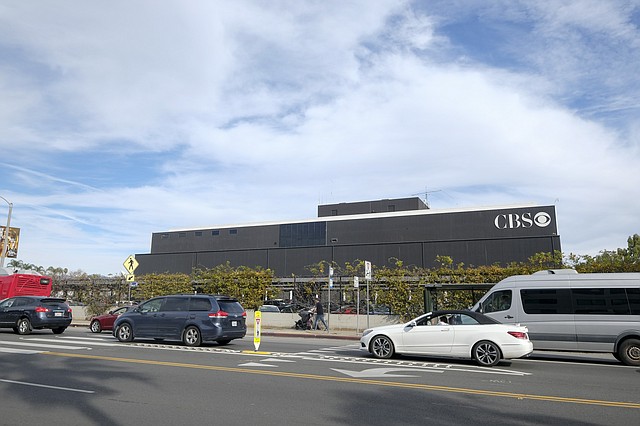 Top Retail Sale of 2019
Hollywood & Highland center at 6801 Hollywood Blvd. in Hollywood sold for an estimated $320 million.
Top Residential Sale of 2019
Douglas Emmett purchased The Glendon at 1040 Glendon Ave. in Westwood for $365 million.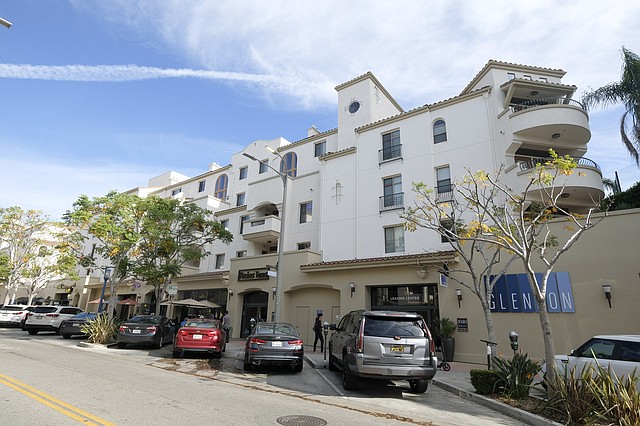 Top Industrial Sale of 2019
The Los Angeles Times Printing Press building at 2000 E. 8th St. in downtown sold
for $240 million.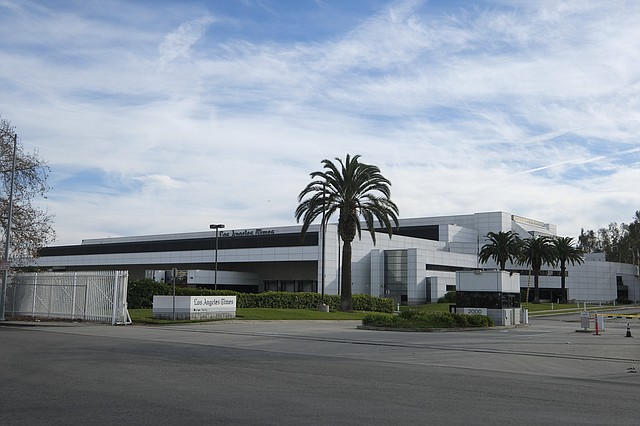 Top Office Sale of 2019
Tishman Speyer Properties sold the Wilshire Courtyard in Miracle Mile for $630 million.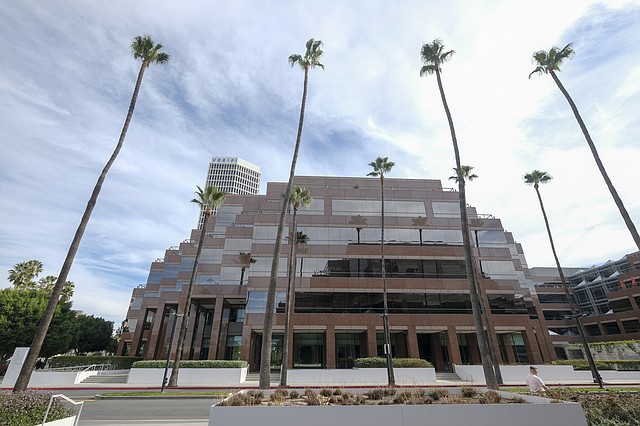 For reprint and licensing requests for this article, CLICK HERE.