CIM Group Sells Sites in West LA
Developer finds buyer for portfolio of multifamily properties
Friday, March 6, 2020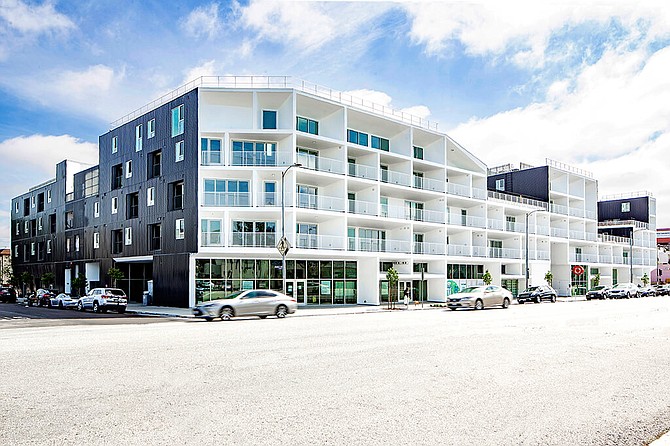 Developer CIM Group has sold a 147-unit multifamily site and an adjacent collection of 37 apartments in the in-demand West Los Angeles market.
The name of the buyer and financial terms of the deal were not disclosed.
The largest property in the transaction was Elevate, a four-story building at 1515 S. Granville Ave., with retail space and 147 units, including 16 affordable units.
The building has a clubhouse, pool deck, lounge, gym and coworking space.
Retail tenants at the property include Target Corp., a Healthy Spot pet store and an AKT InMotion Inc. fitness studio.
CIM Group wrapped construction on the building in 2019. The site was formerly an auto dealership.
The 37-unit Westgate Collection was also part of the sale. Finished in 2017, the property is comprised of three four-story buildings just south of Elevate. It has a rooftop lounge and a courtyard.
Multifamily properties in L.A. are in high demand. In 2019, nearly $9.5 billion worth of multifamily properties traded hands in the market — an increase of roughly 574% since 2009 when only $1.4 billion was spent on the asset type, according to data from Newmark Knight Frank.
Some of the biggest multifamily sales in 2019 included the 350-unit Glendon in Westwood, which Santa Monica-based Douglas Emmett Inc. purchased for $365 million; the Grace on Spring and Griffin on Spring in downtown, which Holland Partner Group sold for a combined total of more than $400 million; the 398-unit Next on Sixth in Koreatown, which Equity Residential purchased for $189 million; and the Colony at the Lakes, a 450-unit building in West Covina that sold for $171.5 million.
West L.A. is among the most desirable markets in Los Angeles County. The vacancy rate there in the fourth quarter was a mere 3.31%, down 18 basis points over the previous year, according to data from CBRE Group Inc. The rent per unit was $3,197.68, more than any other submarket, according to CBRE data.
Kitty Wallace, an executive vice president at Colliers International Group Inc., said the market was in high demand from renters and buyers alike.
"The high-paying jobs are out in this direction," Wallace said. "It has a very high barrier to enter, and it's hard to build, to get your entitlements. In order to build, you have to tear something down."
Wallace added that no matter what market concerns may be out there, "people still want to be on the west side of town."
CIM Group has been busy throughout the county.
The Mid-Wilshire-based company was involved in the biggest retail sale of 2019: the 460,000-square-foot retail and entertainment property at Hollywood and Highland.
DJM Capital Partners and Gaw Capital USA purchased the property for an estimated $320 million. The deal did not include the Dolby Theatre, which CIM Group still operates.
For reprint and licensing requests for this article, CLICK HERE.