Recycled Water Project Comes Online in Torrance
West Basin pipeline serves Torrance business park
Monday, June 29, 2020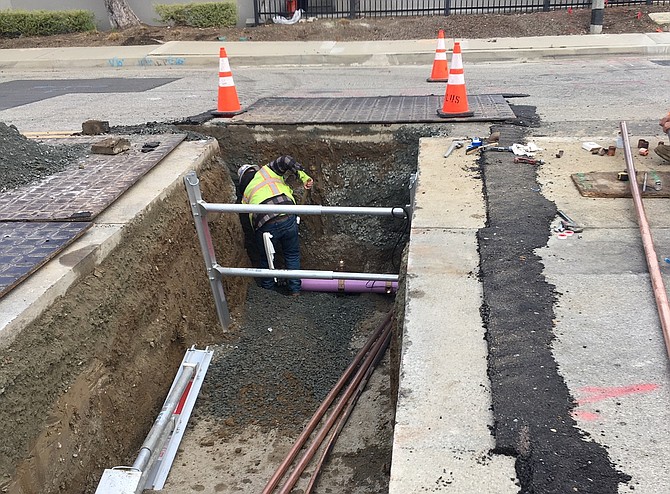 The West Basin Municipal Water District announced the completion of a recycled water pipeline at Sares Regis Group's Torrance Commerce Center on the site of the former Toyota Motor North America Inc. headquarters campus.
The pipeline will use water from the district's water recycling facility in El Segundo instead of drinking water to irrigate the landscape surrounding three new buildings, according to the June 11 announcement.
It is expected to save about 1 million gallons of drinking water per year, enough to supply the water needs of about 10 households annually.
Sares Regis paid for the pipeline, though the cost was not disclosed.
Toyota Motor North America relocated to Plano, Texas, in 2014. At that time, the site consisted of 18 buildings totaling nearly 2 million square feet.
Newport Beach-based Sares Regis purchased the 110-acre site from Toyota in 2017 for a reported $270 million.
Sares Regis has been redeveloping the site, recently completing three industrial and corporate office buildings.
"Our organization invested in a recycled water distribution pipeline to create value and build a sustainable environment that uses water more efficiently," Patrick Russell, senior vice president of development for Sares Regis, said in the announcement.
The Torrance Commerce Center is the 56th site in Torrance to be connected with recycled water since the recycling facility came online in 1995, according to the water district.
That plant, known as the Edward C. Little Water Recycling Facility, produces about 40 million gallons of water every day, conserving enough drinking water to meet the needs of 80,000 households for a year.
The facility also houses a 60,000-square-foot solar power generating system that the district says has reduced emissions of carbon dioxide by more than 356 tons in one year's time.
The water recycling facility was built in response to the drought of the early 1990s. The West Basin district has invested about $600 million since then in its water recycling program — a figure that includes design and construction of the facility and a series of upgrades. That cost has been offset with about $275 million in government grants and other outside investments.
According to the district's website, the water recycling facility produces five different grades of water. These include irrigation water for sites such as the Torrance Commerce Center, water for industrial cooling towers and water for industrial boilers.
Some of the water is also used to recharge groundwater supplies, but none is used for drinking or personal hygiene purposes.
For reprint and licensing requests for this article, CLICK HERE.