Podcast Biz Is Heating Up
LA companies lead the way in a growing industry
Monday, June 29, 2020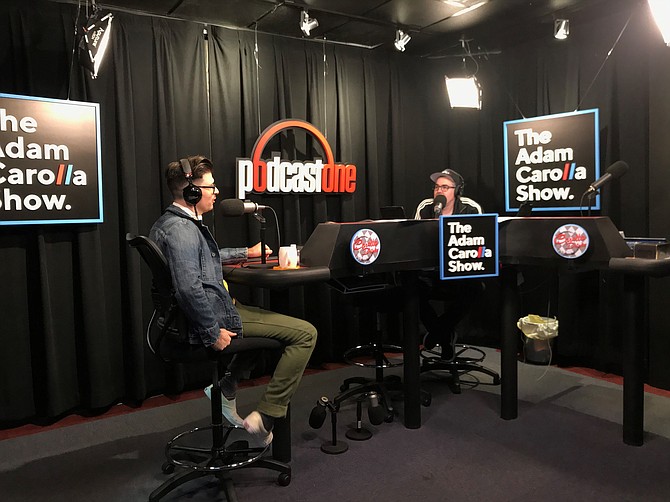 An influx of investment is bringing new momentum to the podcast industry in Los Angeles, which has developed into a hub for the burgeoning medium.
"(Los Angeles) is the entertainment industry, and podcasting is primarily an entertainment medium," said Norm Pattiz, founder and chairman of PodcastOne, the Beverly Hills-based podcast network owned by Courtside Group Inc.
PodcastOne, which is expected to be acquired by West Hollywood-based LiveXLive Media Inc. by early July under an $18.1 million deal, is one of several podcast companies that are either headquartered in L.A. or have substantial footprints here.
L.A.-based comedian and podcast show host Joe Rogan in May closed a reported $100 million deal with Spotify Technology, the Swedish music streaming company, giving the platform exclusive rights to host full episodes of "The Joe Rogan Experience."
Elisabeth Murdoch's Sister, a media company with offices in London and Los Angeles, recently invested an undisclosed sum in Campside Media, a New York-based nonfiction podcast studio.
"Podcasting is the next format for audio content, much like the shift from TV to digital content streaming and print publishing to digital publishing," said Michael Ritter, founder and chief executive of Century City-based Maple Media, which announced its acquisition of the podcast listening app Player FM in April.
Ritter said Maple Media, which owns hundreds of mobile apps and games, is finalizing the acquisition of another podcast app.
"As a media and technology business, we want to have products that align with where people go to learn and be entertained," Ritter added.
Changing behaviors
Investors are betting on the growing podcast market as more and more consumers, driven by Covid-19 lockdowns, turn to podcasts for at-home entertainment.
"During this period many people are discovering podcasts for the first time that are tailored to their interests or even starting podcasts themselves," Ritter said. "Historically, we saw spikes in usage during the work week on mobile, most likely from commuters. But during Covid, our weekday mobile usage has flattened while our online usage has more than doubled. Every day now looks more like a weekend as people are not commuting or are commuting less," he said.
The Covid-19 impact varies on different types of content, according to Pattiz.
While PodcastOne has seen an increase in listeners for women-oriented shows, such as those focused on women leadership, the network reported a drop in listenership for sports shows, which traditionally attracts mainly male listeners, partially because of the cancellations of sports games, Pattiz said.
The network has produced 350 shows for its premium platform. These shows are either made by in-house producers or produced in collaboration with content partners under revenue-sharing agreements, Pattiz said.
In addition to the premium content, Pattiz said, there are more than 1,000 homemade podcast shows on the PodcastOne platform. The network offers its platform free for podcasters to launch shows and track audience data. In return, the company inserts digital ads into those shows.
While consumption in some PodcastOne shows has gone up, overall ad-driven revenue for the first and second quarter was "single-digit down," Pattiz said.
"We're still looking at third and fourth quarter to see some significant rebounding. But it's hard to predict," he said, adding that the ongoing social unrest and protests might expand the period where advertisers have less willingness to spend money across the medium.
In early May PodcastOne's parent company, Courtside Group, entered into a definitive agreement to be acquired by LiveXLive, which streams radio, on-demand video and live performances. The all-stock deal will make Pattiz a major shareholder in LiveXLive.
"What I'm betting on is that two plus two weigh more than five. I think having this full stack of services — both audio and video — puts us in a position where we will be separated from the pure podcasting pack and we will be able to attract more podcast partners," Pattiz said. "We already have plenty, but you never have too many."
PodcastOne, which was launched in 2011, has been able to leverage its well-developed infrastructure, including a vast distribution network, to consolidate its business during the lockdown.
TV adaptations
Jon Goldman, board partner at venture capital firm Greycroft, said newcomers in the podcast industry face a challenge if they rely solely on advertising to generate revenue.
Greycroft led a $5 million Series A round for West Hollywood-based podcast network Wondery Inc. in 2018, and Goldman has been a Wondery board member since then.
Wondery, which was founded in 2016 by Hernan Lopez, former president of FOX International Channels, is the company behind shows including "Young Charlie," "American History Tellers" and "Business Wars."
The company's true crime podcast "Dirty John" has been adapted into a television anthology series starring Connie Britton.
Goldman said 16 Wondery podcasts are in development to be adapted into television series, which provides a steady revenue stream for the company, in addition to advertising.
"Wondery, in many ways, is the Marvel Comics of podcast companies," Goldman said. "A lot of companies have daily or topical shows, which are really good. But Wondery is really specialized in miniseries that are building asset value in a library. That's why they've been able to sell these podcasts to TV shows."
While it is getting increasingly difficult for founders to pitch a podcast company to investors as the market matures, West Hollywood-based Dear Media managed to raise an $8 million Series A from Santa Monica-based Magnet Cos. earlier this year.
The company was founded in 2018. Its content is targeted toward a female audience, focusing on topics such as relationships and lifestyle. Chief Executive Michael Bosstick said he wants to build the company into something beyond just a podcast network.
Dear Media signs revenue-sharing agreements with content creators to help them launch their shows. The podcast shows will help build up the hosts' personal brand, according to Bosstick.
Dear Media's show "What's Gaby Cooking in Quarantine," for example, features cookbook author Gaby Dalkin and helps with her brand promotion as an addition to her social media presence across platforms such as Instagram and Facebook.
The company will also help podcasters launch direct-to-consumer product lines, according to Bosstick. "What I'm interested in (at) Dear Media is not only building these amazing media channels, but what brands can stem from or exist within these channels," he said.
Bigger players
Dan Granger, founder and chief executive of Sherman Oaks-based Oxford Road, an advertising agency that specializes in podcast marketing, said the space for small, independent studios and networks to grow in the podcast industry has been squeezed as big, established companies expand aggressively.
Podcasts and radio have started to merge as big radio conglomerates like iHeartMedia Inc. buy podcast networks. "They can really promote in a way that wasn't possible before. They can cross promote by owning a high number of audio assets," Granger said.
Another big player entering into the field is Spotify. Before the Joe Rogan deal, the international music streaming company had acquired Bill Simmons' podcast network The Ringer; New York-based podcast firms Gimlet Media and Anchor FM Inc.; and Parcast, a podcast network operated by Woodland Hills-based Cutler Media. The four deals reportedly added up to $600 million.
Chances are good that established networks such as PodcastOne and Wondery will be able to withstand the disruption brought by mergers and acquisitions. But it will be increasingly difficult for small, independent studios to stand out in the maturing market, according to Granger.
"I think there's always going to be a place for people to put out recorded audio to the world, like anybody can have a blog," he said. "But if you want to have a successful program, you are going to be much better suited doing so in collaboration with a larger media organization."
For reprint and licensing requests for this article, CLICK HERE.