Universal Standard Housing Takes Modular Approach
Developer seeks to create more workforce apartments
Monday, June 29, 2020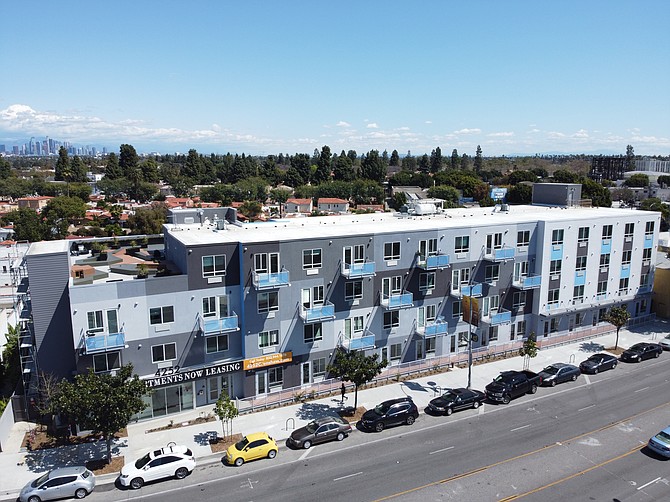 Downtown-based Universal Standard Housing is trying to create more workforce housing in Los Angeles and sees modular building as the way to do it.
In 2019, the group completed its first project, a four-story, 111-unit apartment complex at 4252 S. Crenshaw Blvd. The property has studios and one-bedroom units, and amenities include a rooftop deck.
USH founder Drew Orenstein has a background in multifamily projects around L.A.
He has developed affordable and Class A housing but wanted to do something different with the company.
"As we started to get deep into the cycle, I recognized a need to explore other areas of the housing sector," he said, adding that while there are plenty of Class A housing projects, and some affordable housing projects, very little is built as workforce housing.
The company's projects are meant for people making $40,000 to $80,000 a year.
Orenstein said those individuals don't qualify for affordable housing but often can't afford new luxury units.
USH offers "dramatically less expensive rents (compared to) other new products."
"We wanted to provide them with an option for a newer product, which was doable for them, and provide them with better value," Orenstein said.
Studio apartments at 4252 Crenshaw, for example, start at $1,350 a month.
To get new projects built quickly and affordably, the company has used modular units.
With modular construction, the foundation and land prep are done while units are manufactured off site. Once the units are brought to the site, they are installed in a matter of days.
This approach allows owners to save money by getting projects built faster and tenants into the units sooner.
Orenstein called the use of modular units an "industrialized approach, a manufactured approach to develop housing in a controlled manner."
The company recently received a $17 million tax credit from the state, which it will put toward additional growth.
"It's a testament to the business plan and how well we are aligned with the governor's goals," said Eduardo Santana, the company's vice president of external relations. "It's going to help us. It's another source of cost savings, which will be passed on."
Next up for the company is an 80-unit project at 740 S. Alvarado St. and opening a plant. The Alvarado Street project is under construction.
USH has an additional 3,500 units in other stages around L.A.
Santana added that the company was largely focused on areas near public transit.
The company is also looking to open a plant near its projects, according to Orenstein, to "increase our capacity to build housing."
Orenstein said units would likely first come out of the factory for the next year.
He added that the company does not see itself in competition with traditional builders who take a one-off approach with new builds.
The modular approach, he said, offers a roughly 50% savings of time.
"It's new, and that's exciting. In an industry that's been so stagnant for so long, that can be a little bit scary," Orenstein said.
In the next few years, he said, the company plans to aggressively acquire more sites and "capture and serve as much of that (housing) shortfall as possible for the Southern California region."
"We don't consider ourselves the only solution, but we are an important part of that solution," Santana said of L.A.'s housing shortage.
For reprint and licensing requests for this article, CLICK HERE.