8minute Solar to Build Kern County Facility
Kern facility could power roughly 93,000 homes a year
Monday, June 29, 2020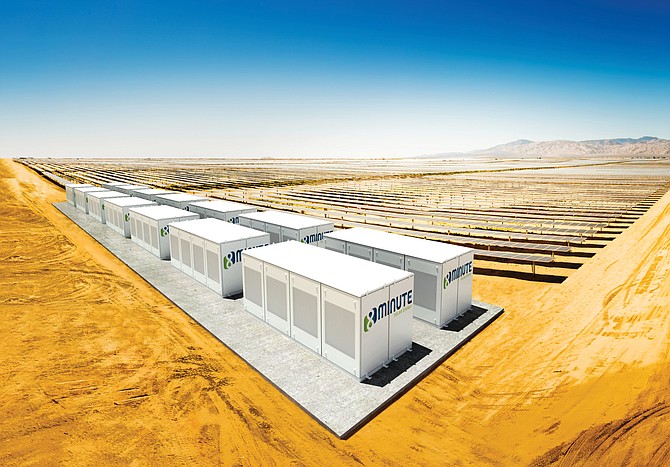 Mid-Wilshire-based 8minute Solar Energy has signed a contract to develop a 250-megawatt solar energy and storage project in Kern County.
The company announced June 16 that it has signed a power purchase agreement with two nonprofit community-based power agencies — Monterey-based Monterey Bay Community Power and Sunnyvale-based Silicon Valley Clean Energy — to develop the 250-megawatt Aratina Solar Center in eastern Kern County.
The center, which 8minute Solar said is under construction, combines a solar-generating array with battery storage so that about 150 megawatts of the electricity generated can be sent through transmission wires during high- demand early evening hours after the sun sets.
Under the deal, the Monterey Bay Community Power authority will have claims on 120 megawatts of electricity and 30 megawatts of battery storage capacity.
Silicon Valley Clean Energy will have claims on 80 megawatts of the electricity generated and 20 megawatts of battery storage.
Financial terms of the deal were not disclosed, nor was the exact location of the solar plant in eastern Kern County.
When the solar center comes online — now planned for 2023 — it is expected to generate enough electricity to supply roughly 93,000 single-family homes and offset 430,000 metric tons of carbon dioxide emissions per year, which 8minute Solar says is equivalent to removing 90,000 gas-powered vehicles from service.
"Community choice energy providers across California are taking proactive and ambitious action on behalf of their communities and are playing a critical role in helping the state reach its aggressive clean energy goals," Tom Buttgenbach, 8minute Solar's chief executive said in the announcement.
Silicon Valley Clean Energy Chief Executive Girish Balachandran emphasized the combination of solar power generation with storage capacity, noting the electricity transmitted from the plant will serve both residential and commercial customers.
"The Aratina Solar Center, complete with battery storage, will allow us to store and deliver solar power when our customers need it — well into the evening hours — reducing our reliance on carbon-emitting gas plants and moving us ever closer to a decarbonized grid," he said. 
According to 8minute Solar, this is the company's ninth project in Kern County, where it has already developed and placed in operation more than 500 megawatts of solar power, including the Springbok and Redwood solar farms.
Overall, the company has put 2 gigawatts of solar projects into operation since its founding in 2009 and has more than 18 gigawatts of solar and storage projects under development.
For reprint and licensing requests for this article, CLICK HERE.