Silverstein Pursues US Bank Tower
Developer could pay up to $490 million
Monday, June 22, 2020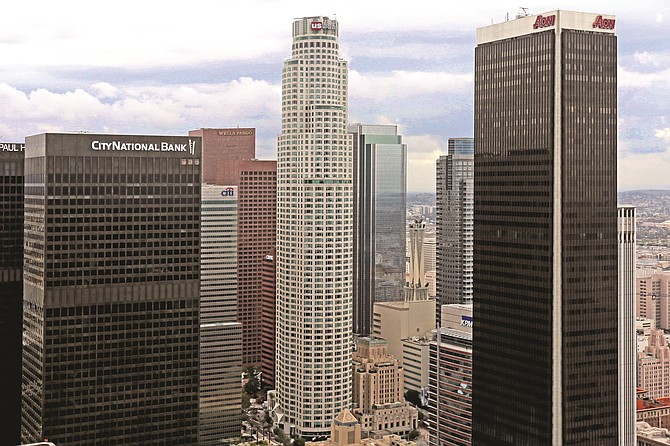 New York-based Silverstein Properties Inc. is reportedly in talks to acquire downtown's U.S. Bank Tower from Singapore-headquartered OUE Ltd.
Silverstein Properties declined to comment for this article and OUE could not be reached.
Although the exact price is unclear, it's estimated that the building will fetch anywhere from $425 million to $490 million.
The property, located at 633 W. 5th St., would be Silverstein's first in L.A., according to CoStar Group Inc.
Silverstein has 40 million square feet in its portfolio, which includes the World Trade Center in New York.
Nick Griffin, executive director of the Downtown Center Business Improvement District, said it was a positive indicator for downtown.
"Silverstein is a great property owner. They only really acquire signature, trophy properties, and this falls into that category," Griffin said. "It's a pretty significant vote of confidence for the property and DTLA and the office sector in general."
The projected price is far below the $700 million estimate experts gave for the U.S. Bank Tower last year when it was revealed that OUE was seeking a buyer for the property.
"There's a lot of factors going on: the Covid-19 economic downturn, we were toward the end of a real estate cycle even before the Covid downturn, and some of the Asian investors are pulling back from the U.S. market," Griffin said.
Office transactions nationwide were down 60% in April compared with the previous year due to economic uncertainty, according to research from CBRE Group Inc.
The office market is expected to pick up this summer, though.
"The U.S. economy bottomed in May, and activity is now cautiously improving. Transaction volumes for commercial real estate will remain constrained due to tightened lending criteria and uncertainty over the path of the virus," Richard Barkham, CBRE global chief economist and head of Americas research, said in a statement.
"We expect weakness to persist in the investment-transaction market for the next quarter at least. When activity picks up, it is likely to accelerate first in the multifamily and industrial and logistics sectors," Barkham added.
The U.S. Bank Tower, formerly called the Library Tower, was developed by Maguire Partners in 1989. It has more than 70 stories and was the tallest building in L.A. until 2017 when the Wilshire Grand was built.
In addition to office space, the building has restaurants and an observation deck on the 70th story with a glass slide.
OUE purchased the tower in 2013 for $367.5 million as part of a two-property portfolio that also included a parking facility. OUE spent roughly $100 million on renovations.
The U.S. Bank Tower is roughly 80% occupied, according to CoStar.
Griffin said that while the tower does not need major renovations, Silverstein would likely lease it up, something they have successfully done with other properties.
For reprint and licensing requests for this article, CLICK HERE.