Cashless Transactions Gaining Favor
Pandemic boosts usage in food, beauty sectors
Monday, June 22, 2020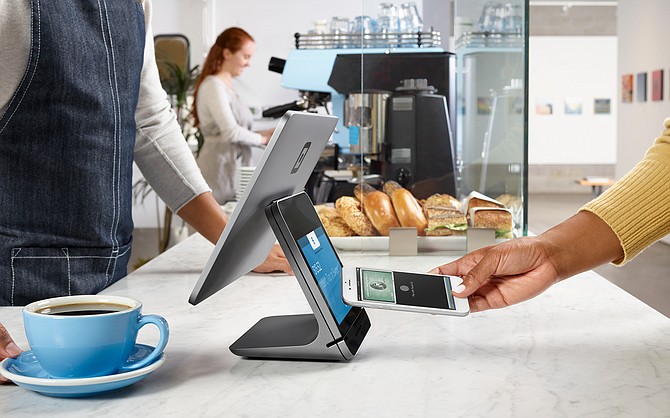 At many Los Angeles businesses, cash has become a casualty of Covid-19.
New data from payment provider Square Inc. suggests that the pandemic has sped the adoption of cashless business models across local sectors.
While easing lockdowns have been accompanied by a gradual reacceptance of cash, some industries appear primed to scale back on paper transactions for the foreseeable future.
"Now that so many sellers have built out the means to make it easier for customers to pick up orders, order online or over the phone, and accept forms of payment that many did not accept before, consumers will continue to utilize those options, and business owners will continue to offer them," said Felipe Chacon, an economist at Square.
Only 8% of L.A. County businesses that used Square prior to the Covid-19 lockdowns were fully cashless — which the company defines as having at least 95% of transactions in noncash formats. By April 23, that ratio had jumped to 31% as businesses rushed to aggressively minimize points of contact with customers.
The shift was particularly apparent in some local industries, which saw cashless businesses grow from small minorities to majorities in less than two months. Local beauty and personal care businesses, as well as charity and educational organizations, made the biggest leaps to cashless transactions.
Charity and education rose from 6% cashless to 58% cashless between March and April while beauty and personal care businesses rose from 9% to 61% over the same period, according to the Square data.
Square does not have the detailed empirical data to fully explain all of these shifts but notes that many sectors which saw the largest shifts experienced major Covid-driven changes to their operations.
Some of these changes didn't stick. By June 15, just 16% of beauty and personal care businesses met Square's threshold for 95% noncash transactions.
According to Chacon, the rebound in certain sectors indicates that the peak-pandemic shift to cashless was a reflection of unsustainable distortions in those sectors' profit models.
"Sales at beauty and personal care establishments that were able to continue transacting likely slowed to a crawl and consisted more of items being sold than services being rendered — an unusual arrangement for a hair salon," Chacon said.
It is far easier to sell products such as high-end shampoo online than it is to sell services. The economist suggested these sorts of e-retailing businesses shifted from being minor sidelines to main revenue streams for many salons under lockdown.
Other changes had greater staying power. Although the number of local cashless food and drink businesses in the Square data only rose from 8% to 28% by late April, that number remained at 25% as of mid-June.
Some local business owners don't see that going away any time soon.
"The future of cash doesn't look good," said Derek Taylor, co-owner of Menotti's Coffee Stop.
"I don't want to leave out any business," he said, "but through this uncertainty and the pandemic, doing online order ahead is definitely the safest for our community."
Taylor's business, which has locations in Venice, Culver City and Hollywood, has been serving online to-go orders only since early May. Despite loosening government restrictions, the coffee entrepreneur says reopening Menotti's locations for dine-in and cash payments is too risky, given the ongoing rise in local Covid-19 cases.
"Through this process, we've been in a few nationwide WhatsApp and other group chats with other owners and business operators," he said, "and the majority have leaned into contactless."
Even before the pandemic, Taylor said most of his stores' transactions were noncash, through both card and payment apps like Google Pay and Apple Pay. While he plans to resume accepting cash once coronavirus concerns have lessened, Taylor said he doesn't expect the volume to return to prepandemic levels.
Taylor's view aligns with the outlook of Square's Chacon.
"Given the uncertain circumstances of Covid and not knowing when we'll have a vaccine available," Chacon said, "we can imagine business owners will continue to rely more heavily on digital forms of payment through at least the end of the year."
When asked when and if we might see a full transition to cashless, Chacon pointed to a recent Square-commissioned survey that found 85% of business owners said they won't stop accepting cash.
"That's actually up 2 percentage points from last year," he said. "Cash is still an integral part of a business owner's income, and that has proven it isn't changing anytime soon."
For reprint and licensing requests for this article, CLICK HERE.